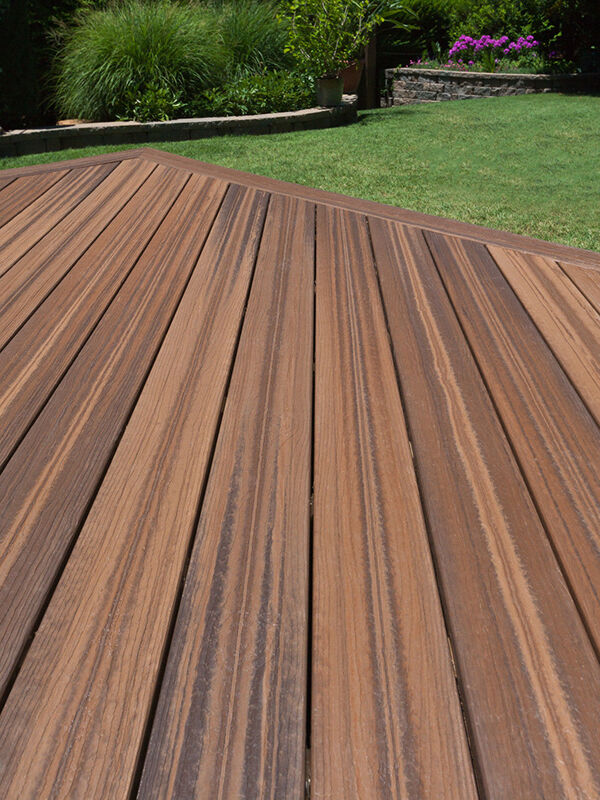 Outdoor entertainment areas are a must have for most people. Adding an outdoor area to a home doesn't have to break the bank. Composite decking provides a low maintenance and eco-friendly way to add an area for cookouts, family dinners, or parties. Working with composites is not drastically different from building a deck with regular wood, though there is a higher cost.
Types of Composite Decking
One of the first steps in building a deck is deciding what type of composite decking to use. This means not only choosing a colour, but also choosing a type of material. Composites are made of a mixture of wood and plastic or just plastic. Buyers need to decide if they want solid boards, which swell and shrink like ordinary wood, or hollow boards that do not fluctuate as much. Solid also looks more like real wood than hollow.
Types of Composite

Feature

Polyethylene

Plastic mixed with saw dust, rice hulls, or other fillers

Low maintenance

Polypropylene

Mixed with wood

Produces a stronger product than polyethylene

Less susceptible to expansion and compression

PVC

Full boards made from PVC

Contains no wood

Has a wood look

Does not stain or absorb water

Can also be polyethylene coated with PVC
A basic understanding of the features of the different composite decking materials, allows for better informed purchasing decisions.
Gathering Materials and Tools
The materials needed to build a composite deck are similar to a regular deck. They include a carpenter's level, chalk line, circular saw and blade or miter saw, crescent wrench, drills and drill bits. Once buyers gather all of the items they need in addition to the decking material and gloves, they are ready to get started. Always wear a dust mask when cutting the boards; the material is not dangerous, but breathing in the dust from composite wood can irritate the lungs.
Preparing the Deck Site
There are two approaches to preparing the site. If building a deck where none existed before, then start by digging holes for the supporting posts. Next, sink the posts, making sure they are level and central in the holes. Fill the holes with quick setting cement. Allow this to dry while and clear anything else out of the deck area.
If replacing an old deck simply remove the flooring boards and use the existing frame to build on if it is in good shape. If not, then this is a good time to tear it down and rebuild.
Building the Frame and Flooring
Users can build composite decks on metal frames, but most are built on frames of treated lumber. The measurements for the joints and support beams vary depending on the size of the project. After building the frame, attach it to the house and the posts. The posts and frame can be connected using carriage bolts. Attach the frame to the house with heavy-duty screws, sunk just below the surface of the wood.
Completing the Job
After securing the frame, start at the rim joist and work towards the house. Lay all the boards out on the frame. Starting at the outside edge helps keep the boards straight. Houses shift settle and can warp in places, so starting the flooring against the house can cause curved or crooked rows of boards. Stagger the seams on the floor just like on hardwood flooring. Composite wood has an issue with the material mushrooming around screws, unless users predrill the holes. This takes longer, but if not using hidden fasteners, the time is worth it. Place deck screws 1 inch from edges and a half inch from board ends to avoid cracking. Make sure to use shims or thin nails between each board to allow for a 1/8 inch gap. This allows for any swelling and expansion. At the house edge, rip the final board down to fit if necessary.
How to Buy Deck Supplies on eBay
Being able to purchase the majority of your supplies on a project like this from the reliable sellers on eBay saves you time and money. You can spend less time shopping and more time working on your project. The site has great search features that let you use specific search terms to find exactly what you want. It is easy to compare products between sellers and narrow down your search with filters like brand, price range, and item location. Always read over the details of the product that you are looking to buy and verify that it meets your needs before you purchase an item.