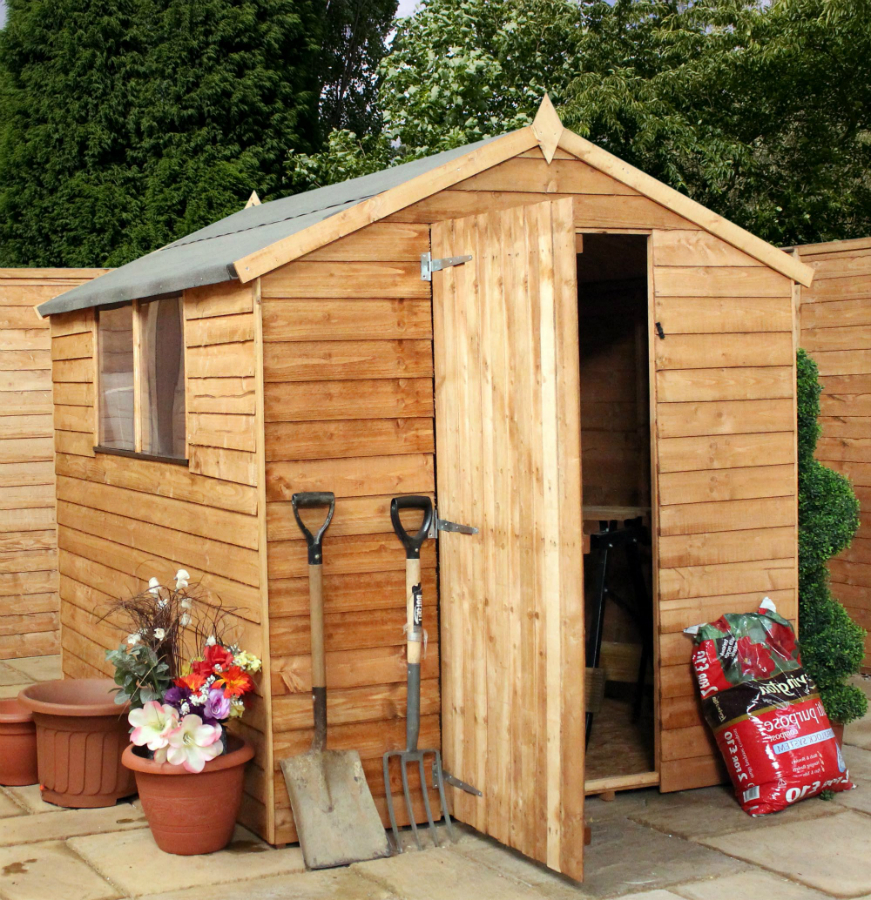 Garden sheds serve a variety of purposes. They are a spot to store gardening tools and items, a place to pot plants, a place to grow plants, a workshop, and more. Additionally, there are a number of choices with regard to building materials and style, allowing one the choice a between a shed that matches with the home and a completely unique structure. Garden sheds are available for purchase in a pre-built or mostly pre-built kit form. They can also be built on site from a set of plans.
The informed consumer knows the type of garden shed required for his or her own needs, as well as the steps associated with putting one into the garden, whether pre-built or site-built. Sheds are available for purchase from a wide range of brick and mortar stores, as well as from online marketplaces such as eBay.
Choosing a Garden Shed
Before homeowners can even begin building a garden shed, they must choose one. Which style they choose depends on many factors. Garden sheds generally fall into one of several basic categories, including intended use, the material from which they are made, and overall style or appearance.
By Purpose
There are multitudes of different reasons a homeowner may want to have a shed in the garden. Some strictly serve as additional storage space outdoors, while others provide functional square footage for owners to use for hobbies or business. Some of the most common uses for garden sheds are listed below.
Shed Purpose

Description

One of the most common uses

Storage for garden tools and equipment or for season decor, boxes, and other household items rarely used

Gardening

Potting sheds have shelves and other spaces for transplanting, pruning, and storing gardening supplies

Greenhouses have added windows, lights, and heat to allow year-round growing

Workspace

Provides space for working and storing equipment for various hobbies or jobs (carpentry, metalworking, pottery, painting, and more)

Can also be used as an office space with desk, document storage, and computer

Playhouse

Smaller sheds serve as a space for kids to play

Usually has windows, smaller space, and decorated by or for children

Entertainment

Decorated to serve as outdoor entertaining space

May feature fans, refrigerator, lighting, windows, furniture

Can also be a personal space with cosy chairs and lighting for relaxation

May provide space for children or teen parties to keep music and mess outside of main house

Multipurpose

Larger sheds can be used for several purposes

Spaces should be clearly defined to avoid clutter or potential danger and injuries
No matter what exact space a homeowner requires, sort of garden shed can usually meet those needs. While these remain some of the most popular uses for sheds, there are many others as well. The purpose of the shed helps determine the size and best materials for it to be made from.
By Material
Most garden sheds are manufactured from one of three basic materials: wood, metal, and plastic or vinyl. Wood is simple to source and to build with. It is a common choice for homeowners who wish to build their own shed. Wooden sheds tend to blend in nicely with their outdoor surroundings. However, wooden garden sheds require regular maintenance to ensure sturdiness and reliability.
Metal sheds tend to be very sturdy, able to stand up to all sorts of weather issues. However, dents and damage are still possible, especially when the metal in question is sheet metal or some other thin substance. This cosmetic damage may not harm the structure itself, but it is unsightly.
Plastic or vinyl garden sheds have a mix of advantages and disadvantages. They are generally inexpensive as the materials are often cast and easy to produce. However, they do fall subject to the weather over time, and do not prove to be as sturdy as other materials.
By Appearance
Many homeowners are concerned about the look of their property. A garden shed that matches the design or overall tone of the home and garden will be much more pleasant to look at than one which is glaringly different. The simplest of garden shed designs is the lean-to. While these sometimes stand on their own, they often consist of three sides and a roof directly against the home or other outbuilding. Lean-to sheds are simple to build because the roof simply pitches from one side to the other without a peak in the centre.
Another very popular type is called a gable shed. This design features four walls and a peaked roof which slopes down from the centre to each side. The pitched roof often features an attic or storage space above, leaving the ground level area space free for whatever activity one wishes to do.
Many sheds, especially those created for use as an extra living or entertaining space, look like miniature houses. They can take on as many different appearances as can a home, and are often painted and decorated to match the main home.
Setting up a Pre-Built Garden Shed
There are two types of pre-built garden sheds a homeowner can purchase. The first is a shed that is already completely constructed. Moving these types of sheds into place often requires the use of heavy equipment. They are also generally the most expensive because they require no assembly whatsoever: it is truly a finished project, ready for immediate use.
Another type of pre-built option is garden shed kits, which come in various stages of completion. Some may contain pre-built walls and roof sections that simply need to be put together on site. Others consist of materials that have been pre-cut and drilled to the correct specifications, which must be completely assembled by the homeowner. Purchasing a kit allows the buyer to save some money while investing more sweat equity into their project.
Building a Garden Shed from Plans
For the more experienced homeowner and amateur handyman, it is possible to build a shed from plans. The biggest advantage to building a shed from a set of plans is that it gives the builder the opportunity to customise the space into exactly what is wanted and needed. Purchasing plans and materials for a shed may end up costing more in the long run; however, it is still a great deal as builders gets to choose their own preferred materials and layout.
Before building a garden shed, consumers need to be sure they are placing it in a space far enough from any property lines, and that they are setting it on an appropriate foundation. The building process itself begins by constructing a frame for the space followed by putting in the floor. Walls are built, then stood in place. After that, the roof is constructed and placed on top of the structure. From here, all that remains are the finishing touches, including the addition of some sort of siding, installation of doors and windows, and painting or other decorative work.
How to Buy Garden Sheds on eBay
Garden sheds of many different styles are easy to find on eBay. Begin by simply entering your keywords into the search bar found on any eBay page. This returns a list of results that all feature your keywords in their title. For more specific results that will take less time to sort through, you can use more targeted keywords. For instance, a search for 'garden sheds' will return many more listings even than one for 'garden shed kits'.
Local Pickup
When purchasing a large item such as a garden shed, it is possible to save money by purchasing from a local seller. Instead of paying the expenses for postage and packaging, a buyer can narrow search listings by distance. Some sellers advertise the availability of local pickup right on the listing, but you can always ask about the possibility before a purchase if it isn't indicated.
Conclusion
Garden sheds are useful add-ons to any property. Their variety of uses provides one with a number of options, including using it for handy extra storage space, a place for entertaining friends, or a spot to spread out one's tools and get some work done.
The different materials from which sheds can be constructed all offer their own unique advantages and setbacks. After choosing the purpose and type of garden shed and the materials, buyers should determine whether they prefer to have a pre-built garden shed set on their site or if they would rather build one themselves from a kit or even just a set of plans. This building can be difficult and time-consuming, but provides the homeowner with the opportunity to personalise the space for exactly what he or she has in mind.
garden shed|building shed|garden shed kit|wooden shed|tool shed