About this Guide
Maybe you've picked up a few interesting rocks in your travels and think you'd like to find out a bit more? Maybe you want to foster a budding young geologist? Or maybe you're just plain crystal struck? Here are a few tips for making the most of a fascinating hobby.

This guide covers the following topics, and assumes you are interested in collecting mineral and crystal specimens as opposed to simple tumblestones or rocks.

1 Starting Out - Choosing a Beginner's Kit
2 Strategies for Developing Your Collection
3. eBay Strategies
Choosing a Beginner's Kit
Finding Kits on eBay
If you're starting at the very beginning and in line for a set of specimens, it can be a bit confusing locating the right kit. To begin with, there's no obvious place to browse on eBay.
A small number of sets are categorised under
Science Toys
, a few more under
Crystals
(in Metaphysical) and some in
Mineral Specimens
.
To find the best kits you'll probably have to search, and that's where the fun begins – they can be called so many things – "Mineral Collection Set", "Geology Science Kit", "Rock & Mineral Specimens", "Crystal Collector Set" ... (avoid "Rock" OR "Tumblestones" unless you are looking for low-end items)
The best thing to do is use the
Advanced Search
features to indicate you want to search the description as well as title, and use various combinations of the above search keywords. If you're coming up with lots of cosmetics, use the filters on the left hand side to narrow to Collectibles or Toys.
Evaluating What's on Offer
Once you've managed to locate some sets you'll notice there's a huge variety on what's on offer. How to choose?
You'll probably have a budget in mind, but don't choose on price alone - you'll probably be making some compromise in terms of the number/size of specimens, or some trade off in terms of how prettily they are presented.
Most collectors want to get hands on with the specimens so something that is big enough to feel good to hold is ideal – the item description should indicate the size of specimens with a ruler or a detailing of dimensions
It's also useful to have something that provides information on the specimens, be it a booklet, video or information cards – you might like to buy these separately if they're not provided with the kit
The actual container holding the specimens if of less concern as most collectors like to have their specimens on display so they can more readily admire (and touch) their collection.
You may be motivated by considerations as to the type of specimens
- local specimens or exotics from all over the world;
- minerals, crystals and/or fossils;
- colour and variety
.
Are any photographs representational of the exact items you will be receiving, or indicative only, with a rider that individual specimens vary greatly? This doesn't matter so much if you are only after a set of tumblestones, but you may be in for a nasty surprise if you have a particular crystal formation in mind.
There are some sets that let you build your own collection, choosing from a variety of specimens. You may also wish to see if the eBay store offering the collection has top-up specimens you can include in the postage.
Strategies for Developing Your Collection
Once you've been bitten by the mineral bug you will probably want to expand your collection, and there are a number of useful strategies you can pursue to really enjoy your new hobby:
Buy a good book on minerals,
and consider subscribing to a magazine like Rock & Minerals. You can also bookmark a good reference site like Mindat or Minerals . net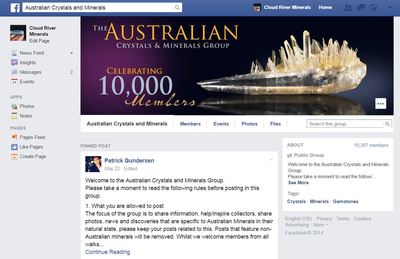 Join your local mineral club
This is a great opportunity to learn from fellow enthusiasts. If you're on Facebook, joining Australian Crystals and Minerals will provide a wealth of information and a sense of community.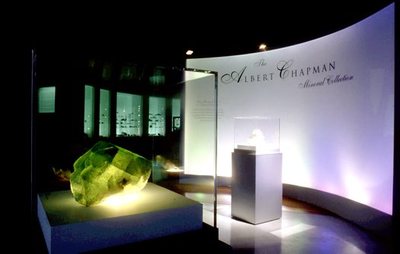 Visit mineral museums & collections
for inspiration and ideas on displaying your collection. There's some great museums all over Australia. The Albert Chapman Mineral Collection in Sydney is especially inspirational.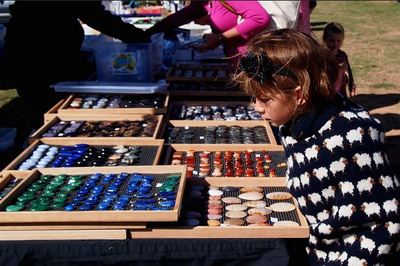 Attend mineral and gem shows
and check out your local rock shop for even more inspiration. Also good for getting a handle on prices you should expect to be paying.
Invest in some mineral identification tools (eg streak plate, magnifier) and make sure you catalogue and label all those specimens before they get out of hand.
eBay Strategies
Take advantage of eBay functionality
to get advance warning of those must-have specimens you've been hunting down - follow your favourite stores, subscribe to store newsletters and set up search alerts. The
My Collections
feature is a great way to set up a covet list you can share with relatives and friends looking for birthday inspiration.
Thanks for reading this guide, I hope you found it useful. If you're interested in more tips along these lines, visit my page on Facebook, where I'll be providing regular posts on building and maintaining your collection PLUS mineral news stories and previews of interesting specimens that have arrived in my store.