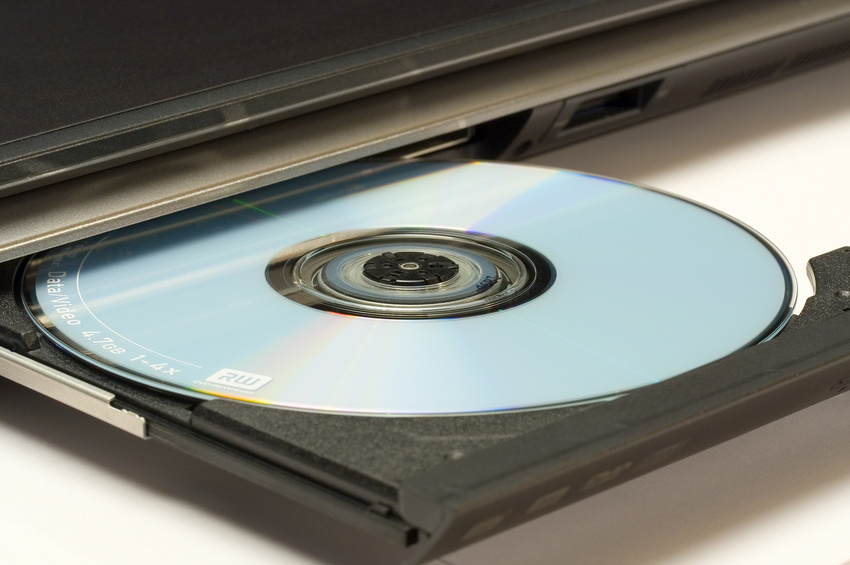 Burning a movie to a DVD-RW is an excellent way to back up favourite videos, whether they are creative projects or treasured home videos. A DVD-RW is a writeable disc capable of holding 120 minutes of video (or 4.7GBs of data) that allows users to transfer video from their laptop or computer so they can watch it on their DVD player.
DVD-RW Compatibility
A device that is capable of reading DVD-RW formats is necessary for these discs. While most modern computers have this feature as standard, it is not universal. If the DVD drive is marked "DVD-RW," then it has the technology. If it has no marking, or if the device does not have a DVD drive, then there is another option in the form of an external DVD drive. These are bought individually, and plug in to the computer's USB port. An external DVD drive with DVD-RW technology is a worthwhile investment for regular DVD-RW use.
Buying a DVD-RW Disc
DVD-RW discs are also needed to make DVD movies. There are many manufacturers of DVD-RW discs, and buyers will need to make sure the specifications of the discs suit their needs, as the size of DVD-RW discs vary by manufacturer; for instance, some discs hold 120 minutes of video, while others hold 60 minutes. Buyers also must ensure they have the right type of disc; a CD-RW, for instance, will not work in a DVD player.
Video vs. Data
Whilst a DVD-RW disc can be played on a DVD player, it can also be attached to a DVD-RW disc as a data file. Discs typically hold up to 4.7 GB of data, allowing buyers to easily write a movie to the disc and give it to friends or family for additional viewing. A video that is DVD-playable will suit most needs, but a data disc is useful for adding many individual movies or for including photos and other data files.
Preparing to Burn a Movie to a DVD-RW
Once a buyer has the correct disc drive, discs, and movie, it is almost time to burn the disc using a computer. Before that, however, they will need to load the movie and its settings into their DVD-writing software. This process will differ depending on whether they are using a Windows or Mac computer.
If using Windows software, open the 'Windows DVD Maker' application from the start menu. Locate the video in the 'Open' tab or drag it from its folder into the application box. From here, a variety of features can be added to aid the structure and look of the DVDs playback by configuring scenes or aspect ratio, amongst other features.
If using a Mac, open the iMovie application and select 'iDVD' from the Share menu. In iDVD, select the 'Media' button and locate the movie. From here, select features such as scene selection, aspect ratio, or background theme.
Burning the Disc
When finished with the movie settings, insert the DVD-RW disc into the drive and wait for the computer to acknowledge it. Once it is found, press 'Burn' (in iDVD, press 'Burn' and then insert disc).
Depending on the 'Speed' off the disc (1-4x, with 4 as the fastest), the burning process could take from anywhere between 15 minutes to an hour for a full capacity disc. It is very important that the disc drive is not opened while the software is burning the disc. It is also recommended that users do not open any other application while the disc is burning, as it increases the likelihood of the computer crashing or being too slow to write properly.
Finishing
The noise of the DVD drive will grow silent as the software finishes writing the movie to the DVD-RW. Do not open the drive yet, however, as it usually takes a few seconds for it to completely finish, even if it sounds like it has already done so. The software will automatically eject the disc when it is finished, allowing the user to close the application. The new DVD will be ready for use.
How to Buy a DVD-RW Burner on eBay
Searching for a DVD-RW to burn movies onto DVD discs is as easy as going to eBay. Once on the site, go to the "Computers" section, then choose the "Drives, Storage & Blank Media" sub-section and, finally, the "CD, DVD & Blu-Ray Drives" sub-section. Once the buyer has navigated to the correct section of the site, finding DVD-RW drives for sale is as easy as typing "DVD-RW drive" into the search bar. From there, buyers can filter the results by price, ending time, and location among other choices. When buying a DVD-RW drive on eBay, make sure to take a look at the seller's rating, taking special care to review any recent negative reviews, to ensure they are a reliable seller.
Purchasing a DVD-RW on eBay is simple, and with the knowledge on how to burn movies to a DVD-RW disc, buyers will have no trouble setting up their new toy.