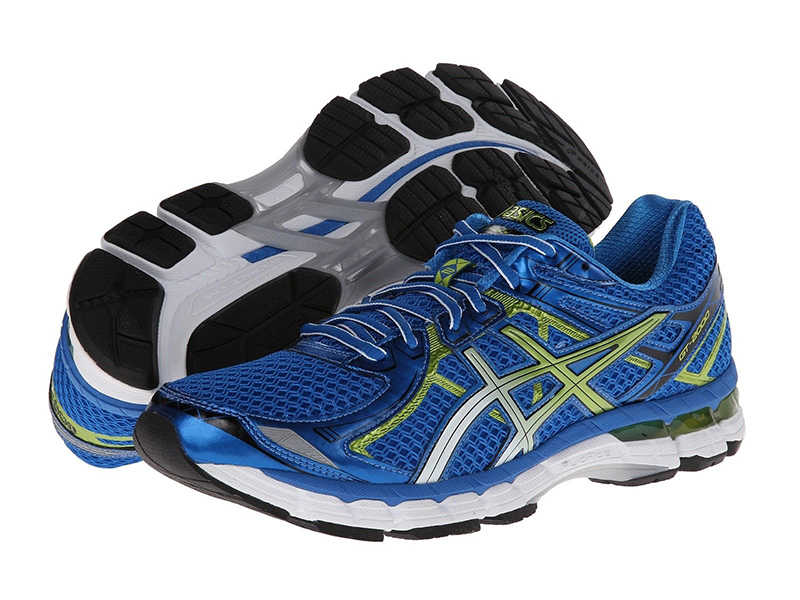 ASICS is a Japanese brand of sneakers popular for sports and everyday life activities all around the world. The name ASICS comes from the saying 'A Sound Mind in a Sound Body', or in Latin, 'Anima Sana In Corpore Sano' (ASICS). The company provides sneakers for most major sports, and they fit men, women, and children. ASICS designs sneakers for all types of feet, and choosing the best sneaker for your foot type is important in preventing discomfort or injuries.
Diagnosing Flat Feet
A person described with having flat feet, typically a painless condition, has a flattened inside arch on the foot. This condition can present itself after an injury, or it could stem from underdeveloped arches during childhood. Running with flat feet often leads to overpronation. If proper measures are not taken when performing certain activities, such as running, a person with flat feet risks further problems and injuries to their ankles, feet, and knees.
Symptoms of Flat Feet
Because flat feet is typically a condition that presents no symptoms, a person may not know they have an issue until they start a new sport or activity. Pain or swelling in the feet or ankles is a symptom of flat feet, specifically in the arch area. A simple test to discovering if a person has flat feet, or a low arch, is to take a footprint. If the footprint is almost entirely filled in, this indicates flat feet or low arches. ASICS engineers a variety of its shoes specifically for flat-footed athletes, or those with overpronation.
Sneakers Designed for Flat Feet
Runners with flat feet need a sneaker with extra stability and arch support, to prevent injury when running, walking, or playing sports. ASICS sneakers designed for overpronation are well suited for flat-footed runners. Choosing the right sneakers for your foot is important to your overall comfort.
ASICS Sneakers for Men and Women with Flat Feet
ASICS offers a selection of running shoes for men and women with flat feet. Stability in shoes is very important, and these shoes tend to have more dense foam underneath the arch. Motion control is a must if you overpronate when running. Below are five popular running shoes for men and women, which offer support for those with flat feet.
ASICS GT-2000 2
Offered in a variety of colours for both men and women, the popular ASICS GT-2000 2 running sneaker features the Dynamic DuoMax Support System, providing support and stability for overpronators and those with flat feet. Additionally, the GT-2000 2 for women features a lower density top layer in the midsoles.
ASICS GT-2000 2 LITE-SHOW
The GT-2000 2 LITE-SHOW is a special edition model of the regular GT-2000 2 and offers increased visibility with its all-over reflective design. These sneakers have all the same features and benefits for runners with flat feet, with the addition of added visibility for low-light conditions.
ASICS GT-2000 2 TRAIL
For trail runners, the GT-2000 Trail is best for off-road use. With all the features of the original GT-2000, these sneakers with a trail-specific outsole also provide uphill and downhill traction in various outdoor terrains. GT-2000 Trail has both options for men's and women's models.
ASICS GT-2000 2 G-TX
In addition to all the great features of the GT-2000, the G-TX is a waterproof model designed with GORE-TEX. The GT-2000 G-TX women's and men's sneaker features extra outsole traction and a GORE-TEX waterproof liner to keep a runner's feet dry in wet running conditions.
ASICS GT-3000 2
Similar to the GT-2000 models, the GT-3000 2 offers the DuoMax Support System, with extra support for overpronators and flat feet. This sneaker also features a ComforDry Sockliner, with anti-odour and cushioning properties.
ASICS GEL-FORTITUDE 3
The ASICS GEL-FORTITUDE 3 is a sneaker that provides maximum support. Specially designed to accommodate runners with orthotics, this sneaker features a ComforDry Sockliner to keep feet dry and odour-free, as well as a DuraSponge Outsole for added durability and cushioning.
How to Buy ASICS Sneakers on eBay
Good sneakers that fit properly help to prevent injuries during physical activity. eBay sellers offers a wide selection of ASICS sneakers for men, women, and children. By simply typing in the search bar, found on every eBay page, buyers can search for the specific shoe that suits them best. To narrow down search results, you can use specific search terms, such as the exact model of sneaker you are looking for. For example, a flat-footed, female runner can use 'Women's ASICS GT-2000 2' for very specific results showing only that sneaker.