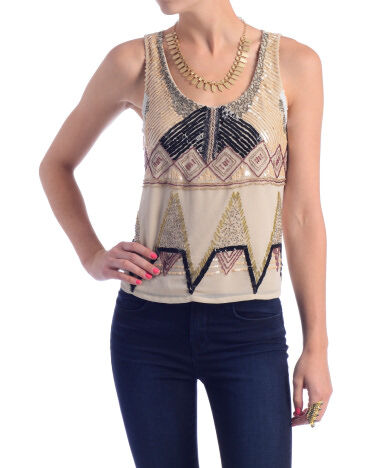 Many university students want to look their best for class and social events at school. Unfortunately, full-time dedication to studies leaves little opportunity to earn disposable income for spending on fashionable clothing. University students can look great on a limited budget, though, when they buy affordable designer tops. Affordable designer tops are easier to find than many students might think. If they look for designer diffusion lines, find discounts on designer tops, follow a few extra shopping tips, and buy from a source such as eBay, students can look their best and still have money left for enjoying student life.
Look for Designer Diffusion Lines
Designer diffusion lines are clothing collections from expensive designers that retail at more affordable price points, thereby making designer brands accessible to a wider range of consumers. For university students, diffusion lines offer an excellent introduction to designer brands. Students can purchase designer tops while still at university, and they set ownership of the brand's higher-end clothing as a goal for when they enter the working world.
Some of the more well-known designer diffusion lines includeDKNY by Donna Karan,Marc by Marc Jacobs,See by Chloe, and Versus by Versace. By shopping diffusion lines, students can find new affordable designer tops without spending time searching for discounts on more expensive brands.
Find Discounts on Designer Tops
Students can also look for discounts on high-end designer tops as another option for buying affordable pieces. In order to successfully find discounts, students should shop during discount periods, buy second-hand designer tops, and consider purchasing designer tops from foreign sellers.
Shop During Discount Periods
Shopping during discount periods can help students find affordable tops from high-end designer brands. Retailers often offer deals on women's clothing around Mother's Day and the period after Christmas. The latter discount period can yield big savings, but the selection is likely to be smaller since much merchandise sells before Christmas. The end of a season is also a great time to look for savings. Many retailers lower prices on seasonal clothing to sell tops before the weather changes and demand for particular pieces drops. Although this usually leaves little time for students to wear their designer tops, they have an affordable and fashionable piece for the following year.
Buy Second-Hand Designer Tops
Buying second-hand designer tops also helps student afford pieces from high-end brands. Many shoppers prefer to be as current as possible with their fashions, and they resell tops they have purchased after only a season of wear. Many of these tops are in excellent condition, and their resale price is substantially lower than their retail one. Students who buy second-hand designer tops should pay close attention to the pieces' condition to ensure that they are wearable and the right value.
Buy Designer Tops from Foreign Sellers
Many designer brands are more expensive in Australia than in other parts of the world. Purchasing designer tops from foreign sellers, though, can help make them more affordable. Students should pay attention to shipping costs to ensure that the tops they want to purchase from foreign sellers cost less than they would in Australia. They should also check Australian regulations for duty tax. The assessment of duty can drive up the price of a designer top, making it more expensive to purchase from abroad even if the retail price from the foreign seller is lower.
Additional Tips for Buying Affordable Designer Tops for University Students
Once university students have identified sources from which to buy affordable designer tops, they should ensure that that these tops fit properly and are genuine designer pieces rather than imitations. Following these tips can help university students save money on designer tops that look great and deliver the quality that people expect from designer brands.
Ensure a Proper Fit
It may be tempting to buy an affordable designer top even if the sizing is off, but students should ensure that the tops fit properly if they want to look good. The chart below gives typical bust measurements for Australian dress and alpha sizes.
| | | |
| --- | --- | --- |
| Dress Size | Alpha Size | Bust Measurement |
| | XS | 82 cm |
| | S | 87 cm |
| | M | 92 cm |
| | L | 97 cm |
| | XL | 102 cm |
| | XXL | 107 cm |
Designer tops might run larger or smaller than these standards, so students should ask retailers whether pieces run true to size, smaller, or larger.
Buy Genuine Designer Tops
The large demand for designer clothing has created a large designer-imitation industry. Many consumers are aware that imitation designer tops are not genuine but purchase them anyway because the price is so low and the imitation is so close to the real thing. Students who do not want imitation pieces should ensure that designer tops are genuine. Many imitation pieces have a slight alteration to the designer name so as not to infringe on the brand. Students should therefore read labels carefully to make sure that the brand name on the top exactly matches the brand name they are looking for. Some pieces have a fake label, but savvy consumers can generally identify an imitation piece by the quality of the stitching.
How to Buy Affordable Designer Tops for University Students on eBay
You can find a large selection of affordabledesigner tops on eBay by using the search bar to search for specific designer brands and sizes. When eBay returns the results, choose the appropriate category to filter the results to those most relevant to your search terms. You can then review sellers of pieces you like by checking their feedback. This is a collection of comments and ratings that buyers leave for a seller, and you can use it to gauge how reputable sellers are and whether or not the designer tops they sell are genuine. Overall, the good news is that looking great does not need to cost a fortune. Fortunately for university students on a budget, eBay offers numerous ways of finding affordable designer tops.