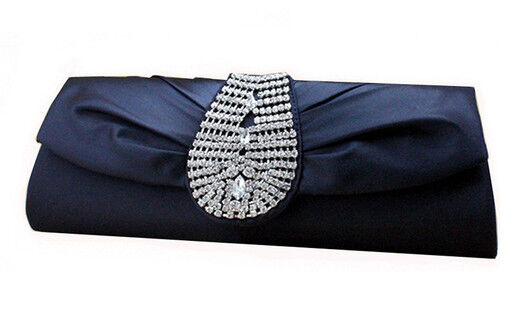 A good formal bag is a staple in women's wardrobes, essential for a wide array of classy events. As with most other handbags, a formal handbag ranges in price from the extremely inexpensive to exorbitant. However, women can always find affordable formal bags if they know where to look. The key to making a bag worth the investment is to get a lot of use out of it because this eliminates the need to buy other bags. Buyers need to know how to choose a style of bag that they can use for virtually any occasion, as well as how to stretch their budget by shopping smart.
Set a Budget
One of the most important parts of finding an affordable bag is setting a budget. There are plenty of extremely inexpensive bags available, but they are also frequently of low quality and may not last long. Buyers should know exactly how much they can spend on a bag, and consider whether they want it to be a long-term investment or a one-off purchase. Spending more money on a higher-quality bag that lasts through many years ultimately saves money because it eliminates the need to buy replacements.
Choose a Style of Bag
Before taking into account price or any other factor, buyers need to consider exactly which type of bag they want. Clutches are often synonymous with evening wear, but there are several types of bags suited to formal events, as explained in the following chart.
| | |
| --- | --- |
| Type of Bag | Description |
| | Wider than it is tall, shaped like a loaf of bread |
| | Bag with a long strap that can be worn across the body |
| | Hard shell case rather than made from fabric |
| | Bag meant to be held in hand rather than carried by a strap |
| | Bag shaped like an envelope, often with a pointed flap |
| | Handbag with a strap that fits around the wrist |
Another type of bag to consider is a convertible evening bag, which can go from a clutch to a bag with a strap. Since women can remove the strap when not needed, but reattached it when it is, it works for multiple occasions. The strap is ideal when a woman is on the go and does not want to always carry the bag, and the strapless design works for more situations where she is mostly seated or stationary.
Choose a Material
Material is one of the big factors that affects pricing on a bag. Higher-quality materials cost more, but they also typically last longer than their lower-grade counterparts. Unless a woman uses the bag for a single occasion, it is better to choose a durable material. Leather is costly but strong and durable when well cared for. Satin is another strong option to consider; both work well for formal looks. However, faux leather and faux suede are also available in varying degrees of quality.
Skip the Detailing
Avoid embellishments, such as sequins, beading, and even embroidery. Damaging these delicate details hurts the look of the bag or even lead to needing a replacement. Plus, the lack of detailing makes it easier to coordinate with multiple outfits and keeps the look timeless. Coloured crystals, multi-coloured beads, and metallic accents can all clash with jewellery and other accessories. Avoid painted leather or metal accessories, which eventually chip.
Choose a Color
To get the most out of one bag, choose a neutral colour that works with just about any colour of outfit.Grey, white, cream, and black are neutral and coordinate well with a variety of other colours, so women can wear them with several options.
Other Ways to Save Money on Formal Bags
Apart from choosing a durable bag that lasts for several years, there are other ways to save money on a handbag, from choosing used bags to paying attention to sales and changing seasons.
Consider Used Formal Bags
Secondhand bags are a great way to get high-quality items, even designer bags, on a budget. Since they are for only special occasions, formal bags do not see much wear as everyday bags. However, there are quality issues with which to contend. Since materials, such as leather, need care to maintain, it is essential to check the condition of a pre-owned bag. Make sure the exterior is undamaged and stain-free. Also check that the seams are intact and that the lining of the bag is in good condition.
Look for Inspired-By Bags
While designers, such as Prada, Gucci, Coach, and Chanel, set the styles, a great way to get the designer look without spending a fortune is to look for bags inspired by major names in fashion. They do not, and should not, look identical, but they can still capture the same feeling. Plus, many of these inspired-by bags are still made by great brands with quality materials, so they last a long time.
Pay Attention to Seasons and Sales
Fashion is seasonal and trends continually change. Another way to score a deal on a handbag is to pay attention to the changing of seasons when shops and online sellers start clearing out their inventory to make room for new items. Keep an eye out for timeless styles and colours, and no one can guess that the bag is from last season or even last year. Another source of bargains is sellers who pick up overstock items to sell at below retail.
How to Buy Affordable Formal Bags on eBay
Shop on eBay to find a great selection of affordable formal bags that complement any occasion. Locating bags is easy; just enter a keyword, such as "leather clutch bag " into the search box and press the search button. Check the seller's feedback history before you buy, and keep an eye out for top-rated sellers who have earned recognition for their excellent service. Be sure to visit the eBay Deals page for special offers onfashion and beauty products. You can also browse items through eBay Stores, where sellers list all of the items they have for sale in one place. By shopping smart and choosing a good quality bag with a timeless design, you can make even a pricier bag more affordable.