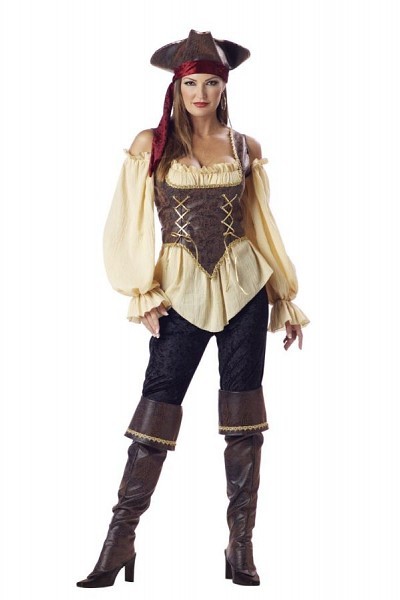 When Halloween finally comes around, keeping to a tight budget can be excruciatingly difficult. Although Halloween often entails heaps of candy, decorations, and many other things to buy, consumers can at least save a little money on their Halloween costume. With a little cleverness and know how, consumers can differentiate between what needs to be bought and what can be made. Additionally, sticking to an exact idea and solely going for that costume idea can actually turn into an expensive endeavour, and therefore, consumers should consider being flexible while conducting a little comparison shopping. By learning about the different methods of saving money on a Halloween costume and the wealth of homemade costumes, consumers can confidently and comfortably create and buy an affordable Halloween costume.
Different Ways to Save Money with a Halloween Costume
Although it takes a little more time and a little more thought, there are actually hundreds of things around the house that consumers can use to create their perfect costume. There is always going to be certain parts of a costume that must be bought, such as special makeup, masks, and specialty clothing directly related to the costume idea. Fortunately, consumers do not need to be too skilled at sewing to make parts of their own costume, as they can simply utilise certain cloths for parts of the costume and various things around the house as accessories. To minimise the amount consumers have to spend on their costume, they should take some time distinguishing what must be bought from the store and what they can actually use from their home.
Being Flexible and Comparison Shopping
A major problem that many consumers have when preparing for Halloween is that they fixate on a single idea and solely work towards that costume idea. Although thinking of a unique costume idea is quite exciting, consumers should always consider being flexible with their ideas and shop between different models. It can be helpful for consumers to come up with a list of ideas and then compare and contrast the prices of these costumes. Additionally, many of the more popular costumes come with a manufacturer's model number, and consumers can use this number to search for similar models from different retailers. In addition to comparison shopping, consumers who want to save some money should always consider shopping at second-hand stores.
Personalisation Options for a Halloween Costume
During Halloween, many people want to create a unique costume that is not only fun but also memorable. Therefore, some people spend piles of cash to complete a costume exactly as they want. However, consumers can opt for other options to avoid spending too much money. Some of these ways include purchasing coloured contact lenses, utilising glue with nuts and bolts, making blood wounds with makeup, and using various household items as accessories or props. In fact, some of the best costumes come from items such as cardboard, cloth from around the house, and different clothing items used in new and interesting ways.
Consider Making a Halloween Costume
A consumer does not need to know how to sew to create a costume from scratch. Although knowing how to sew different fabrics together can be very beneficial, it only takes a little ingenuity to put together a costume without needing to sew. Consumers can opt to make use of pins, glues, and duct tape for attaching purposes. For instance, they can glue leaves to a simple T-shirt to create an Adam and Eve costume or some sort of jungle monster. Simple items, such as coffee filters, socks, rubber snake toys, trash bags, and many others can be used in a creative manner to create some of the best costumes on Halloween.
Affordable Halloween Costume Ideas
It can be very easy to collect the materials for a homemade costume; however, thinking about a costume idea can be very difficult. Sometimes, it is just easier to search through the costumes at a major retailer. The chart offers some simple ideas to get consumers thinking about affordable Halloween costume options.
Type of Costume

Materials Needed

Methods

Price

Laundry basket

White and red Yarn

Brown foam balls

Glue

Glue yarn onto the laundry basket

Cut holes for legs in laundry basket

Cover everything with yarn for spaghetti effect

$

Recycled newspaper

Paper plates

Paint

Glue

Exercise balls for the round shape

Cut hole into exercise ball to fit inside for body shape

Use recycled newspapers for the eyes, nose, and moustache

Use paper plates for the ears

Paint everything accordingly

$$$

Cardboard

Duct tape

Aluminium Foil

Old window screens

Create boxes out of cardboard for the body, head, arms, and legs

Window screen for the robot face

Cover entire shape with duct tape and foil

$$

Yellow t-shirt

Black pants

Black felt

Glue

Headband

Pipe cleaners

Styrofoam balls

Cut strips of black felt to glue over the yellow t-shirt

Cut two holes in the headband for antennae

Thread pipe cleaners through headband

Attach styrofoam balls to pipe cleaners

$$
When making costumes, it can be helpful to think of others who might want to use the costume in the future. For example, once a consumer has outgrown his or her costume, there is surely a relative who could use it in the future.
How to Buy
One of the best places to search for and buy used costumes is on eBay. However, because there are so many different sellers offering a wide range of costumes, you need to know how to search effectively. To do so, simply locate the search bar and enter keywords directly related to the costume that you need. It is important to remember that eBay elicits listings based on the keywords you enter, and therefore, a specific search such as "Bumblebee costume" limits the results more so than simply "costume." Also, be sure to consider checking out eBay Deals to discover a wealth of accessories for your costume at affordable prices.