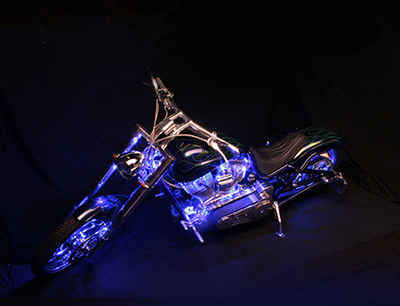 A simple way for a motorcyclist to customise the appearance of his machine is by installing LED lights. Unlike headlights and other motorcycle safety lights, LED lighting kits surround the wheel wells, frame, and engine, and well as a variety of exterior areas on the motorcycle. Additionally, LED lighting kits come in various colours and offer myriad lighting effects. The prices for LED lighting kits vary considerably. A shopper can find budget options if he knows where to look. When shopping for affordable motorcycle LED lighting kits, the shopper must carefully examine the different types of lighting kits and the features they offer.
Choose the Type of LED Lighting Kit for a Motorcycle
When shopping for an LED lighting kit for a motorcycle, a shopper finds that there are several options available. Not all lighting kits are the same. Some emit only a single colour, while others emit several colours. Some mount in the wheels wells, while others one can use to highlight particular areas on a motorcycle. Some kits even create different lighting effects. Motorcycle owners should be sure to consider all of the available options before committing to a purchase.
Single Colour vs. Multi-Colour LED Lighting Kits
Single colour LED lighting kits are often cheaper than those kits that emit multiple colours. A shopper who has a favourite colour or wants a single colour to complement the rest of his motorcycle should choose a single colour lighting kit, as it is the most affordable option. When choosing a single colour kit, a shopper has a wide array of colours to choose from. With multi-colour motorcycle LED lighting kits , shoppers get more colours for their money. The motorcyclist who wants the option to switch colours may find that a single kit offering multiple colours is more affordable than purchasing several single colour kits. However, with multi-colour LED lighting kits, the shopper has only a handful of colours to choose from. Usually, there are only 10 colours in the offering, but some brands offer multi-colour kits in more colours.
LED Accent Lights
For the shopper who does not want to cover all parts of his motorcycles with LED lights, accent lights are another option. Whereas a standard LED lighting kit includes strips for lighting up the wheels, engine, gears, gauges, and more, accent lighting only covers one area or part of the motorcycle. A motorcyclist can add the lights to just the areas he chooses to highlight without having to purchase and install the entire lighting kit. Additionally, a motorcyclist can use accent lighting in conjunction with other lighting kits to add even more lighting effects to the bike.
LED Light Bars
An LED light bar for a motorcycle gives the user complete control over installation. One can mount LED light bars just about anywhere on the bike. These bars feature about five to 10 LED lights in a single row and one can mount these to surfaces of the motorcycle using a strong tape or adhesive. Additionally, LED light bars are universal, so a shopper does not have to order lights specific to the make and model of his motorcycle. In addition to adding decorative lighting, some owners opt to use these light bars as brake lights , thus enhancing the safety features on the bike.
LED Light Modes
Some LED lighting kits feature several lighting modes. These lighting modes produce a variety of lighting effects while the motorcycle is in motion. These effects range from solid colours to flashing lights. The different modes and effects may distract other drivers and riders on the road, so it is important to choose a lighting kit with a remote that allows the rider to control the lights. This way, a motorcycle owner can easily turn off the lights while driving to avoid accidents on the road.
A solid colour kit emits a single colour and offers no special lighting effects. With a colour cycle kit, each colour on a multi-colour LED lighting kit appears one at a time for several seconds before switching to the next colour in the cycle. Available in single and multi-colour lighting kits, the strobing effect consists of LEDs blinking or flash rapidly. To create a fade effect, the LEDs in the lighting kit slowly increase and decrease in intensity. Both single and multi-colour kits offer this effect. Some lighting kits feature lighting that reacts to music and particular sounds.
Find Affordable Motorcycle LED Lighting Kits
When shopping for affordable motorcycle LED lighting kits, the shopper should consider used and refurbished items. A used LED lighting kit is one that is not new out of the box . The previous owner used the kit on his vehicle but the kit is still in good working order. While the kit's condition may range from excellent to poor, many lights are in good working condition and available at reasonable prices. Unlike used items, in the case of refurbished items, the manufacturer has refurbished LED lighting kits by cleaning, repairing, and restoring the kits to their original operating specifications. These refurbished lighting kits are slightly more expensive when compared to used items, but these kits are still more affordable than new lighting kits.
How to Buy Lighting Kits on eBay
eBay offers several great deals on motorcycle LED lighting kits. Shop for the kit that meets your needs by first performing a basic or advanced keyword search. From the initial search results, select other options such as colour, type, condition, and more from the refinements menu. If you cannot locate exactly what you want, check out the eBay Stores for additional items. Be sure to read the item descriptions and view the images carefully to ensure that you choose the LED lighting kit that meets your needs. Lastly, review the seller's feedback rating to locate Top-rated sellers that provide consistently high quality service. With just a little bit of searching, you can find great deals on eBay.