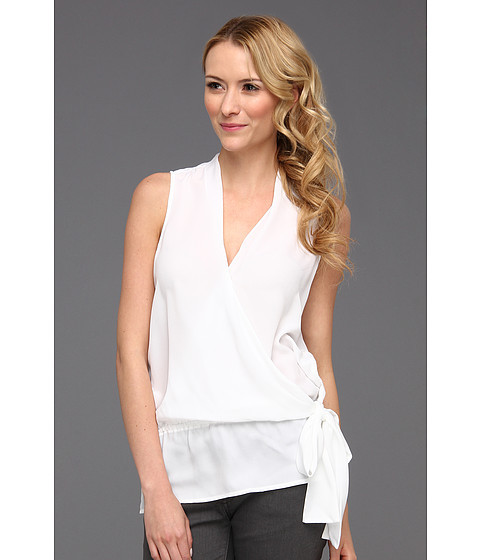 There is nothing more challenging than putting together a polished job interview look for buyers on a budget. Create a professional ensemble for interviews by purchasing affordable tops and blouses to pair with skirts or trousers for a professional look. Looking interview-savvy costs less when purchasing tops on eBay or in discount retail stores.
To get the most use out of the garments, choose tops and blouses easily combined with existing pieces and tops worn over and over. Stick to a budget easily when purchasing tops and blouses by picking blouses by style and material, as well as brand.
Purchase Classic Pieces
Skip trends and current pieces and opt for timeless tops instead. Sleek button-down blouses, sheer and feminine chiffon tops, or solid-coloured wrap blouses are flattering and never go out of style. Choose tops with flattering features such as scoop necks or V-necks, and opt for neutral colours such as cream, white , black , or navy. These shades match many possible bottoms, and neutrals remain stylish year after year. Crisp, white, button-down blouses are worthwhile staples for women purchasing interview blouses, or pretty floral or graphic design blouses make a statement to interviewers.
Buy Pre-Owned Tops and Blouses
One of the best ways to stick to a budget is by purchasing pre-owned blouses. For consumers who simply need nice blouses to wear to job interviews and may not wear the tops again, there is no need to spend a lot of money on garments worn only once or twice.
Purchasing pre-owned tops allows consumers to buy nice blouses at lower prices. Gently used blouses come in many brands and materials that buyers may not have been able to afford before, such as silk blouses, Polo Ralph Lauren tops, luxury Dolce and Gabbana designs, or high-end Gucci blouses.
Stick with Easy Care Materials
Women on a budget should consider blouse materials before purchasing. Some materials require additional care, such as silk, which costs more in the long run due to dry-cleaning costs. Polyester, cotton , and jersey materials are wash-and-wear pieces for easy care. Lower maintenance costs save buyers money over time, so consumers on a budget should read care instructions before purchasing blouses to ensure not spending additional money in order to care for the blouses once purchased.
Blouses are sometimes hand washed and hung to dry, which is still easier and less costly than taking a silk blouse to the dry cleaner and paying for professional cleaning. Viscose is another option, which looks expensive but requires little maintenance to keep clean. Some chiffon blouses are wash-and-wear items, but most silk blouses and cashmere tops are dry-clean only.
Check Existing Items
The best way to make sure consumers spend money well is to ensure that new tops and blouses work well with existing wardrobes. There is no use in purchasing tops which have no complementary bottoms. Take stock of the closet and pick outpants and skirts that need blouses and tops for a complete look. Make a note of which colours, styles, and materials look best with these items, and use the list when purchasing tops and blouses for interviews. Save money by pairing tops and blouses with items already on hand, and then simply add a new pair of heels or a necklace to have complete, interview-ready outfits.
Consider layering pieces when putting together outfits. When needing a blouse to go under a jacket, consider the shape and colour of blouse desired. One blouse is versatile when it goes with more than one item, such as a pair of trousers, a skirt, and a jacket. This ensures buyers get the most for their money when purchasing affordable tops and blouses. Switch up outfits for each interview, or use the alternative looks for work once landing the job.
Consider Accessories
Sometimes buying on a budget leaves buyers feeling drab. If on a tight budget, add flair to plain tops and blouses by including affordable accessories. A simple scarf adds flair to a solid coloured blouse and looks sophisticated for an interview, or a statement necklace which costs little is the perfect finishing touch for a wrap top. Adding accessories jazzes up even the most inexpensive tops to create more polished looks for job interviews, and makes the outfits look a bit more expensive.
Interview Outfit Ideas with Tops and Blouses
Determine which blouse or top works best with the right bottoms. A good rule of thumb to follow for consumers wearing loose fitting blouses is to wear something a bit more form fitting on the bottom. It works conversely, too. For loose, wide-legged pants, the top or blouse should be streamlined and flattering to highlight the figure.
Type of Top

Complementary Bottoms

Accessories

Shoes

Button-down, long-sleeved top

Pencil skirt

Wide-legged trousers

Pearl necklace

Simple earrings

Pumps

Strappy sandals

Flowing chiffon blouse

Slim trousers

Knee-length skirt

Jacket

Wide belt

Chunky jewellery

Wedges

Platform sandals

Wrap top

Wide-legged trousers

Patterned skirt

Statement necklace

Pumps

Strappy sandals

Tunic style top

Slim leggings or trousers

Slim belt

Wedges

Strappy sandals
Heels , pumps, and platforms give women height and elongated legs, which looks somewhat more professional than flat shoes. Heels also make women walk a bit taller which improves posture. Accessorising is important. A plain blouse needs an injection of style with a statement necklace, and a button-down top looks perfect with pearls or another small, classic piece.
How to Buy
Instead of buying bland budget blouses, consider getting great deals on a lot of blouse brands and styles when you shop for the perfect job interview blouses and tops on eBay. Find affordable blouses and tops by searching by brand, such as Country Road or Witchery , or search by size, price range, or whether the blouse is pre-owned. Communicate with the seller to see more images of pre-owned blouses before purchasing by clicking the "Ask a Question" link.
Putting together a memorable job interview outfit on a tight budget may be a fashion challenge, but it is also fun. Find exciting ways to stick to your budget without sacrificing style by getting creative with colour, accessories, or existing items already in your closet.