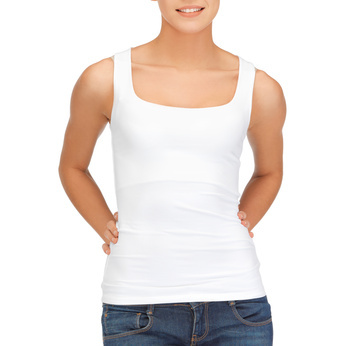 When it comes to shopping for tops, the options are practically endless. Both men and women have many options and everyone needs a good selection of tops in their wardrobe so that they are ready for every occasion. There are tops made specifically for comfort, dress occasions, and casual luncheons. The materials, styles, and prices of them all vary which can get overwhelming when selecting ones to purchase. The best way to make the process easier is to learn about the various kinds of shirts and then try to get a variety of each of them. Then, once people know what to look for, they can then seek out sales and deals on those tops.
Finding the Right Top Size
Figuring out a person's current size before shopping is important, especially if shopping online. Many great deals are online, but without the ability to try the item on, people have to make sure their measurements are exact.
Men and women usually have to get different measurements to find their size. Men, for example, have to figure out their neck size and sleeve size. To measure the neck, hold the head straight and measure around the thickest part of the neck. Loosen the tape up a little big by putting two fingers in between the tape and the neck. Without loosening the measuring tape, the shirt collar could end up being too tight. To measure the arms, get someone to help and hold the end of the tape at the tip of the shoulder. Hang the arm down naturally and get the measurement at the wrist. For the hips, bust, torso, and waist, measure the parts of the body at the thickest parts without wrapping the tape around too tightly. Usually the neck measurement is only needed for dress shirts.
| | | | | |
| --- | --- | --- | --- | --- |
| Women's Size | Height (cm) | Shoulder (cm) | Bust (cm) | Waist (cm) |
| | 147–155 | 36 | 193 | 152 |
| 0 | 155–163 | 37 | 79 | 60 |
| 1 | 155–163 | 38 | 82 | 62 |
| 3 | 163–170 | 38 | 84 | 65 |
| 5 | 163–170 | 39 | 86 | 65 |
| 7 | 163–170 | 39.50 | 89 | 70 |
| 9 | 163–170 | 40 | 92 | 73 |
| 11 | 165–175 | 40 | 95 | 76 |
| 13 | 165–175 | 42 | 99 | 80 |
While general sizing charts are easy to find, many manufacturers have their own sizing standards. To be sure of getting the right size garment when looking for affordable tops online, it is wise to always try to check out the size chart provided by the manufacturer before purchasing anything.
Types of Tops
Choosing the kind of tops to look for is not as daunting as it may sound. The easiest way to go about it is to shop for the top based on the occasion. Many people just look for shirts they like and end up with a bunch of tops that are only appropriate for one kind of occasion. For example, someone with all T-shirts has nothing to wear to a career luncheon or an evening dinner.
Blouses
Blouses are for women and they have a dressy appearance. Depending on what ladies wear them with, they can be semi-casual, professional, or semi-formal. Since they have so many uses, women often have several in their wardrobe.
Button-down Tops
Both men and women wear button-down shirts . For ladies, they are fall into the blouse category. However, men's button-down shirts are less formal. They are not supposed to button all the way to the collar and they can be casual or semi-professional depending on what they are worn with and whether there is a belt. They are pretty versatile shirts for men and women. However, since the fabric used is not stretchy, it is important to get the sizing right.
Dress Tops
Dress tops are the button-down shirts that are formal and worn with a tie. Men have to tuck these into their trousers and the sleeve and collar measurements are important to get right. Men should have a few of these in their wardrobe for formal and business events. They come in various colours and patterns, so be sure to get a top and a tie that go well together.
Polo Shirts
Polo shirts were originally for the sport of tennis. However, they became popular as a casual, yet classy shirt with a number of applications. They are more dressy than a T-shirt, but are still comfortable to wear and appropriate for occasions such as a professional luncheon.
Sweatshirts
The sweatshirt category includes a wide variety of long-sleeved tops with thick materials. Anyone who lives in a cold climate should have several warm tops available.
T-shirts
Everyone knows what a T-shirt is. Since it is a quick and easy top to throw on, having a good selection of these is a good idea. Look for quality materials such as jersey knit and spandex blends to ensure that the top does not end up shrinking later on.
How to Buy
One of the easiest ways to find a wide variety of affordable tops is to shop on eBay. Not only are there thousands of products and sellers, but you can also check out the eBay Deals page everyday to see what sales are available. To find affordable tops on eBay, begin by entering relevant keywords into the search bay found on every page. General keywords, such as " men's T-shirt", bring up thousands of listings, which you can sort by price, to see the best deals first. You can also add more specific keywords such as type of top, size and colour to help limit the options to browse through.
Since there are so many tops to browse through, be sure to add the ones you like to your Watch List so that you can find them again later. Once you have several tops saved, go to your My eBay page to view them all and select the most affordable ones with free postage. For great service consider buying from the trusted Top-rated sellers, and it is also wise to check the seller's return policy, in case the item does not fit properly.