http://stores.ebay.com.au/CRAFT-MAGIC-AND-SURPRISES
Buying magic tricks can be costly and wasteful, if approached without involving an Age-appropriate element.
We all know the importance of children adopting a hobby of some description, to busy those idle hands. Think of how mischief-making would decline, if only those mischief-makers had a worth-while hobby to pursue.
Magic was my hobby of choice as a youngster, and as a satisfying pastime, I couldn't recommend it highly enough. It teaches discipline, the importance of practice, patience, trust and many other admirable qualities.
As a beginner, it's imperative to tackle magical items which are Age-appropriate. For example, it would be unfair to expect a novice to effectively perform "Cutting a Lady in Half". It makes far more sense, of course, to start off with a 'pocket trick' that can be easily handled by a learner.
You'd think that buying from a Magic Store would be ideal, but not always so. A magic trick, in the hands of a seasoned magician, can look very easy, even when shown and explained. In the hands of a beginner, however, the same trick can prove extremely difficult to master.
I've seen at local shows and fairs, the caravan with an open window. A magic dealer would display trick after trick, followed by a buying frenzy from eager customers, believing they too can amaze their friends and family. If help is needed in handling the object, where do you turn?
When buying magic tricks, it's prudent to ask the dealer if the purchase is Age-appropriate and relevant to the intended user. After consideration, he may well suggest something more suited to the occasion.
Another complication can arise in the instructions that accompany the magical item. All too often, instructions are supplied in broken English, or even in another language entirely. Instructions may be difficult to understand, even if presented in plain English. Once again, where can you get assistance and advice?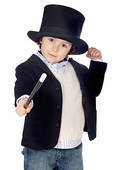 Allow me to alleviate your concerns. I have an eBay Store which caters for magicians, both Beginner and Advanced. There are new and used magical items, suited to all levels of competence, and advice is freely given as requested.
Seasoned performers may also be interested in visiting, owing to the
pre-loved articles I no longer require, all in very good condition.
If you're not sure regarding the suitability of a particular trick, simply let me know in general terms the level of expertise. I can then advise you accordingly.
Visitors are welcome to the Store. Please step inside and see what's available.
http://stores.ebay.com.au/CRAFT-MAGIC-AND-SURPRISES