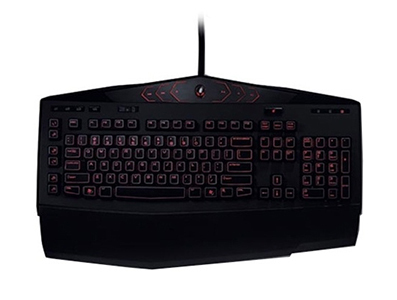 Alienware is one of the most popular companies on the planet when it comes to manufacturing gaming computers. Gamers who have used their high performance PCs or laptops may want to buy other Alienware gear to show their pride in the Alienware brand. While Alienware doesn't offer a huge variety of different products, they do offer some key gear every gamer should consider.
Alienware TactX Keyboard and Mouse
Alienware has one external keyboard and one external mouse option produced under the name TactX. The mouse has nine programmable buttons for in game shortcuts, five customisable profiles to change button settings between games, and a scroll wheel with toggle switch to swap between vertical and horizontal scrolling. The keyboard features tons of customisable keys, unlimited profiles and a "gaming mode" that disables menu keys on the keyboard, saving gamers from an accidental press that could close them out of a game at a crucial moment.
Both the TactX keyboard and mouse also come equipped with AlienFX lighting technology. The fully customisable LED lights on these devices can be programmed to display a certain colour, change colour over time, or change colour according to what's happening in game. Other makers of gaming peripherals like ROCCAT produce devices in partnership with Alienware that also use AlienFX technology. These devices include the ROCCAT Isku FX gaming keyboard and the ROCCAT Kone XTD gaming mouse.
Alienware Alpha Gaming Console
The Alienware Alpha is a blend of PC and gaming console. It's designed to hook directly up to an HD monitor or LCD TV and allow gamers to play PC games as they would console games.
The advantage of the Alpha over a normal console is the ability to download thousands of PC games from Steam that are all instantly playable in 1080p. The advantages of Alpha over a PC or laptop include its compact nature and its simple direct-to-gaming user interface. The Alpha comes with an Xbox controller, but can also be hooked up to a keyboard and mouse for more of a PC gaming experience.
Alienware Graphics Amplifier
The Alienware 13 is Alienware's smallest laptop, designed for portability. The drawback to having a smaller laptop is a smaller, lower quality display compared to other Alienware laptops. This is where the Graphics Amplifier comes in.
For those using an Alienware 13 laptop at home, the Graphics Amplifier is a device that connects to the laptop and offers support for desktop graphics cards. This allows games to be displayed on double-wide desktop monitors with extremely crisp graphics and resolution. The Graphics Amplifier connects to the Alienware 13 laptop with an exclusive cable, so all of the laptop's USB ports remain open for other accessories. When it's time to go mobile again, just unplug the laptop from the amplifier.
Alienware Carrying Cases
Alienware has its own line of carrying cases called Vindicator that are specifically built to carry Alienware devices. There are many types of carrying cases available, including briefcases, slim carrying cases, backpacks, and messenger bags. For a thin layer of protection, there's an Alienware neoprene sleeve. Alienware even has a case for its Alpha Gaming Console. Every carrying case comes with a lifetime warranty against manufacturing defects.
Some of the impressive features that make these carrying cases worth the somewhat steep price include: lots of padding to protect devices inside, sturdy but soft weather resistant outer casing, comfortable handles and shoulder straps, and plenty of room for accessories and other electronics.
Alienware Apparel
While there are many fan-made custom t-shirts and other unlicensed Alienware products, there are only a couple of different items of licensed Alienware apparel available at any given time. The best way to find these is by checking Alienware's website. Currently they are selling a black baseball cap with a black Alienware logo and a navy blue t-shirt with blue logo and circuit board pattern. The hats are available in any size while the shirts are only available in men's large or extra large.
For the most part, this is all Alienware has to offer outside of its PCs and laptops. Don't make the mistake of underestimating the brand due to its somewhat limited selection. Alienware specialises in hardcore gaming devices and tends to focus on quality over quantity when it comes to releasing new products.