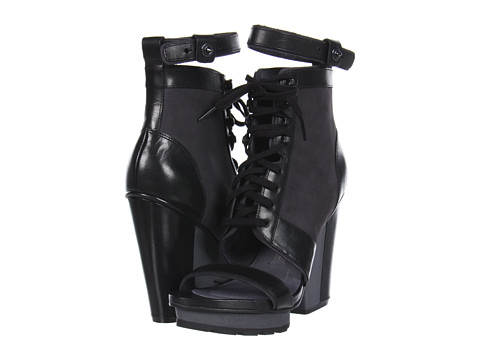 Boots offer a fashionable and unique option for evening footwear. Eschewing the painful high heel or the boring flat for boots has become a popular option for dressing up. From tall boots that contrast well with a short skirt or tight pair of skinny pants, to calf boots peeking out around the corner edge of slacks, boots are extremely versatile.
The downside of versatility is variety. With boots, there are so many options that selecting a single pair can be overwhelming. Having a selection of options is smart, as boots are comfortable pieces of footwear for semi-formal and some types of formal events. It can be difficult to know what type of boot is appropriate for a specific event, outfit, or look. When out shopping for boots, it is important to buy those that look and feel good, as well as options with staying power.
Buying the Right Size of Boots
A major factor in buying boots is getting the right size. Even when dressing up for a night on the town, comfort and fit should be a priority.
Finding the right size can sometimes be tricky. Imported boots from other countries may lead to an issue with sizes, and even some local manufacturers follow their own size guidelines. Knowing one's size in relation to a standard pair of boots is crucial.
Measuring for shoe size is easy enough for people to do at home. Simply get out a blank sheet of white paper and stand on it with a clean, bare foot. Mark a line at the tip of the longest toe and at the rear of the heel. Then take a flexible ruler and measure the distance between the two marks. Just to be sure, repeat the same process on the other foot also. Some individuals may discover that they actually need two different shoe sizes, one for each foot.
| | | |
| --- | --- | --- |
| Foot Length (cm) | Men's Size | Women's Size |
| | 4.5 | 7.5 |
| 24 | 5 | 8 |
| 24.5 | 5.5 | 8.5 |
| 25 | 6 | 9 |
| 25.5 | 6.5 | 9.5 |
| 26 | 7 | 10 |
| 26.5 | 7.5 | 10.5 |
| 27 | 8 | 11 |
| 27.5 | 8.5 | 11.5 |
| 28 | 9 | 12 |
| 28.5 | 9.5 | 12.5 |
| 29 | 10 | 13 |
In addition to finding the right size of boot, remember to keep calf measurements in mind. While some boots come with a specific calf size, others are one-size-fits-all. When ordering online, always find out this measurement. Contact the seller if this information is not listed. If purchasing in person, be sure to try on the boots in order to be certain of a good fit.
Not all boots cover the calf. Some stop at the ankle. Furthermore, boots that lace all the way up offer extra room for the calf and upper leg. However, tall boots that slide on or zip up may be too tight for some calves.
Buying the Right Type of Boots for an Evening Out
There are a bevy of options when it comes to buying boots. However, not every type of boot works for a formal occasion. A favourite pair of worn-in boots is an unlikely choice for a visit the movies or the theatre.
Tall Boots
Tall boots are a long-time favourite, especially when dressing up. While some zip up, others slide on. Either way, they can look and feel good with the right outfit. They typically work well over a pair of leggings, skinny pants, or a skirt. Keep in mind that standard-fitting pants often do not accommodate the tall boot well. If they fit over the boots at all, they look bulky and wrinkled.
Short Boots
Short boots are a good choice when wearing pants. They also work with skirts and dresses, particularly those that are long. However, they can sometimes look a bit out of place with a short skirt or dress. Just like tall boots, some lace up while others slip on. Slip-on ankle boots are an appropriate option for formal pairings.
Boots That Lace Up
Boots that lace up are great for individuals with larger calves that may require a bit of additional room. Although some versions vary, the downside of these boots is that they can often appear a bit too industrial for formal gatherings. Use careful judgement when selecting a lace up for an occasion, particularly in the case of a tall boot.
Boots That Zip or Slip
Boots that either slip on or zip discreetly up the side are an excellent choice, when the calf size permits their usage. Rather than zip, many are made of stretchy material to offer additional room for the lower leg. Both options offer a sleek, fitting look and work well with a variety of outfits. This is a good choice, particularly in the case of tall boots. However, the calf should also fit, as this cannot be judged by simple shoe size alone.
Additional Factors to Consider When Buying Boots for an Evening Out
In addition to the design and length of boot, there are a few additional factors to consider when picking up a new pair. Three examples include colour, toe shape, and heel. While the right shade can make coordination with a number of outfits a more viable option, heel and toe shape can greatly affect one's level of comfort when wearing a pair of boots.
Colour
Boots come in a variety of colours, including printed patterns. Shades of brown and black remain more popular. Like the ubiquitous little black dress, brown and black boots are not victim to the same fashion trends that white, red, or patterned options tend to be. Black and brown boots are versatile, look good with a range of outfits, and never go out of style. Buy a good quality pair of brown and black boots for the greatest level of versatility and usage.
Toe Shape
Most boots either have a pointy, triangular toe or a traditional ovular end. The pointy, triangular shape may look good with some outfits, but it varies significantly from the natural shape of one's toes. As a result, many people are extremely uncomfortable in boots with this toe shape. Although fashion is important, comfort should always be a top priority. Give this factor serious consideration before investing in a potentially painful pair of boots.
Material
Most boots are made of suede, patent, or leather. Leather tends to take the most abuse, but suede often provides a formal appearance. Before making a selection, carefully evaluate the care of a given material. For example, most boot materials require specialised cleaning. This is important to bear in mind, as the feet tend to come in contact with the elements far more frequently than other parts of the body. For those who want a long-lasting pair of boots, it is better to stick with options that are not likely to be destroyed by a bit of rain or mud.
Heel
While some boots are flat, most have at least a minimal heel. The heel may be thick and chunky or a thin, stiletto style. Others fall somewhere between the two. Women who are accustomed to wearing stiletto high heels should have no problem getting around in similarly styled boots. However, those who are not accustomed to wearing high heels may do well to stick with a flat or chunky heel for optimal support.
Buying Boots for an Evening Out on eBay
eBay offers a wide variety of boots from sellers all over the world. You can begin the process of buying boots by entering a relevant search term in the search bar on eBay's home page. In this case, related terms may include "women's boots" or "boots size 9 boots". You can then use eBay's filters such as price or brand to reduce the number of listings. For great deals on boots, consider searching for a pair in the eBay Deals section, where you can take advantage of the promotional pricing.
You may need to ask the seller about the return policy, verify measurements, or find out about shipping and insurance. To ask a seller questions on eBay, simply click on, or search for, his or her username. This brings you to the seller's feedback profile where you can read reviews from previous clients, look at the seller's overall rating, and get contact information.
Conclusion
It is worth the investment to add a good-fitting, high-quality pair of boots or two to one's wardrobe. Winter and spring fashion demands this. Boots are a stylish and attractive way to round off a special outfit. They come in a wide variety of colours and styles but also provide versatility. It is important to be highly selective when picking out the right pair of boots for an evening out. Always make sure they fit and feel comfortable, coordinate with one's outfit, and are appropriate for the event. Boots can be quite expensive, but thankfully they have the unique ability to remain in fashion every year, particularly when the weather turns cold. In fact, many of the same boot styles have been popular for decades. Consider purchasing used boots or buying online to reduce some of the expense. The right pair, when properly fitted and well taken care of, can withstand plenty of wear.