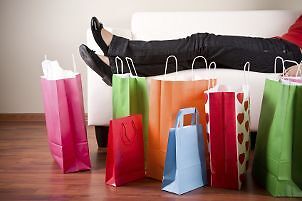 Buying Cheap Clothes Online:

Use the right search terms. One of the easiest ways to find cheap clothes is to type the words "discount" or "cheap" and the brand name you're looking for into a search engine. Many websites offer cheap clothes from well-known designers and brands who have become overstocked and are trying to make room for more merchandise. Some online retail stores include cheap women's clothes and cheap men's clothes from many different brand names.

Take advantage of holiday promotions. Many retailers offer discounts or reduced shipping rates around holidays or other high-traffic times, like during back-to-school season. For example, you can find cheap men's clothes around Father's Day, cheap women's clothing around Mother's Day, and discounts for the whole family on the day after Thanksgiving and up through Christmas. After these sales, leftover merchandise is often marked down even further, although you won't have as much of a selection to choose from one clothes are in the clearance bins.

Always look for promo codes. No matter what time of year you are shopping, you can find promo codes to help you save a bit more. Search online for "coupon codes", "coupons," or "promo codes" plus the name of the website where you want to shop to find the latest codes.

Sign up for e-mail newsletters. To find out about sales and markdowns before anyone else, join retailers' mailing lists. Some websites send exclusive coupons to members for discount clothes and shoes, while others send notices of upcoming sales or deals. Many retailers also allow you to customize email updates and newsletters to your preferences, so you only receive notifications about clothes or accessories at certain times or on specific days of the week.

Know when to shop for seasonal items. Retailers often clear out their inventory when seasons end to make room for different pieces. One of the best times to find clearance clothes and shoes is at the end of summer and the beginning of spring, when the weather begins to change. Look for bargain shorts, tank tops, swim wear, and other warm-weather clothing right before school starts, so you can stock up for next summer. Find cheap clothing for winter, like winter coats, boots, and sweaters, when retailers begin to get spring merchandise in, usually around March; often you can get a new coat or winter boots early enough to still wear them a few times before it's too warm. This takes some planning ahead, but you can get some of the best deals if you can wait.