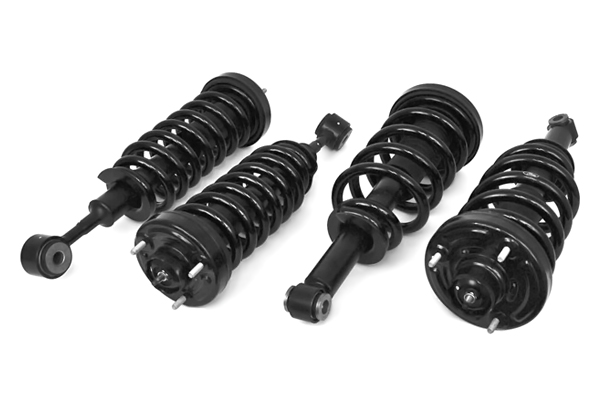 Whether an individual finds owning a car to be a necessity or a liberating luxury, the fact is that it is a major commitment. Not only does a driver have to maintain a proper storage space for the car and pay for gas and insurance, there is also the factor of car maintenance. When a car's suspension is not performing properly, it can be quite uncomfortable to drive because both driver and passenger can feel every bump and crevasse in the road. When this happens, it may be the result of worn out coil springs. These springs can be replaced by a professional mechanic or a skilled amateur, but the right parts are still necessary. Many styles of coil springs are available for purchase on eBay with great deals for those who know where and how to look for them.
Understand the Purpose of Coil Springs
Before purchasing coil springs on eBay, it can be a good idea to understand the purpose of those springs in the overall performance of the car. While the term "coil spring" is a general reference to a mechanical device consisting of an elastic material coiled around an axis, when applied to car parts and accessories, there is a specific meaning. Coil springs, or springs of some type, are an integral part of every vehicle's suspension. The springs' ability to absorb the vertical movement that any uneven surface exerts on a car helps to make cars and trucks alike run more smoothly on any road. Over time, however, coil springs can become worn out and lose efficiency. It is at this point that they need to be replaced.
Confirm the Type of Spring Required
Before purchasing coil springs on eBay, confirm that coil springs are indeed the type of springs that are required for the vehicle in need of repair. This is necessary because there are actually a few styles of springs that are in wide use across different types of vehicles and coil springs may not be compatible. The following table outlines the four most common types of springs used in vehicle suspension.
| | | |
| --- | --- | --- |
| Type of Spring | Description | Commonly Used |
| Coil spring | Metal bar turned around an axis to form a coil | Common in all types of vehicles |
| | Layers of metal fused together | Seen on many trucks and heavy duty vehicles |
| | Steel bar that twists against the vehicle frame | Older cars, particularly European models |
| | A rubber chamber that uses compressed air to level the ride | Sometimes used by very large trucks or buses |
Although all these types of springs are available on eBay, knowing which one is required for a specific project makes it much easier to search. Using the search box, enter "coil spring" or "torsion bar" or whichever relevant terms come to mind in order to get the proper results.
Ensure Coil Spring Compatibility
Once the perfect type of coil spring is found, it is still necessary to make sure that the springs are compatible with the make and model of the car. On eBay, most product descriptions include the models with which the springs are compatible. Some springs are only compatible with one specific car model while others may work in a variety of cars. If the product description does not explicitly state the make and model, it may be a good idea to take measurements on the vehicle or to contact the seller directly with the question of compatibility.
Evaluate Used Coil Springs
By taking the time to shop around on eBay and compare prices from many sellers, it is possible to get a good deal on car parts, including coil springs. To save even more, consider purchasing used coil springs. These parts may have been salvaged from a vehicle in good working condition and can allow the shopper to get useable coil springs at a very low price. Of course, it is necessary to exercise caution when purchasing used coil springs and be sure to inquire about the condition of the parts where necessary.
Contact Seller With Questions
Buying either used or new coil springs on eBay means examining the parts that are for sale by reading the description, looking at images, and also asking the seller questions. The eBay interface makes it extremely easy to have direct contact with the seller of any item. Simply send the seller a message using the eBay messaging system and wait for him or her to respond. It is a good idea to be sure that the question is not already answered in the item description. Once the seller responds to the inquiry with sufficient information, it is much easier to complete the purchase with the utmost confidence and security.
Consider Other Car Suspension Parts and Accessories
When replacing a car's coil springs, there may also be other parts that need attention. Buying a few car parts at the same time can ensure that all maintenance that needs to be done can be completed. In fact, some specialised car tools may even be necessary to replace a set of coil springs. These include a coil spring compressor, which allows whoever is working on the car to easily compress the springs so that they can be installed properly.
Look for Car Dampers
Another important part of a car's suspension system includes the dampers, which can come in the form of shock absorbers. As the springs of a car absorb energy from the road, the shock absorbers distribute it throughout the car so that every bump is not felt. While coil springs and shock absorbers may not necessarily wear out at the same pace, it is possible that they both need to be replaced at the same time. Once coil springs are chosen, use eBay to click through to the seller's other items and see if there are shock absorbers or any other parts that may work on the vehicle being repaired. Often, sellers are happy to combine shipping costs when multiple items are purchased, but be sure to confirm that with the seller.
How to Buy Coil Springs on eBay
When you have evaluated the variety of coil springs that eBay has to offer and have found the right ones for your vehicle, you can proceed with the transaction. The eBay interface makes it easy to step through the payment process and complete your purchase quickly. Remember to take into account any shipping costs before buying coil springs on eBay. Though the springs themselves are not as bulky as some other vehicle parts and accessories, they can be quite heavy, which may add to the price of shipping. Remember that you can always use eBay's geographic search feature to find items located near you. This means that upon purchase, you may arrange a pick up in person rather than have the coil spring shipped, which obviously saves on shipping costs overall.
Conclusion
Once new coil springs are purchased from eBay and installed on a car in need of new springs, it can be a huge relief. When a vehicle's coil springs or other suspension parts are worn out, it can be very uncomfortable, and even unsafe, to drive. Fortunately, there are plenty of coil springs available for purchase on eBay. As with any online purchase, it is best to do some research before rushing into a transaction. Be sure that the coil springs being purchased are compatible with the car. This means that you should determine if they are the right spring style, the right type of coil springs, and the right size. New coil springs, or those that have been used but are still in good working order, can make all the difference when it comes to driving a car over difficult terrain, and with eBay, purchasing them is easy and affordable.
coil spring/car suspension/suspension part/car part/truck part