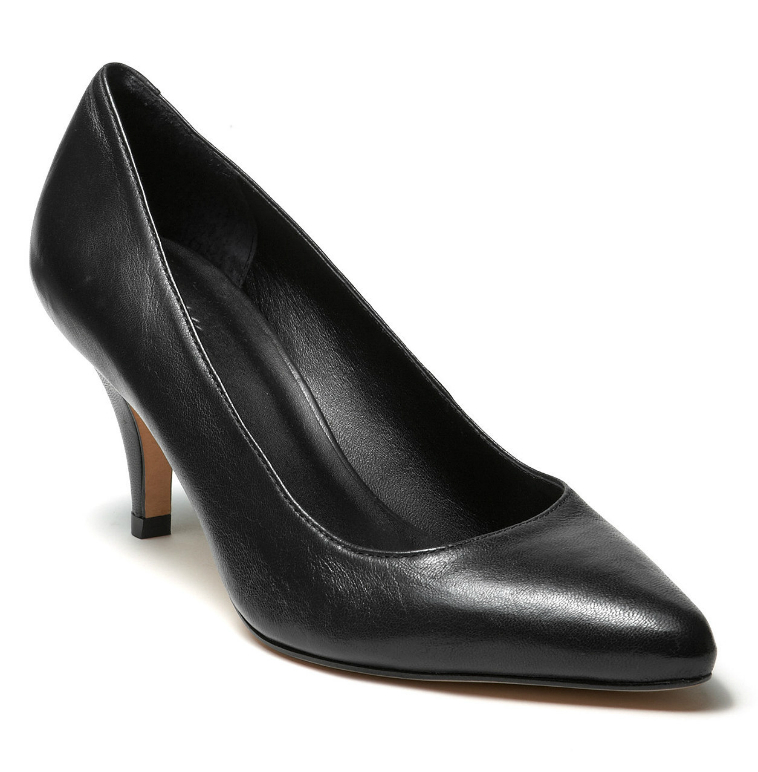 Though it may seem like an impossible feat, it is actually possible to buy comfortable high heeled shoes. Finding the right size and style is important. Equally as important are padding and a good, supportive heel shape. Contrary to popular myths, all of these can be found in a pair of high heels without any need to sacrifice the fashion or sex-appeal of this type of shoe. It is a simple matter of knowing how to select and buy the right pair.
Peruse the selection at a shoe store, online or off, and discover thousands of high heel options in various colours, from crystal clear lucite to jet black. Even though it may take a bit of time to locate the perfect look and design, the shoe industry is bursting with variety, and there is a perfect high heel for every foot. Finding this perfect fit is easier than most people think; it is only a simple matter of knowing what to look for.
Buy Comfortable High Heeled Shoes that Fit
First and foremost, consumers must buy high heels that fit well if they want comfort. Trying to squeeze one's foot into a size that is too small or allowing a too-large shoe to flip flop against the delicate flesh of the heel is only asking for misery. There is a misguided belief amongst women that shoes must be "broken in". In reality, a pair of shoes should not require stretching out or breaking in. Rather, it should slide on well while fitting snugly enough to not slide but also be loose enough to not cause the pain associated with hours of walking on scrunched-up toes. Whether a pair of heels or a pair of sneakers, the shoe should be comfortable to walk in on the first try.
Finding the Correct Shoe Size
The first step to getting heels that fit appropriately is determining one's shoe size. This is a simple matter of measuring the foot. To do so, collect a sheet or two of blank white paper and a pen. Place one bare foot at a time on the sheet, and mark a line indicating where the longest toe stops and where the natural heel ends. Then, measure the distance between those two marks. Be sure to measure both feet separately, as it is not uncommon to get a different measurement on each foot, requiring a different shoe size for each side.
Consumers can use the chart below to determine their shoe sizes based on the length of the foot. There is always a chance that the design of the shoe may prevent it from being true to size. In fact, some manufacturers follow their own shoe size guidelines. However, this chart works for the overwhelming majority of shoe choices.
| | |
| --- | --- |
| Length (cm) | Shoe Size (Women's AU) |
| | 3.5 |
| 23.1 | 4 |
| 23.5 | 4.5 |
| 23.8 | 5 |
| 24.1 | 5.5 |
| 24.5 | 6 |
| 24.8 | 6.5 |
| 25.1 | 7 |
| 25.4 | 7.5 |
| 25.7 | 8 |
| 26 | 8.5 |
| 26.7 | 9 |
| 27.3 | 10.5 |
| 27.9 | 11.5 |
| 28.6 | 12.5 |
| 29.2 | 14 |
To be absolutely sure about size, a buyer could request a sole measurement from the seller before purchase. This can be especially helpful when buying shoes online. Individuals with especially wide feet may also want to measure from one side to the other or seek options that provide a little extra room between the sides. One can also find special shoes made for thinner feet, which are referred to as "narrow" sizes.
Choose the Correct Heel
Most high heels come in one of two options. They are either spiky stilettos or feature a chunky wedged heel. Women have a really hard time walking and feeling comfortable in the spiky option. Wedges can be just as high but offer more weight support and balance. Not only does this make for easier walking, but it also helps keep the foot comfortable during long days at the office or nights out on the town. For many, the chunkier, wider heel is key to being able to pull off high heels for the long term.
Choose the Correct Toe Shape
Though some heels feature a pointed, triangular tip, this shape is so far from the natural curve of the toe that it is ridiculous. For better fit and comfort, keep it as close to nature as possible. Women are well advised to avoid the pointy-tipped toe and stick with the rounded, oval shape preferred by the human foot.
Look for Padding
Many types of high heel feature a padded sole to make for more comfortable wear. Gone are the days where padding was restricted only to boring, therapeutic shoes for old ladies. Modern padded heels come in a variety of attractive designs. In fact, a comfortable sole should be the rule, not an exception.
Individuals who find themselves completely enamoured with a pair of heels that lack padding or who wish to improve a pair they already own may consider placing padding in the shoes. Many companies make comfort-inducing pads for the toes and soles of shoes. These can come in handy with high heels that are lacking in the comfort department. This option may not be ideal, but it can help make an imperfect pair of heels a little more bearable.
Stick to Quality
One way to ensure comfort when purchasing high heeled shoes is to stick with respected brands. Do not skimp on shoes. Having cheap, uncomfortable shoes means faster wear and discomfort. The problem goes much deeper than just that, however, as badly constructed high heels can cause serious problems in the joints, muscles, and bones around the foot. One can avoid permanent damage by only choosing brands that are reputable.
Buying Comfortable High Heeled Shoes on eBay
eBay offers a fabulous selection of high heeled shoes. To find the perfect pair for your feet, simply type what you are looking for in the eBay search bar, and press the enter key. Search terms can be "ladies heels" or "heels size 8", depending on what you are looking for. In a matter of seconds, a variety of listings appears, from which you can narrow down the options by using eBay's search filters. You can also search for deals on high heels and other shoes as well.
Before committing to purchase an item on eBay, always verify the total cost, including applicable shipping expenses. This helps you determine whether a purchase is within your budget. If you wish to have insurance, be sure to mention this to the seller and add this to the total as well. To avoid shipping on large orders, seek local sellers from whom you can pick up the item personally.
Conclusion
High heels are a popular footwear option. Originally designed to give short monarchs a bit of additional stature, high heeled shoes have existed for hundreds of years. Popular banter often paints high heels in a bad light, as a sort of torture device meant to inflict pain upon the uninitiated, reserved only for the totally fit or the ridiculously brave. However, this unfortunate image of the high heel could not be any further from the truth.
Like a well worn pair of athletic shoes or house slippers, high heels can be quite comfortable. It is simply a matter of finding the right pair of shoes for one's feet. Looking for a comfortable, quality design featuring plenty of padding, a good shape, and the proper size goes a long way. Always bear in mind that not every pair can flatter every type of foot or style of clothing. By following a few simple guidelines, it is possible to find that pair of high heels that look great and feel comfortable.