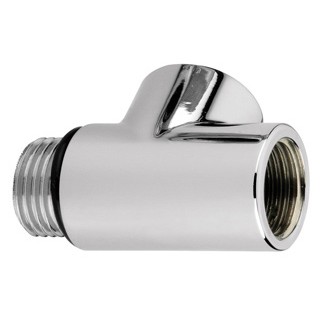 Piping is an essential fitting for any home or business, and can be used to transport fluids or gasses. There are many different types and materials of piping, ranging from solid metal to flexible plastics, which are often used for different purposes. Another key aspect of piping to consider is the width, as different segments of piping should be of a similar width in order to properly connect. Connectors are a key component in piping, and there is a huge range of different types of connectors which allow lengths of pipe to fit with one another. A wide range of pipe connectors and piping can be found on eBay.
Types of Pipe Connector
There are a huge range of connectors available which can be used for many different purposes. Pipe connectors can make up simple corners, allowing piping to change direction, or act as adapters between larger and smaller pipes.
| | |
| --- | --- |
| Elbow | One of the most commonly used and widely available types of pipe connector is the elbow connector. This allows for the piping to turn, and models are widely available allowing for 90 degree, 45 degree or 22.5 degree turns. Reducer elbows are also available which can connect different diameters of pipe. |
| Union | The union connector is designed to connect two lengths of piping, and additionally allow for the quick and simple disconnection of the pipes, which allows for easier maintenance. Reducer union connectors are also available, which can connect pipes of different widths. |
| Coupling | Coupling connectors are simple connectors which are frequently used, and simply connect two lengths of piping together. Reducer couplings are also available, allowing different widths of piping to feed into one another. |
| Reducer | Reducer connectors are available in a wide range of different types, and are designed to allow piping of different sizes to connect. Reducer connectors can be found for all kinds of pipes, as well as hose pipes and other kinds of tubing. |
| Tee | The tee connector is another very widely used type of connector pipe, and is primarily used to split or combine the flow of fluids through the pipes. A tee can also be used for connecting pipes of different sizes, as well as changing the direction of fluid flow. |
| Cross | Cross connectors, also known as four way connectors, are often found in fire sprinkler systems. These consist of either one inlet and three outlets, or three outlets and one inlet. They can put a great deal of stress on piping, particularly during temperature changes, so proper installation is important. |
| Cap | A pipe cap fits onto the end of a pipe, and is fitted similarly to a plug. They are usually water or gas tight. Caps are available in all kinds of shapes, and some may include handles or grips. Pipe caps can also be used as a cut off for a future connection point. |
| Nipple | A nipple connector is a short stub of piping, and is often found in plumbing and hose connections. |
| Plug | The plug connector functions in a similar way to the cap, blocking off the end of a pipe, with the exception that plugs fit inside of the pipe they are fitted to rather than over it. |
| Barb | Barb connectors are designed for use with flexible piping and hoses. Brass barbs are generally used for hot water uses, while plastic barbs are suited for use with cold water. |
Pipe Connector Valves
A variety of connector valves are available for use in piping. There are a number of different types of valve which have different uses.
| | |
| --- | --- |
| Gate | The gate valve connector is used to prevent the flow of a fluid or gas, isolating part of the piping system. |
| Globe | The globe valve can be used for throttling, giving control over the amount of fluid or gas that flows through the connector. |
| Plug | The plug valve functions in a similar way to the gate valve, either allowing or preventing liquids or gasses from flowing through the piping. |
| Butterfly | The butterfly valve allows for the functionality of both the gate valve and the globe valve, allowing the user to throttle the amount of liquid or gas flow, as well as fully isolate piping. |
| Check | The check valve, also known as the non-return valve, is used to prevent reverse flow of fluids or gasses, and can be a key addition to some piping systems. |
| Ball | Ball valves can be used to prevent flow through the pipe, isolating part of the system. |
| Diaphragm | Diaphragm valves allow for both the isolation of part of the piping system, and throttle control over the amount of flow. |
Pipe Connection Types
Pipe connectors can feature a wide range of different connection methods.
· Many pipes and pipe connectors are threaded, and are connected by being screwed together. These kinds of piping are often 'gendered' with Male adapters fitting into Female adapters.
· Other kinds of piping may be fitted together by soldering or brazing, which can be much more durable than other types of connection, but can be harder to fit.
· Welded pipe connections are also used for more heavy duty purposes, and generally not found in the home.
How to Buy Connector Pipes on eBay
A wide variety of connector pipes which can be used for a wide range of purposes can be found on eBay.
· The listings of available pipe connectors, along with piping and other building materials, can be found under Building Materials, DIY in the Home & Garden portal. Pipe connectors can be found under Other Building Materials.
· Building materials can be arranged by categories such as product type, item condition, item location and price, making it simple to narrow down the listings.
· Key information about a pipe connector or valve is often prominently displayed in the item listing, which makes it easy to quickly establish if a particular item meets any specific requirements.
· Further and more detailed information about an item can be found on the item page, often including pictures of the pipe connector or valve. This includes information about the seller, such as item reviews and feedback ratings, which can help to ensure that a purchase can be made with confidence. This is particularly helpful is buying used.
· If looking for a specific pipe connector, valve or pipe, then it may be easier and more effective to make use of the search function, which can be found at the top of every page. Entering keywords will return relevant results from across the site, or from within a specified category.
· Don't forget to look out for any deals which may be available on pipe connectors under the Home & Lifestyle category.
Conclusion
Any piping system will likely make use of pipe connectors, to separate or combine flows of fluid or gas, change direction of the flow, or stop it all together with the use of valves. Connectors can also be used to connect different sizes of pipe. There are many different kinds of pipe connector available, and they can be made out of many different materials and offer a range of connection types, from simple threaded pipes to the more durable soldered or brazed connections. A wide range of pipe connectors can be found on eBay.