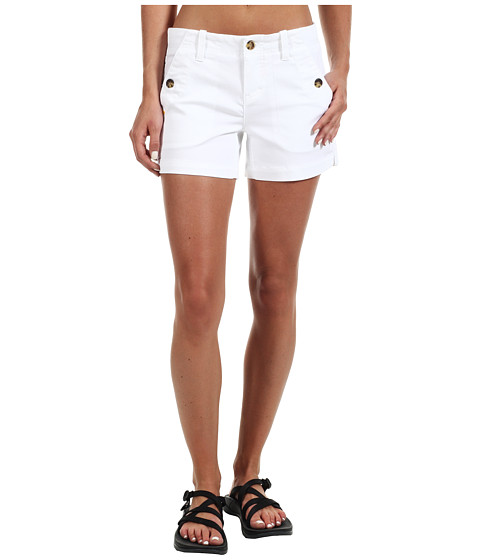 Cotton women's shorts are a popular choice thanks to their breathable, natural fibre and relaxed fit. With a variety of different styles available, from hotpants to longer-length shorts, cotton shorts are perfect for all ages and body types, and the natural material is easy to wash and keep looking great. Shopping online is the best option if you are hunting for a wide range of cotton women's shorts at prices to suit all budgets, and there are great deals available on women's shorts on eBay.
Why Buy Cotton Shorts?
Cotton is one of the most popular fibers for clothing, and because shorts are generally worn during the summer months, it is important that they are made of breathable, natural material to allow the wearer to remain cool.
Longer-length cotton cargo shorts are popular amongst those backpacking or taking part in walking holidays, whereas short cotton hotpants or culottes are ideal for casual wear during the summer. Cotton has always been a popular choice for shorts due to its softness and the ease with which it can be maintained. It is easy to wash and dries quickly, making it an ideal choice of material for women's shorts. A wide range of cotton shorts can be found online. Websites such as eBay are a great place to start browsing.
The Benefits of Natural Fibers
Wearing clothing made from natural fibers is not only good for the wearer but also benefits the planet. More people than ever before are turning to cotton and other natural fibers, as these do not contain harsh dyes, pesticides or formaldehyde treatments designed to remove wrinkles from fabric. Linen and cotton have become increasingly popular in recent years, although around two-thirds of clothing is still produced from synthetic fibers such as polyester.
Buying organic cotton is a great way to know exactly where material comes from. Organic cotton is perfect for those with sensitive skin and is grown without the use of chemicals or pesticides. Wearing cotton shorts ensures that skin can breathe – they will not cling to the body, and they are lightweight.
Cool and Comfortable in Cotton Shorts
Keeping cool in cotton shorts is easy, whether opting for loose, flowing culottes or more figure-hugging styles such as cotton hotpants or tailored shorts. Because cotton is a natural fibre, it lets skin breathe rather than trapping perspiration, which is ideal when wearing shorts in a hot climate.
Choosing cotton shorts is one of the best ways to care for skin and keep cool – cotton cargo shorts are perfect for wearing in tropical climates where there is a high level of humidity in the environment, as their absorbent fabric will keep wearers dry and feeling fresh.
Styles of Cotton Shorts Available
There are many different types of cotton shorts available to choose from – websites such as eBay have a wide range of colours, styles and patterns to suit all tastes. Here are a few of the most popular styles:
| | |
| --- | --- |
| Style of Shorts | Best for |
| Cargo shorts | Great for walking, backpacking and outdoor activities where a bit more coverage is desired from the shorts. |
| | Perfect for office or work wear these also look great for nights out. |
| Hotpants | Ideal for summer wear on the beach or casual wear with an oversized top. |
| | Although culottes are often made from flowing, synthetic material, it is possible to find closer fitting cotton culottes online – eBay has a great selection. |
| Playsuits | Playsuits are perfect for those looking to put together a co-ordinated outfit quickly – the combined top and shorts look great in the summer months. |
| | Dungaree shorts are a casual look which has fallen out of fashion over recent years but could be making a comeback – this look is cute and relaxed so perfect for a summer outfit. |
With so many different styles of cotton women's shorts to choose from, it can be difficult to know where to start. Shopping online, on websites such as eBay ensures that a search can be carried out where the most important features are highlighted –the purchaser can easily find the type of women's shorts they are looking for.
Choosing the Perfect Cotton Women's Shorts
Whether opting for cotton women's hotpants from Topshop or sporty cotton shorts by Roxy, there is such a wide range of women's shorts to choose from that it can be hard selecting the perfect style. Here are a few factors it is important to consider when choosing the perfect cotton women's shorts:
Style
Budget
Length
Occasion
Type of cotton – for example, organic
Colour
Design/pattern
Any extra features (such as pockets or zips)
It is possible to find both feminine and unisex style cotton women's shorts online. eBay has a wide range of shorts including cargo pants, culottes and tailored, high-waisted styles available. Choosing the perfect shorts will depend on the taste of the individual as well as the above factors.
Should you Buy Used or New Cotton Women's Shorts?
It can be difficult deciding whether to purchase new or used cotton women's shorts. When shopping online on websites such as eBay, there will usually be several different categories listed under the condition of items, such as new with tags, new without tags and pre-owned.
Because cotton is a breathable, natural fibre, it is easy to clean and keep looking great, so purchasing used cotton shorts is the perfect option for women looking to save money. Used cotton women's shorts can be found for very affordable prices on eBay, and it is even possible to find bulk lots listed, where several pairs of women's shorts are being sold as one lot. This is a great way to save even more money whilst purchasing a few pairs of shorts in different styles and colours at once. For those who are concerned about hygiene, or those purchasing tightly fitting shorts such as hotpants, buying new cotton women's shorts may be a better option.
How to Buy Cotton Women's Shorts on eBay
eBay is one of the best places to head if looking for cotton women's shorts online. Visit eBay and head for the drop-down menu marked 'Shop by Category' on left-hand side of the page. Click to open up a list of categories and select Women's Clothing. In the categories listed, it is possible to choose the type of clothing such as Shorts. From here it is easy to scroll down and select 'Cotton' under the Material sub-category in the left-hand menu.
Because there are so many different styles of cotton women's shorts to choose from, it can be helpful to narrow a search using a certain term if looking for something specific. By typing the words related to the search, such as 'Tailored Cotton Shorts' into the main search box, a list of all the available items will be shown.
Conclusion
Cotton shorts are a great option for women looking to buy shorts in a breathable, natural fibre that is kind to skin and good for the planet too. Because cotton shorts come in a wide range of styles, there are options available to suit everyone, from tailored shorts to cargo pants for outdoor activities.
By shopping on eBay, it is easy for women to find different styles of cotton shorts, whether they are looking for used cotton hotpants or new cotton culottes – there is a wide range to choose from at affordable prices compared to shopping on the high street.
Websites used:
http://www.sheknows.com/living/articles/838681/benefits-of-natural-fiber-clothing