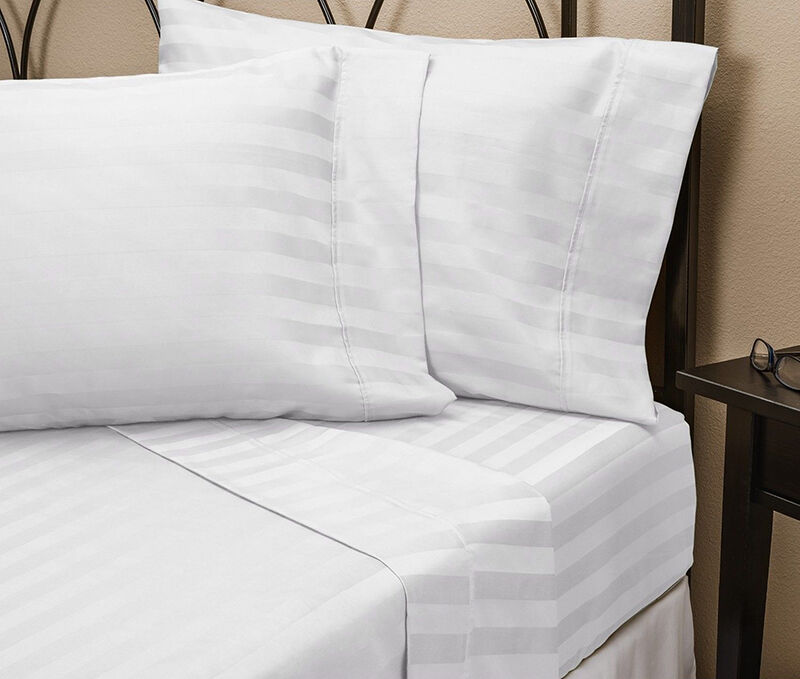 When shopping for high-quality cotton sheets, confusion often arises. First, one may ask, does "Egyptian cotton" actually mean anything or is it just a catch-phrase? Egyptian cotton does in fact generally - but not always - refer to extra-long staple (ELS) cotton, a particular species of cotton coveted for its soft, long fibres. ELS cotton makes for luxurious cotton sheets, and some will argue the Egyptian-grown variety is the best of the best. It should be noted, however, that the designation of "Egyptian cotton" does not guarantee the cotton is ELS.
Beyond these naming protocols, there are many additional factors to consider when weighing the purchase of bed linens. The much-ballyhooed, much-misunderstood thread count is one. Things like weave and finish are also important. First of all, however, don't forget to check the fine print to ascertain what is actually being purchased.
Additional Label Details
As with the question of "Egyptian" versus "ELS" cotton, it's important to understand that just because sheets are advertised as Egyptian cotton, it doesn't mean they are only made with Egyptian cotton. If the purity - and the quality - of the cotton are important, make sure that the sheets are 100 percent Egyptian cotton.
Some selective buyers also focus on where their sheets are manufactured, not just where the cotton is originally grown. Opinions vary, but many believe European mills produce better quality sheets. Italy in particular is known for its weaving skills and long history using Egyptian cotton.
The Thread Count of Egyptian Cotton Sheets
Buyers should be aware that manufacturers may use methods to raise thread counts that do not always contribute to the quality of the sheets. At its most basic, thread count indicates how many threads are woven into a square inch of fabric. In order to boost the count, some weavers us multi-strand threads, and count each strand individually in the thread count. This method may (or may not) result in a luxurious feel, but if the strands, called plies, are of lower quality, durability may suffer.
Many experts argue that 200 is good baseline thread count. Above that, buyers should be discerning about the methods used to raise thread counts, the quality of the threads employed, and how heavy they wish their sheets to be. High thread counts unsurprisingly tend to lead to thicker sheets.
The Weave of Egyptian Cotton Sheets
The weave of Egyptian cotton sheets contributes much to both their feel and durability. Variations in weave typically center around the number of horizontal threads versus the number of vertical threads. In a basic weave, that number is equal. Percale is a basic weave with a high thread count that is known for its durability and crispness of texture.
Sheets with a sateen weave are famous for their silky feel, a result of including more vertical threads than horizontal. As a trade-off, sateen sheets are less durable and more prone to pilling. Choosing between percale and sateen tends to be a matter of personal choice, and high quality examples can be found of both.
Dyes and Finishes
While jacquard patterns are typically woven into the sheets with different-coloured threads, most patterns on sheets are dyed into the fabric at the end of the manufacturing process. This is important to keep in mind if one's skin is sensitive to dyes.
Sheets are also usually treated with chemicals as a final stage of manufacturing in order to increase durability and visual appeal. If the consumer wants chemical-free sheets, there are two options. One is to buy pure-finish sheets. These sheets do not receive a chemical finish, or they are treated to remove all chemicals. A second option is to buy organic sheets. These sheets go a step further and are made from cotton that is grown naturally without the aid of pesticides.
How to Buy Egyptian Cotton Sheets on eBay
eBay makes buying Egyptian cotton sheets and all forms of bedding easy. Begin on eBay's main page, click on Home and Garden, then click on Bedding, then on Sheets. Use the "Refine Results" button and select Egyptian cotton as the desired material/filling from the sidebar menu along with the desired sheet size, or simply type "Egyptian cotton" and any other keywords into the search box at the top of the page.
Remember the key to shopping for sheets is finding the combination of texture, thickness, and durability that suits the individual consumer. As discussed, type of cotton, thread count, weave, and finish are all important factors to consider in making the ideal purchase.