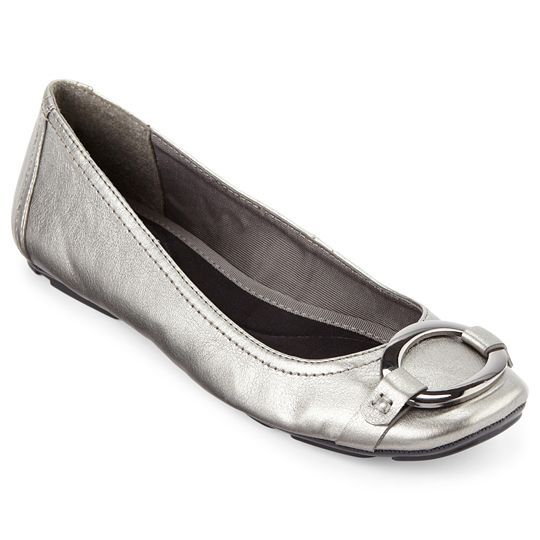 Shoes are an essential component to every outfit. But perhaps the most important shoe in any woman's wardrobe is the dress shoe. Most women enjoy shoe shopping, but what does one buy to wear to a formal occasions if one doesn't like or can't wear heels? Flats are the perfect option for evening events for the non-wearing heel wearer, as well as someone who is looking for a different or more comfortable alternative.
Shoe shops are plentiful in shopping centres around Australia, but it is also possible to purchase shoes off auction sites like eBay.
This guide offers practical advice on how to buy formal flat shoes for eveningwear.
Different Types of Flats
The range of different styles and designs of formal flat shoes is extensive. As a result, different shoes within this category have been labelled for ease of distinction. Formal flat shoes include:
| | |
| --- | --- |
| Ballerina | Ballerina shoes are a flat slip on shoe. The ballerina shoe is available in a variety of different colours, patterns and aesthetics. |
| Sandals | Open toe sandals are open shoes that are suitable for warmer weather. They come in a number of different styles and designs. They are the perfect choice for the summer and come in a wide range of different colours, patterns, and styles including straps, open heel, closed heels, thongs etc (the list is extensive). |
| Peep Toe Flats | Peep toe flats are flat slip on shoes that shoe the toes via a small hole at the front of the shoe. |
What to Look for When Buying Evening Flats
Evening formal flat shoes are a smarter version of street or casual shoes. The main difference between the two is the aesthetic of the shoe. When looking to purchase evening flats, the following points offer advice on what to look for:
· Look for shoes with embellishments or a glossy finish. These give off a more formal appearance, which is perfect for eveningwear.
· A more feminine shoe will offer a more formal appearance. This can be achieved by choosing a design with fine straps, thin soles, and a pointer toe.
· It is possible to get flat shoes with a small kitten heel. This creates a smart look that is suitable for evening engagements.
Buying Considerations for Eveningwear Flats
Once a pair of evening flats has been chosen, there are a few other considerations to take in to account. These are:
· Brand: Different brands will offer different styles, designs, and quality of product. It is advisable to research thoroughly the brand for suitability before purchase. If a particular brand used in the past has been successful, it is advisable to apply this knowledge to future shoes.
· Cost: Ultimately the cost of the shoes will be one of the most influential decision makers. Be sure to note that some shoe prices are high because of the brands, and also that more affordable brands will offer the same quality.
· Full Outfit: Flat shoes go well with most outfits, but are more suitable for some than others. A general rule of thumb is that they are most suitable with long dresses (ankle length), trousers or shorter skirts/dresses (around knee length). Take note that mid-calf dresses and flats tend to make the legs look stumpy creating an appearance that is deceivingly out of proportion.
· Fit: It is important that the fit of the shoe is correct. Different feet require different fits. It is important to fit one's shoes by their length and width.
· Comfort: Take note of how comfortable the shoes will be to wear. Some flat shoes offer little if any support. This can cause discomfort and injury if it is the only style of shoe worn on a daily basis. When looking at comfort there are a few points to address to help ascertain suitability:
o Does the shoe have a round toe? Round toes offer the most amount of room for the toes, thus allowing them to sit naturally. If the toe of the shoe is not round, do check if there is enough room for the toes to sit comfortably.
o Do they have additional padding? Some flat shoes are often a casing only and do not provide any additional padding or support. Essentially, these shoes are similar to wearing bare feet. Without any support, wearing them for long periods of time can cause discomfort.
o It is advised to wear different shoes for other activities that require support. This is also a great way of keeping one's formal flats in good condition for evening engagements.
How to Buy Flats on eBay
eBay's extensive range of formal flats for eveningwear makes it a perfect place to shop. The site offers both new and used shoes on a safe and secure platform. The following points offer great advice on how to use the site:
· Searching: The first step is to locate the product that is being looked for. This can be done a number of different ways, including via a keyword search (by using the search bar which is conveniently located at the top of every page), an advance search or a categories search. eBay will compute the search and collate all products currently available on the site onto one page, ready for browsing.
· Choosing a Product: Once the right pair of formal flat evening shoes have been chosen, it is important to make sure it is exactly what one is looking for. Take time to read the description given by the seller and look at the photograph. Use the two to cross reference the product that will help to ascertain if they are the correct shoes for the buyer. It will uncover the condition as well as the suitability. If in doubt, or if the shopper has outstanding questions, one can always contact the seller to enquire about the product further.
· Refund and Exchange Policies: eBay sellers are customer service focused and want the buyer to have the best experience possible. As a result, any issues that may arise will be resolved quickly and easily. However, it is always advisable to be familiar with the seller's refund and exchange policy. eBay offer a cohesive buyers protection policy for all buyers on the site, which offers a great peace of mind.
· Purchase: The purchase of the product can be achieved the same way as in any shop, by using a credit or debit card. It is also possible to use PayPal. PayPal are a third party company that will facilitate this buyer/seller exchange on behalf of all parties.
· eBay Deals: Alongside eBay is the 'eBay Deals' page. eBay deals offers different bargains daily, on a wide variety of different products. They also offer free postage and handling. Be sure to look for deals on evening flat shoes.
Conclusion
Finding the perfect formal flat shoe for that special evening out has never been easier. By undertaking adequate research and knowing one's size, it is possible to buy online through eBay. This easy to use and safe site offers an extensive range of products with affordable options for all interested parties. Shopping for shoes has never been easier.
If more information about the site is required, be sure to visit the buyer tips page. Here frequently asked questions will be answered and more information will be provided on how to engage with the site.