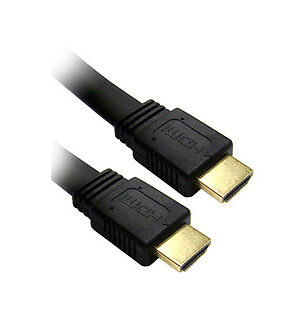 The use of HDMI cables continues to grow rapidly, and one of the reasons behind the popularity of HDMI cables is that a single HDMI cable can be used to transmit audio and video signals between two different devices with relative ease. Most new TVs come with HDMI inputs, as do gadgets like DVD and Blu-ray players, gaming consoles, computers, and more. The use of HDMI cables in the audio industry is also looked upon with favour, given that HDMI cables are capable of carrying eight 24-bit audio channels at up to 192 kHz.
Turning to eBay when it comes to buying HDMI cables is a good idea, because buyers can expect to find all kinds of HDMI cables when using this platform. However, before buying an HDMI cable, buyers should learn about the different kinds of HDMI cables on offer and take into account the length of the cable that is required.
Different Types of HDMI Cables
People who do not know much about HDMI cables can get confused by the alternatives on offer, although making an informed decision is not that difficult, and all that buyers essentially need to pay attention to is speed and Ethernet support.
HDMI Cable Speed
All HDMI cables can be broadly classified under two groups: standard and high speed. While standard HDMI cables are capable of handling up to 1080i, high-speed cables are capable of handling even higher definition. The use of high-speed HDMI cables is becoming increasingly commonplace, and given the relatively small price difference between the two, opting for high-speed alternatives is suggested.
With or Without Ethernet?
Buyers looking for Internet connectivity between two Internet-enabled devices should look for HDMI cables that offer Ethernet connectivity. In today's world, a number of devices like televisions and DVD and Blu-ray players come with Internet connectivity alternatives. Sharing an Internet connection between such devices, as well as computers, is simplified through the use of HDMI cables with Ethernet. Buyers who do not require Internet connectivity, however, ought to look for HDMI cables without Ethernet, given that they are cheaper.
Which One to Choose?
Different HDMI cables cater to different applications, and the table below helps to illustrate which HDMI cable to choose depending on individual requirements.
HDMI Cable Type

General Applications

Standard speed: no Ethernet

Most home applications

Supports 720p or 1080i/p

Standard speed: Ethernet

Standard speed

Internet connectivity

Device networking

High-speed: no Ethernet

Typically used for 3D viewing

Deep Colour

2k/4k

High-speed: Ethernet

High speed

Internet connectivity

Device networking
Deciding between different types of HDMI cables, as is common practice, depends primarily on the video resolution levels that a buyer is looking for as well as Ethernet capabilities. The good news is that most cables are marked clearly in this regard, which makes searching through them quite easy.
Paying Attention to HDMI Cable Length
As with most other types of cables, the strength of signals tend to deteriorate as HDMI cables get longer, which is why most commonly available HDMI cables come rated for distance. Buyers, as a result, need to pay attention to the length of the HDMI cables they require, and unlike cat cables of yore, HDMI cables cannot be cut from anywhere to add to their lengths by simply adding more HDMI cable. Standard HDMI cables are normally capable of transmitting 1080i signals for up to 15 m, whereas high-speed cables can normally transmit 1080p signals for up to 7.5 m.
Buyers should pay attention to the specifications of cables that they intend to buy in this regard. For example, the construction of two cables could be exactly the same, but given their varying lengths, they could be rated differently, wherein a cable could offer high speed for up to 7.5 m, but it may offer standard speed for up to 15 m.
Establishing just what length is required is something that should be done at the onset, and taking actual physical measurements from one component to the other definitely helps. Buyers should know that although most industry standards limit themselves to 10 or 15 m, buyers can also expect to find some good HDMI cables that run up to 22 m.
Other Factors
The quality of an HDMI cable is not the only aspect that affects the experience of watching a film, playing a game, or listening to music; HDMI ports that are used as inputs and outputs on individual devices can affect the quality of signals as well, which can require users to experiment a bit before they find what works best. High-speed cables can be used with any gadget that requires standard speed, but the reverse is not always applicable. Some HDMI cables come with "audio return channels", which are helpful in situations where HD signals are received through external antennas, but users require audio to emanate through their surround sound systems.
Buyers do not really have to worry about the evolution of HDMI cables and their versions, given that modern HDMI cables are backward compatible, and a modern day standard or high-speed HDMI 1.4 cable would work with just about every device to which it can be connected.
Cheap or Expensive?
When it comes to buying HDMI cables, buyers do not have to spend too much looking for HDMI cables manufactured by prominent names because cheaper HDMI cables are usually just as good as their more expensive counterparts. HDMI cable buyers should know that data that is transmitted through HDMI cables is completely digital in nature and is not as sensitive as analogue signals; meanwhile, any significant interference in signals require tremendous drops in signal voltage. This is something that can happen with very long HDMI cables, and the chances of this happening with shorter cables are very slim. This, however, is something that not many salespersons agree with, given that they are required to market the expensive HDMI cables that they house, but buyers, in reality, are much better off buying affordable alternatives.
Buying HDMI Cables on eBay
eBay, as mentioned, is a good platform to look for HDMI cables, given the number of alternatives that buyers can search through. For example, when shopping on eBay, buyers can expect to find standard and high-speed HDMI cables with or without Ethernet capabilities, and buyers can expect to find HDMI cables to connect devices like TVs, DVD and Blu-ray players, satellite TV receivers, Internet and media streamers, desktop computers, laptops, and even mobile phones.
Since a number of sellers use eBay to market their wares, comparing HDMI cables offered by multiple sellers is suggested, as this can result in buyers finding some good home entertainment deals. Comparing postage and packaging costs that different sellers charge is also suggested, as these can vary from seller to seller.
Conclusion
The use of HDMI cables in no longer limited to connecting an HDTV to a DVD or Blu-ray player, and HDMI ports, in this day and age, can be found on gaming consoles, video cameras, and even smartphones. When it comes to devices like smartphones, the presence of mini HDMI ports continues to become more common, and allows users can easily connect their devices to HDTVs through the use of suitable HDMI connectors or adapters.
With the use of HDMI cables continuing to grow, access to one or more is something that is definitely suggested. When it comes to buying one, establishing a budget and staying within it is suggested, given that buyers can find some rather expensive HDMI cables that do little more than their less expensive counterparts. Searching through multiple options on eBay is also suggested, given that buyers can expect to find similar products priced differently.
HDMI Cable|Standard HDMI Cable|High-Speed HDMI Cable|Used HDMI Cable|Consumer Electronics