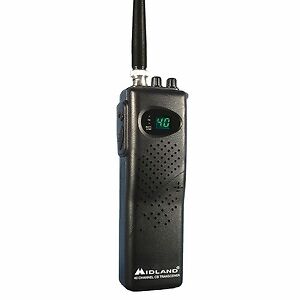 CB radios are used as a means of communicating via radio waves. They are viewed as a cost effective and alternative means of communicating and are used in areas where there is little cellular reception, or by CB radio club members.
CB radios that are designed to be handheld are used popularly amongst those in remote areas that require constant communication with others over long distances such as truckers and farmers.
Handheld CB radios are appreciated for the fact that they are extremely portable; yet retain a high level of performance. Also, once purchased no other costs come into play.
They are readily available on the likes of eBay and this guide aims to help prospective buyers with their purchase.
Handheld CB Radio Components
Despite the fact that handheld CB radios are small in size, they contain a number of different components that require a full understanding before making a purchase.
The reason that an understanding of the components that make up handheld CB radios is required is that it ensures that when one is searching for a CB radio of this nature, the best product possible is purchased. This way the purchase can be cost-effective and rational.
Here is a table determining the various components that make up handheld CB radios:
Handheld CB Radio Components

About

Antenna

The antenna on a handheld CB radio is shorter than those found on other types of CB radio but this does not detract from their effectiveness. More often than not, handheld CB radio antennas can be removed if necessary. This is often done if they need replacing or for easier storage of the device. To remove the antenna, simply unscrew it. CB radio antennas will have a rubber casing to protect it from damage.

Display

The display on a handheld CB radio is often fairly small in comparison to other types of CB radio. In terms of the information that it relays to the user, it will show the channel that is being used. Furthermore, the display will also show the frequency that the radio is tuned to. This is useful for tuning between certain channels and frequencies and makes it a simple process.

Handheld CB radio displays are often LCD and will have a backlight to allow for easier use in darker conditions.

Tuner

The tuner on a handheld CB radio is often situated on the side of the device. It will be either a tuning wheel or knob that corresponds with the LCD display to allow for an easy tuning to the frequency and channel of choice.

There are some handheld CB radios available that will have an automatic tuning system. In which case, a tuning wheel or knob may not be included in the device. It is important to read the product description before making a purchase to determine whether or not the radio is automatically or manually tuned.

Speaker

The speaker of the handheld CB radio will take up most of the space on the face of the device. This is to allow for a clear hearing whilst listening to other people tuned to the same frequency. The level of volume that the speaker will reach can often be determined by a volume control on the devices interface.

Some handheld CB radios may have a headphone jack that allows for a more intimate communication and a clearer hearing of the incoming audio.

Microphone

The microphone is integrated into the device and will be situated towards the bottom of the radio. There are online forums and specialist blogs that discuss the best types of microphone for handheld CB radios, especially in terms of sensitivity and distortion.

PTT Button

The PTT (Press To Talk) button allows for the user to control when others can hear what they are saying.

The button is pressed down during the user's desired speech period and released when finished.
Handheld CB Radio Bands
There are a number of different frequency bands that handheld CB radios can function on. The frequency band is the frequency of radio waves that the device can be tuned into in order to communicate with other users on the same frequency.
There are three main bands that are available for handheld CB radios and they are detailed in the table below:
Handheld CB Radio Bands

About

UHF

UHF stands for Ultra High Frequency and is the most popularly used band for handheld CB radios. In Australia, the UHF CB radio frequency is 477 MHz and has 77 channels.

This frequency is commonly used as registration or a license is not required to use it.

FM

The FM frequency is not available in many countries for CB radio communication but is used in Australia.

It is appreciated for its high quality audio signal when used over shorter distances.

Handheld CB radios that use this frequency are harder to find than those that use UHF.

VHF

VHF stands for Very High Frequency and again, is not as popularly used as Ultra High Frequency handheld CB radios. For this reason, Very High Frequency handheld CB radios are harder to find on the likes of eBay.
It is wise to do as much research as possible regarding the recommended frequencies for the chosen handheld CB radio use.
Additional Handheld CB Radio Features
When buying a handheld CB radio it is important to think about the additional features that are available to those who use them.
There are several additional features that improve the overall performance of the device that may be able to be purchased alongside the radio itself. These include:
Clip: Buying a CB radio with a clip can allow for an easy and effective carrying of the radio whilst it is not in use. This allows for the user to keep the radio around at all times without having to carry it. Handheld CB radios will have an alert system that lets the user know when any communication is occurring so the clip allows for a constant closeness to the device.
Voice Recognition: Whilst the PTT button is useful for those who like to determine what others on the same frequency can hear, there are some handheld CB radios that have a voice recognition feature that allows for constant communication via the device.
Dust Protection: A lot of handheld CB radios will have dust protection measures incorporated into their design. This prevents dust from entering the microphone and speakers, which stops distortion of sound, both incoming and outgoing.
Buying a Handheld CB Radio on eBay
eBay is one of the more affordable places to purchase handheld CB radios. The site offers the chance for buyers to purchase their desired products at prices that they can determine themselves in order to undercut the prices that can be found elsewhere.
This is done via the Best Offer and Bidding buying options. There is also the chance to purchase handheld CB radios using the Buy It Now option, meaning that the devices can be purchased as soon as they are found.
In order to find eBay's handheld CB radio listings, go to the Electronics page on the site. Choose the Radio Equipment option and select the CB Radios link. At this stage one can use the refinement tabs to determine between band, condition and price range in order to narrow the search down further.
One can always visit the Deals section of the site to find a selection of specially chosen deals from the sites Electronic listings.
Conclusion
The key to buying a handheld CB radios is to know what to look for before and during the search.
By being knowledgeable on the ins and outs of these devices one can then begin to decipher which specific features and necessities are required before making a well informed and rational purchase.
Remember to check which frequency is best for the handheld CB radio in question and have a look around on eBay for sellers who may include additional accessories in the purchase.