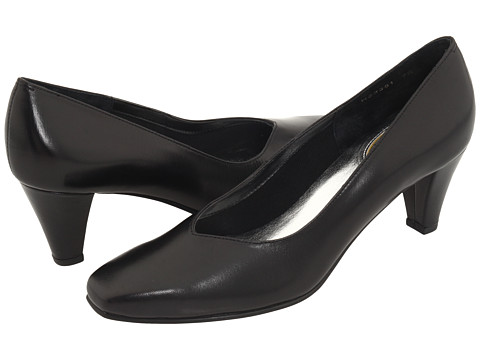 Women who work in offices have many 'must-haves' in their wardrobes, including everything from dress blouses to pencil skirts. One of the most essential items for a working woman is the heeled shoe. Once restricted exclusively to conservative pumps, heeled shoes now incorporate many dynamic styles, prints, colours, and designs, many of which work well in office environments.
Women beginning a search for the ideal pairs of heels to wear at work may have some questions. For example, they may wish to familiarise themselves with the variety of heels that are available today and learn how to determine which shoes work best in certain office environments. They may also have questions about comfort and finding the right size. Finally, women looking for heeled shoes may want to weigh their retail options by examining the selection at traditional, offline shoe vendors and some of today's online aggregators, such as eBay.
Types of Heeled Shoes
Heeled shoes in the past were a very narrow category in women's shoes with limited variety. Today heeled shoes incorporate a wide range of styles. Getting to know all the different options that are available can help women better understand the marketplace.
Casual Pumps
Casual pumps are simple heeled shoes with a comfortable form factor not unlike that of a ballet slipper with a rounded toe and design. The heel on this heeled shoe is typically shorter at around 5 cm to 8 cm. These shoes are great for conservative work environments and professional settings.
Stilettos
Stilettos are heeled shoes with very tall, slender heels that run as high as 11 cm. These shoes have a variety of toe box designs, including round toes similar to a pump, pointed toes, and open toes. Many stilettos come with platforms under the soles where the ball of the foot rests. This makes these super-tall, heeled shoes much easier to walk in, and it also gives them a modern look.
Platform Wedges
Platform wedges are heeled shoes that have large, thick platforms all along the soles of the shoes that rise at an incline to the heels. These shoes often have a strap element at the ankle to compensate for the heavier weight of the shoe. Platform wedges are very modern and even a little funky, and they work well in more casual or fashionable work environments.
Mary Jane Heels
Mary Janes are based on a classic design in which a rounded toe box is paired with a thin strap at the ankle. Today's Mary Janes can have very tall heels, platform designs, or simple pump-style heels.
Assessing the Work Environment
It is important for women who are shopping for high heels for the office to first assess their work environments. They need to factor in dress code, the nature of their work, and the type of business. Many businesses operate under a dress code of sorts, even if it is not clearly stated in the employee handbook. For example, a professional setting such as a law firm requires business dress from employees, while an ad agency might encourage a much more casual look. In dressier work environments, women should stick with traditional pumps or high heels. In more casual environments, they can also wear more fashion-forward heels, such as Mary Janes and platform heels.
Women should also take the nature of the work they do into consideration. If a woman is working at a desk for much of the day, a pair of very high stilettos might work, but if she is on her feet all day, they might not. Women should assess their own comfort level in heels in tandem with the nature of their work and then factor this into the selection of an appropriate pair of heeled shoes.
Sticking with Simplicity
While there are many dressy pumps and heels in the marketplace featuring anything from sequins to toe-top decorations, these types of looks do not necessarily work in offices. Instead, women should go for minimal designs that make professional statements. Monochromatic pumps in black, beige, or brown are always safe. Tasteful prints, such as polka dots or stripes, may work well as long as they are refined. For the woman who wants to push the boundaries a bit, a pump with an animal print might work in certain work settings if it is paired with an otherwise conservative outfit.
Finding a Style for Walking with Confidence
Women want to appear confident and capable in an office environment. If a woman wears a pair of heels that she cannot walk in well, it can create the wrong impression about her and her capabilities. Women should look for shoes they can easily walk in and that they feel comfortable wearing. If a woman has a lot of experience walking in stilettos, then these super-high heels may be a good fit for her. If, however, a woman is new to high heels, she may want to look for a pair of platform heels because they are easier to walk in.
Go for Comfort
Many women who wear heeled shoes in their offices do not necessarily commute to work in those heels. They often wear comfortable pairs of ballet flats or even trainers during the commute. These options are easier and safer for driving and walking and can save women's feet for wearing heels at work. Additionally, an insole can soften the pressure of walking in heels all day and make the discomfort much more manageable. There are many insoles on the market today that are designed for the small toe box of heeled shoes.
Getting the Right Size
Due to the difficulties they can present when it comes to walking, getting the size right with heels is particularly important. To begin with, women should measure their feet to determine the length in centimetres. All that is needed is a piece of paper, a ruler, and a pen or pencil. After taping the piece of paper to the floor, a woman should stand on it with her larger foot and her knee very slightly bent. With the ruler, she can then mark a straight line at the highest point on the toes, which is typically the big toe or the second toe, and a straight line at the heel. The length between these two lines should then be measured with the ruler. This number gives women a general idea of which Australian shoe size works with their feet.
Women shopping online may encounter sizing systems from other countries, as well. The following chart lists Australian sizes in relation to foot length, as well as sizes from the US, EU, and UK.
| | | | | | | | |
| --- | --- | --- | --- | --- | --- | --- | --- |
| Size (cm) | 22 | 23.2 | 24 | 24.7 | 25.5 | 26.5 | 27.5 |
| AUS | 5 | 6 | 7 | 8 | 9 | 10 | 11 |
| UK | 3 | 4 | 5 | 6 | 7 | 8 | 9 |
| US | 5.5 | 6.5 | 7.5 | 8.5 | 9.5 | 10.5 | 11.5 |
| EU | 35.5 | 36.5 | 38 | 39 | 40.5 | 42 | 43 |
Consumers should keep in mind that sizes can vary from brand to brand. When shopping for heels, women should communicate with a seller and ask if a brand runs large or small. Some women may deliberately prefer heeled shoes that run small in order to keep them on the feet better. Consumers should determine their own comfort levels when it comes wearing heels.
Buying Heeled Shoes on eBay
The online retail site eBay is a great resource for finding any type of heeled shoe. It also offers a range of used shoes for women who want to save a bit of money. Shopping on eBay is made easy by the presence of a search bar on every page on the site. When you first get to eBay, enter a keyword term into the search box. General terms like 'high heels' produce a lot of results, while more specific keywords narrow the field. You can also browse deals on heels and other stylish shoes as well.
Evaluating Sellers on eBay
Since it is a consumer-friendly site, eBay gives consumers the ability to communicate with and evaluate any seller on the site. This process can help you figure out if a seller has a good reputation as a reliable seller. Click on a seller's name on a listing page to visit the page with feedback, past listings, and a message interface that allows you to communicate directly with him or her.
Conclusion
Heeled shoes are a necessity for many women in their workplaces. With the wide variety of options that are available today, many women in the market for these shoes may need some guidance before beginning the purchasing process. Understanding the styles that exist in heeled shoes, how to choose the right heels for specific offices, and how to wear them comfortably throughout the day are all important issues to consider when shopping for heeled shoes for the office.
Once a woman has decided on a particular look or style, she can use an online retail site like eBay or start searching in local shoe stores for the pairs of heels she wants. Finding a pair of heeled shoes that can serve a woman well throughout an entire workday does not have to be an insurmountable challenge.