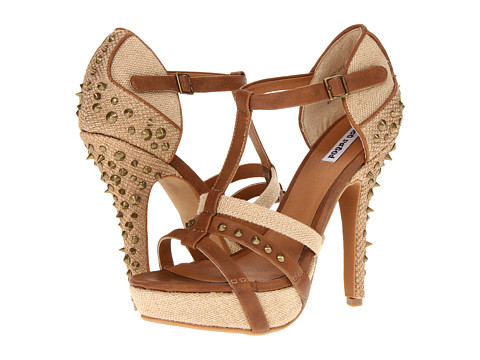 High heels are shoes with thin, tall heels. As the heel part of the foot is constantly in an elevated position, wearing high heels for a long period of time may put extra pressure on the ball of the foot. However, if the feet adapt to the heels and the shoes are as comfortable as possible, the heels can really contribute to a stylish look. High heels are sexy, and they fit many occasions, being suitable for casual outings and classy parties, as well as for the office. They can even be carried in a bag and put on once one reaches the desired destination. In this case, the feet are rested and ready to look fabulous in high heels. Elevating the heel part of the foot has its benefits, as it allows one to appear taller and makes the legs look slimmer. This is also the main reason why women are thought to look attractive in high heels.
When purchasing high heels, there are many aspects to consider, from design to comfort and size. Knowing about foot and shoe anatomy and about different heel styles allow one to make an informed choice. High heels can be bought from a variety of high street shoe shops, and they can also be conveniently ordered from online auction sites, such as eBay.
Evaluating the Quality of High Heels
Not all high heel shoes are created equally, and some are of better quality than others. Investing in high-quality heels pays off in the long run, as they are healthier for the feet and also last for a longer time. The sole should be firmly attached to the shoe. If it is glued, there should be no space around its edges, as otherwise it may start to peel off. In case of a stitched-on sole, the stitches should be secure and even.
High Heels Material
Leather can provide the best quality high heels because of its breathability, flexibility, and durability. It is not only used as the outer material, but for the insole lining as well, because this allows the feet to breathe and not become sweaty. Synthetic materials, such as nylon and vinyl, do not absorb moisture as well, and can cause sweating. They are also not as comfortable as leather. However, vegetarians and animal rights activists may be inclined to reject leather shoes. This does not mean sticking with synthetics, as durable vegan materials are also available, although these heels may initially cost more.
Rubber on Heels
High heels are somewhat dangerous, especially for women who are not used to wearing them. In order to promote stability, quality high heels have a layer of rubber on the heel. This helps the wearer to achieve a better grip and to walk more securely.
High Heel Styles
High heels can be quite modest, when used for everyday wear, or they can extravagant and very tall when chosen for a costume party. There are some common high heels styles that may be distinguished, namely, stilettos, wedge, kitten, prism, cone, and spool heels. They differ from each other by the shape of the heel.
Stiletto Heels
Stiletto heels are very high and thin, and as a result, it may take some practice to wear them. The height of the heels starts from about 5 cm and can be much higher, making the wearer's legs look sculpted, toned, and longer. To make such heels more comfortable, the shoes may be padded at the ball of the foot.
Wedge Heels
Wedge heels are quite comfortable shoes to wear, because their particular shape offers the feet a wide support surface. They also support the arch part of the foot, being thus suitable for people who have flat feet. The wedge heel is not separate from the sole, but runs for the whole length of the sole. At the heel, it is taller. and at the ball of the foot, it is almost unnoticeable.
Kitten Heels
Kitten heels are relatively low and therefore these shoes are comfortable to wear. The kitten heel is commonly about 3 cm tall, with a maximum height of about 5 cm. As kitten heels provide the glamour of high heels without adding much height, many taller women choose them as their first option. Yet another benefit is that they go with almost any outfit.
Prism Heels
The geometric figure prism has two similar, parallel, and equal ends. Accompanied with a third side, the prism heel forms a triangle. This heel was more popular in the past, and is not so easy to find today.
Cone Heels
Cone heels are shaped like geometrical cones, meaning that they are broader at the place where they meet the sole and narrower at the tips. This design allows for even distribution of the weight that is put on the heels. The heel height varies.
Spool Heels
A spool heel has quite an interesting shape. It is broader at the sole where it is attached to the shoe, then narrows, and finally becomes broader again. Such heels are not very common and look best on boots.
Other Features to Look for in High Heels
Besides choosing heel height and style, there are also other features to consider when buying a pair of high heels. The toe part can largely affect the way the shoes look on the wearer. Pointed toes are considered sexier, while rounded shoes are cuter. Square toes are quite bland and are not thought to have a very flattering design. The back part of the high heels also plays a role in the design. Court shoes are closed, while shoes with straps allow for more comfort, as these can be adjusted to the wearer. When choosing a pair of shoes, the colour should also not be overlooked. As usual, black works with most outfits, and nude heels are also a good way to complement many looks. However, wearers are free to experiment with many daring and colourful designs.
High Heels Size Guide
Shoe sizes vary from country to country. When buying a pair of high heels, it is thus important to pay close attention to the size as well as to where the shoes were manufactured. By knowing the foot measurement, the right size can be determined. When in doubt, the larger size should be selected.
| | | | |
| --- | --- | --- | --- |
| Foot Measurement (cm) | AU | EU | UK |
| 20.8 | 4 | 34 | 2 |
| 21.3 | 4.5 | 35 | 2.5 |
| 21.6 | 5 | 35.5 | 3 |
| 22.2 | 5.5 | 36 | 3.5 |
| 22.5 | 6 | 36.5 | 4 |
| 23 | 6.5 | 37 | 4.5 |
| 23.5 | 7 | 37.5 | 5 |
| 23.8 | 7.5 | 38 | 5.5 |
| 24.1 | 8 | 38.5 | 6 |
| 24.6 | 8.5 | 39 | 6.5 |
| 25.1 | 9 | 39.5 | 7 |
| 25.4 | 9.5 | 40 | 7.5 |
| 25.8 | 10 | 40.5 | 8 |
| 26.3 | 10.5 | 41 | 8.5 |
| 26.5 | 11 | 41.5 | 9 |
| 27 | 11.5 | 42 | 9.5 |
| 27.6 | 12 | 42.5 | 10 |
In fact, the AU women's shoe sizes are exactly the same as US shoe sizes. However, one should be careful not to mix them with UK shoe sizes, which use similar numbers, but vary significantly in their exact sizes.
Buying High Heels on eBay
If you start searching for high heels on eBay, you have many ways to begin, because you can vary your keywords depending on what kind of heels you are looking for. "High heels" is the general search that you can start with if you are looking for some inspiration and have not yet decided on the exact colour, brand, or heel type. Alternatively, you can word your search by using specific terms, such as "pink kitten heels". In any case, if you do not find what you are looking for in the first place, you can always click on related searches that are presented to you along with the initial results. If you get too many results, try narrowing them down by sorting the listings, either by auction time or price. You can also set the item condition to used or new, although it is recommended to buy newer shoes that have not become worn into the wrong shape. You may be able to find some exciting deals on high heels through eBay.
Conclusion
High heels are shoes that are equipped with tall, usually thin heels. They are compatible with most outfits because of their timeless and classic look. If the heel part of the foot is in an elevated position, the wearer appears taller and her legs look slimmer and toned.
Good quality high heels are worthwhile to invest in, as they can last for many years and are also comfortable to wear. First, the sole should be firmly attached, be it either glued or stitched. Second, leather generally makes the best material for high heels because of its breathability and durability, while synthetic materials can cause sweating and discomfort. Vegan alternatives are also available for those who prefer not to use leather products. Third, the heels should have a rubber tip that prevents slipping and provides stability.
According to the heel shape, high heels can be distinguished, although often the strap types are also used to describe a certain shoe style. Stiletto heels are the tallest heels available, and they are long and thin. Kitten heels are lower and tend to be favoured by taller women. Prism, cone, and spool heels have a particular design and they are not used very often. Wedge heels provide a wider support surface and are great for arch support.
When buying high heels, it is essential to find the right size. Sizes vary by country as well as by brands, so measuring the feet before setting out to buy is the best option.