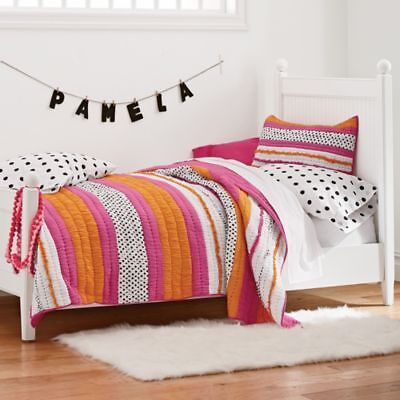 Kids adore seeing characters they love and colours and patterns they enjoy. There are many ways to make a design statement in any room. Choosing a quilt cover set that includes key design details is a great way to set the stage of any bedroom, including kids' rooms.
A kid's quilt cover set is not very different from any other one, except that the focus of the design is to appeal to children instead of fitting into current design trends, as other cover sets do. When choosing a quilt cover set for a child's bed, know what should be included in the package, what size to choose, and then decide about the comfort and durability of the set.
What is Different About a Kids' Quilt Cover Set
Manufacturers make quilt cover sets in a wide variety of designs representing colours and styles that appeal to all kinds of tastes. These include the colourful tastes of children. Popular cartoon and other characters from children's TV shows and movies, including Disney characters as well as others, decorate many sets designed specifically for kids. Designers also aim the colours and patterns on these quilt cover sets to be pleasing to children.
In general, besides the designs on the cover sets, there is little difference between one aimed at kids and other ones of similar quality. Manufacturers typically make quilt cover sets for kids more durable with colours that are more vibrant. These more durable thread counts and brighter dies can have a slight effect on how the quilt cover and pillowcase feels against the skin, but the difference is generally marginal.
What is Included in a Kids' Quilt Cover Set
A quilt cover set generally includes the quilt cover and one or two pillow cases. The size of the set generally determines the number of pillow cases included in it. A set for a single bed normally has one pillow case. All other bed sizes typically include two. If the child requires more pillow cases, the manufacturer often sells individual ones separately. If not, choose a complementary pattern or colour.
Occasionally, some manufacturers include either a fitted or a valance sheet, or both. If it is important that one is included in the set, read the quilt cover set's description closely to determine exactly what the package contains. Otherwise, purchase these items separately in colours, prints, or patterns that match or complement the quilt cover.
Kids' Quilt Cover Set Sizes
Quilt cover sets are available in the same standard sizes that quilts, doonas and other bed covers are. It is wise to measure the quilt that the cover should fit over before purchasing one. For the most part, a standard size quilt should fit into a cover set labelled with the same size, but some quilts and some covers are slightly different from the standard size. The sizes most commonly sought for children's bed are single, king single, and double.
Of course, there are larger sizes of bedding, which are just as suitable, but manufacturers tend to focus kids' prints, patterns, and colours on the smaller bed sizes. Note that the quilt cover sizes for a king single and the double bed are the same. These quilt cover sets fit differently on each bed size with plenty of extra overhang on the sides of a king single bed compared to a double.
The size of crib bedding specifically fits inside the crib with no extra overhang in order to protect the infant from suffocation. Toddler beds may utilise the crib mattress, so bedding is also the same size as crib bedding, although some parents prefer it a little larger on some beds now that the child is older. While some manufacturers do design larger toddler bedding, the variety of popular prints, patterns and colours is much greater for standard single or crib sizes.
Determine the Comfort and Durability of the Kids' Quilt Cover Set
Kids' quilt cover sets come in a variety of different prints and patterns, making them very attractive to the child who uses it. The available sets also differ in the thread count the cover is constructed from. Just as it does with bed sheets, the quilt cover's thread count affects how the cover feels against the child's skin when sleeping. For many parents who are in need of a good night's sleep, this comfort factor is of the utmost importance.
The thread count also affects the durability of the quilt cover, with higher thread counts being slightly less durable than lower ones. With children, these covers receive rough treatment and require regular cleaning. Because of this, it is wise to choose a quilt cover set that is durable enough to stand up to the type of use it's put to on a child's bed but also one that has a high enough thread count to feel soft against the child's skin.
How to Buy Kids' Quilt Cover Sets on eBay
The savvy shopper knows a number of places to look for kids' quilt cover sets, including department stores, general merchandise stores, and stores that focus on selling bedroom items. A number of online marketplaces sell a large variety of kids' quilt cover sets, and those listed by the sellers on eBay typically represent some of the best values around. Find even greater bargains by shopping eBay Deals.
When shopping for kids' cover sets on eBay, first, look for those that fit the bed before considering colours and designs. This gives you the best idea of what prints and thread counts are available in the dimensions you need, which makes the decision about which ones to choose much easier.