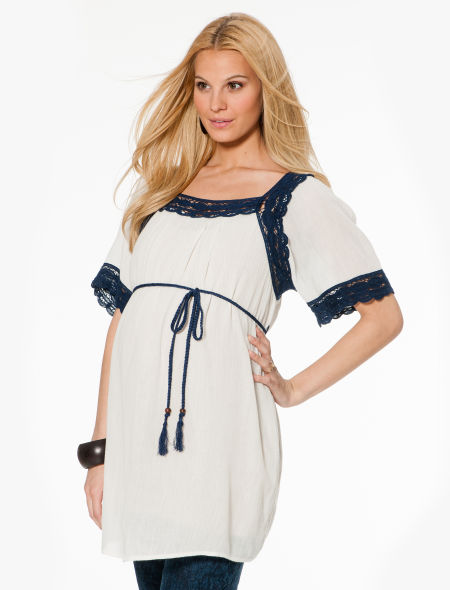 Every woman wants to look fabulous at all times. When she is pregnant, looking good and feeling great is even more important. With all of the changes that her body goes through, it is hard for her to always feel confident about how she looks. That is why wearing great clothes during pregnancy is so important; because they can help assure a woman that she looks attractive even though her body is changing so dramatically.
Maternity clothes can cost a fortune, though. When shopping at the mall or in catalogues, the prices can seem so high that it is hard to justify their expense. Thankfully, the mall is not the only place to buy these items. eBay is a great place to shop for top fashions at an affordable price. With the broad selection, shopping on eBay for maternity tops for every occasion and all sizes is easy.
The Selection of Maternity Tops Available on eBay
eBay sellers list a large variety of maternity tops, making it possible for any expecting woman to find an assortment of possibilities. Many of the latest fashions are represented on eBay auctions, from virtually all of the most popular designer labels such as Angel, Pumpkin Patch, Japanese Weekend, and Ripe. This makes shopping easier because all of the different styles and labels are available from one place, so there is no need for running all over to find them. In fact, when shopping on eBay, there is no need to even leave the house, which makes it very convenient for the expecting mum.
One of the easiest ways to see all of the different maternity tops that are listed for sale is to simply enter the keywords "maternity top" into the search engine on eBay's main page. This returns a large list of tops to choose from. In order to narrow that selection and make shopping a bit easier, choose from any available options, such as size or brand name. By selecting or deselecting such options, the list of possibilities better reflects the shopper's current needs.
Maternity Tops for Every Occasion
Every woman needs a variety of outfits, including at least one for every occasion. Many tops can serve several purposes, working well for a casual outing as well as a base layer for a more professional suit. When shopping on eBay, it is easy to find a great variety of different tops for every occasion and available in a wide range of colours and styles. The consumer can easily mix and match these tops to form a number of great looking outfits that the mummy-to-be is going to look and feel great wearing.
Before shopping, try to come up with an idea of how many tops to buy, their style, colour, and the occasions that they are going to be worn for. By doing so, it is easier to set a reasonable budget and to evaluate the importance of each purchase. The budget for a professional top may need to be greater than the budget for casual ones, but the budget can be shared if the top can be worn for both situations.
Considering the Many Pre-Owned Maternity Tops
Many of the maternity items listed for sale on eBay are new and the same fashions that are currently in stores. However, there are a large number of pre-owned items listed for sale, and these can often represent a real bargain. In fact, it is possible to find some real deals on pre-owned fashions on eBay. Brands such as Angel, Pumpkin Patch, Japanese Weekend, and Ripe are listed for sale every day at prices that just cannot be beat.
Buying pre-owned fashions is always a good way to save some money, but many people are concerned with the condition of the item. The good thing about pre-owned maternity tops is that they often do not show an excessive amount of wear because they are only worn for a few months. That means that, by shopping wisely and paying close attention to the description of the top and the condition the seller describes it as, the mother-to-be can easily stretch her budget for one top into two or more. Many of the available choices are easily comparable to new options but are typically sold at a fraction of the cost.
Making Sure the Maternity Tops Fit
One of the most important factors that determine how good a person looks in clothes is the proper fit. With a growing belly and other body parts that seem to change every day, finding the proper fit during pregnancy can seem like a challenge. Clearly, a woman's measurements are not the same as they were pre-pregnancy, so the challenge comes in choosing a size by deviating from what is listed on the label.
Most manufactures recommend going by pre-pregnancy size when buying maternity clothes as they design the items to fit that way. This does not always work for every woman, as every woman's body is different and reacts to pregnancy differently. Shopping online adds a little more of a challenge because there is no way to try the item on to check for fit. The following chart describes the measurements in relation to the sizes that many manufacturers use.
| | |
| --- | --- |
| Top Size | Bust Size |
| | 32-34 (in.) |
| | 34-36 (in.) |
| | 36-38 (in.) |
| | 38-40 (in.) |
| | 40-42 (in.) |
To find the chest measurement, measure around the fullest part of the bust while wearing a bra, keeping the measuring tape level. These measurements are general and may not be those that a specific brand uses. Check with each manufacturer for exact relationships. These are often listed on the brand's website.
Buying Maternity Tops on eBay
With the large selection of maternity tops to choose from and the many possibilities to find a great bargain, shopping on eBay is clearly the wise choice. Consumers enjoy buying items on eBay every day, finding confidence in the fact that many sellers have been given stellar ratings and reviews by previous shoppers. eBay top sellers in particular have a reputation of consistently providing a high quality buying experience, so look for the sellers rating when considering each maternity.
Also, check out the seller's other items. If they sell one item that is the right size and style, chances are they have other items listed that also fit and look well. Many sellers are happy to ship items together when someone buys more than one, which saves on shipping cost, so ask about that possibility.
Conclusion
When a woman is expecting a baby, she wants to feel that she is attractive. With all of the changes that her body undergoes, it can be difficult for her to feel confident without owning clothes that she knows make her look great. Shopping for maternity clothes takes time and can be frustrating. Many women would rather do the shopping from the comfort of their own home rather than going from store to store in the mall.
eBay offers the expectant woman the opportunity to shop from home and save a bundle in the process. There is a wide selection of tops available, both new and pre-owned. These include those that are appropriate for all occasions, whether casual or professional, and even formal options. Shopping on eBay for maternity tops is a great way to save money and enjoy a relaxing, exciting shopping experience.