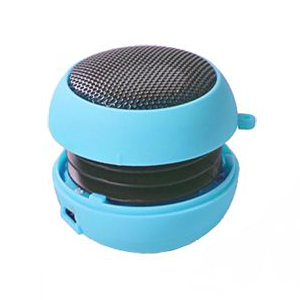 Since the invention of the Walkman, music has increasingly become more accessible and portable for listeners. The invention of MP3 music players and iPods ensures that music can be available when on the move, but finding speakers to plug into their devices has been a problem for many listeners. Mini speakers have solved this problem by combining portability and good sound quality.
Portable speakers allow the music lover to plug in their MP3 player to enjoy the music right away. This guide aims to inform the buyer of the different types of mini speakers found and how to purchase one on eBay.
A Background of Speakers
Mini speakers are light enough to carry around and easy to plug into the MP3 player or mobile phone. The first speakers were invented in the late 19th century and were used to improve the sound and tones heard on the earliest phones. Other inventors perfected later designs, as speakers became widely used in the Second World War, and have since then been continuously improved and made smaller.
Speakers work on a simple concept of a taking electric signals and translating them into airwaves that the person can hear. The volume of speakers can be adjusted on the MP3 player or phone, and many mini speakers these days have other adjustable options, such an option to configure base and they can come with remote controls.
What to Consider When Looking For Mini Speakers
Mini speakers offer the buyer many advantages to buying stationary speakers. There are, however, a few things the buyer will need to consider when viewing the range of mini speakers available:
Intended function: The buyer will need to consider where and when they will be intending to use the mini speakers. The buyer may be wishing to have mini speakers to use for parties or social gatherings, or to use mini speakers at home. The main difference will be the portability of the speakers and if they are powered by battery or mains electricity. There are also USB powered speakers available.
Multi-Function: As with any technology these days there are gadgets that combine functions. Mini speakers can be combined with alarm clocks, and also charge the item if the speakers come with a mains adaptor. Dock style speakers are hugely popular; they offer good portability without comprising on the sound quality.
Size: Some speakers will be small, and some speakers will range to the size of a book. The style will vary, depending on price and brand. Sure, the look of mini speakers is often plain in appearance, but there are stylized mini speakers available for the brand conscious buyer.
Battery or Mains Powered: The way the mini speaker is powered will also affect its size, but the buyer can choose to opt for battery operated mini speakers. They offer the buyer true portability and flexibility of play time. However, playing music for long periods of time or on a loud volume will deplete the battery quickly. If the buyer is happy to rely on mains powered speakers then this option ensures the music will keep on playing for as long as the buyer desires.
Different Types of Mini Speakers
The range of mini speakers is quite varied, so it is important for the buyer to know what is available, so they can select the speaker that is right for their needs. The following table breaks down the main types of mini speakers that can be found on the Internet.
| | |
| --- | --- |
| Home mini speaker | These are for use around the home and are AC powered. These will vary in design, but will be the perfect size to sit on a small desk without taking up much room. Speakers of this type are designed to fill one room with sound, so this type would struggle to be used outside. There are also extra accessories available for this type of mini speaker, such as remotes and extra cables to connect the speakers to different devices. There are also wireless and Bluetooth speakers available. |
| Portable mini speakers | Portable mini speakers are smaller and lighter than home speakers; the other main difference is that these will also run off batteries. This offers the buyer the choice in using the speakers wherever they want, such as at outdoor parties or for presentations at work. |
| Boombox mini speakers | Boombox speakers can look like the traditional boombox with a handle, which is handy for travel. This type of speaker is also more durable and is perfect for extended outdoor use. |
| Alarm clock mini speakers | Alarm clock mini speakers offer the buyer a wonderful combination of uses. This type will also charge the device, and can also run on batteries if there is a power cut. Different models may have a range of features, such as radio and remote controls. |
| Waterproof Mini speakers | Waterproof speakers are perfect for use around the pool or even in the shower; they will be battery powered and use wireless or Bluetooth connectivity. |
| Ultra-portable Mini Speakers | Sometimes known as 'hamburger speakers' due to their shape and size similar to a hamburger; these speakers are small and light. These are not as powerful for many users, but can enhance sound for one person. |
Buying Mini Speakers on eBay
Selecting a mini speaker is no small task, especially when there is so much to choose from. Searching online offers the buyer great freedom and flexibility they would not encounter in a store. eBay is a great website to look on as the buyer can use different search terms and find fantastic deals. The buyer can use the following steps to find mini speakers:
· Keyword search: The buyer can start their search by typing 'mini speakers' into the search bar on the eBay homepage. Using basic words will generate a range of listings, but the buyer also can refine the search by going to the 'Electronics' portal and clicking on 'Audio' and then 'Speakers, Subwoofers'. Based on the list of speakers previously mentioned, the buyer can use search terms such as 'waterproof boombox' or 'battery alarm clock mini speakers.'
· Categories: When the buyer is on the 'Speakers, Subwoofers' page they can refine the search based on features they desire/need from their mini speakers. It is advised that they use categories in conjunction with keywords like 'mini speakers'. The buyer can choose from a range of brands and also on the condition of the item.
· Staying Safe on eBay: To ensure the buyer has the best possible experience shopping on eBay, they need to consider a few important factors before making a purchase. Read over the item's description carefully and if in doubt of anything, they shouldn't hesitate to contact the seller for more information. They should also factor in the price of the postage, as this can add a significant amount onto overall price.
· eBay Deals: The buyer can also look out for some of the latest deals for mini speakers. Deals can be found under the 'Audio' section where there will be a range discounts to be found; some will also offer free postage.
Conclusion
Being able to listen to music on the go is a pleasure many people enjoy, and as technologies have advanced, anyone can become a DJ on the go. Mini speakers offer the buyer many advantages, whether looking for a retro looking boombox style speaker, or combining the means to waking up with an alarm clock speaker, there are countless designs to appeal to any buyer.
Once the buyer has an idea what mini speaker they want, they should look on eBay first, as the range of mini speakers available is second to none. With easy payment and intuitive search options, the buyer can find mini speakers with confidence on eBay.