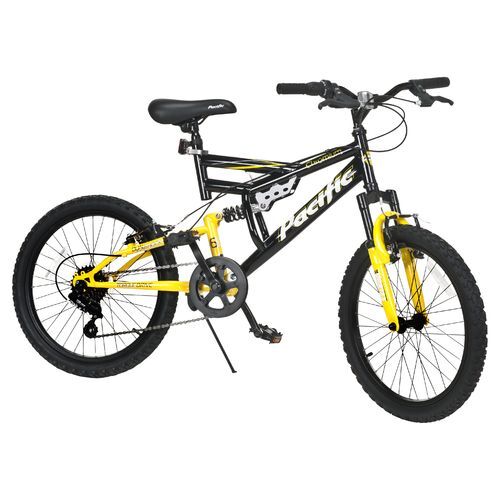 Mountain biking is an adventure sport that involves riding specially designed bicycles called "mountain bikes" off road, in terrain that can be quite rough. There are several different types of mountain biking, some of which require mountain bikes that are tougher than others. The sport requires endurance, balance, excellent bike handling skills, and a degree of self-reliance.
The precise year the sport was first developed is open to debate, but it is now recognised worldwide. In 1996, mountain biking became an official Olympic event. Buying a mountain bike can quickly become an expensive, and confusing, affair. Buyers looking for mountain bikes must understand the different components, to choose the bike with the components needed for their style of riding.
Different Types of Mountain Biking and Mountain Bikes
A
mountain bike
is a combination of different components. Each component plays an important role, but may not be as important in one type of mountain biking as in another. For example, downhill racing requires bikes have extremely strong frames, and disc brakes are a must. Other mountain biking styles do not require the same components. The types of mountain biking include:
●Cross country (XC)
●Trail riding
●All mountain
●Downhill
●Freeride
●Slopestyle
●Dirt jumping
●Trials
The most common types of mountain biking are 1) recreational cross country (XC) and 2) trail riding. Several types of mountain bikes have been designed to accommodate different riding styles.
Type of Mountain Bike

Features and Characteristics

Trail (XC)
General purpose
Most common type of mountain bike
Can be either hardtail or full suspension
All mountain (AM)
Stronger frames than trail bikes
Longer suspension travel
Almost all are full suspension
Ideal for trails with steep descents, obstacles, and small jumps
Cross country
Light and manoeuvrable
Ideal for competitive events with steep ascents and tight turns
Not suitable for jumps and heavy landings
Freeride (FR) and downhill (DH)
Made for fast downhill rides
Can handle rocks, roots, bumps, and jumps
Not easy to ride uphill because of weight
Usually shuttled to the top of the descent by vehicle or lift
Dirt jump (DJ)
Made for aerial stunts
If buyers know what type of mountain biking they are partaking in, the task of choosing the right mountain bike becomes much simpler. However, there are still factors to consider before making the decision.
Factors to Consider When Choosing Mountain Bikes
There are several factors that buyers must consider before choosing a
mountain bike
. Most of the factors relate to mountain bike components: the parts of a bike that are attached to the frame. However, some of the factors depend on buyers' physiques, and other considerations.
Budget
Mountain bikes can cost anywhere between a few hundred dollars and several thousand dollars. Basic models with lower-end components and heavier materials are cheaper, while the more expensive models are lighter, faster, and built with higher-end components. Buyers should set a reasonable budget before choosing a mountain bike.
The Gearing and the Number of Speeds
The number of different gear ratios (sometimes just called "gears" or "speeds") on a mountain bike equals the number of front chain rings multiplied by the number of sprockets on the hub of the rear wheel. For example, a mountain bike with three front chain rings and six sprockets has 18 speeds. Some common mountain bike gearings are listed below.
Total Gears

Front Chain Rings

Rear Sprockets

Notes

1
1
1
Less weight
Mechanical simplicity
21
3
7
Common on children's bikes
18
2
9
Aftermarket setup
20
2
10
Common on light, high-end bikes
24
3
8
Typical entry-level setup
27
3
9
Most common arrangement
30
3
10
Mostly on high-end bikes
The "range of gearing" is more important than the number of gears on a bike. A 20-speed bike may have the same range as a 24-speed bike. The only difference is that there are fewer intermediary gears along the way from the lowest gear ratio to the highest one. Single gear bikes are lightweight, but riders must have strong legs to handle uphill rides.
Type of Gear Shifter
Two common methods are used to shift gears on mountain bikes: grip-shifters and trigger shifters. Grip shifters, as the name implies, are part of the grip on the handlebar. Gears are changed by rotating a ring near the grip on the handlebar. Trigger shifters, on the other hand, use two "triggers" below the handlebar to shift gears. One shifts up and the other shifts down. The type of shifter to use is largely a matter of personal preference.
Suspension
There are two types of mountain bike suspension: hardtail, and full suspension.
Hardtail bikes
have front suspension forks, but no shock absorber on the back. A front suspension reduces arm and hand fatigue, and also improves steering on rough trails. Hardtails are lighter than full suspension bikes, and are therefore good choices for climbing. They are also cheaper than full suspension bikes. Hardtails are ideal for occasional trail use, and for riders wanting to practise and improve their riding skills.
Full Suspension mountain bikes
have both a front suspension fork, and rear shock absorbers. They offer a smoother ride, and are ideal for rough or rocky terrain. They are good for jumps, and they give riders more control at high speeds over difficult terrain. The rear shock absorber adds weight, complexity, and cost to a bike. However, it may be worth it if the terrain demands it.
Wheel Size
Mountain bikes used to be available in only one wheel size. Today, they are available in two adult sizes (26 and 29 inches), and smaller sizes (20 and 24 inches) for children. While both 26-inch and 29-inch wheels are suitable for most adults, the larger wheel has several advantages:
●Offers more momentum once moving, allowing progress with less effort
●Has a larger contact area, providing more grip and minimising slides
●Rolls over obstacles more easily
On the other hand, 29-inch wheels are heavier, and as a result, slower to accelerate. Bike frames designed for one size wheel cannot be used for another.
Frame Size
Buyers should choose the correct frame size based on their height. Mountain bike manufacturers offer sizing charts for this purpose. Buyers between sizes should choose the smaller size instead of the larger. This makes it easier to get off the bike in case of an emergency when riding. The size of a bike is flexible, and it is possible to adjust different parts of the mountain bike, such as the post height, and the height of the handlebars, to achieve as perfect a fit as possible.
Frame Material
The
frame of a mountain bike
is what holds all the components together. It plays a role in a mountain bike's strength, weight, durability, and price. As technology has advanced, newer materials and alloys allow manufacturers to produce high strength frames that are lighter in weight.
Material of Frame

Characteristics

Steel ("cro-mo", or "cro-moly")
Very tough
Heavier than aluminium
Absorb vibrations, resulting in a smooth ride
Can be welded if cracked
Minor rust can form over time
Aluminium
Standard for mid and high-end bikes
Light and strong
Can bend under stress
Special equipment required to weld cracks
Titanium
Expensive
Used in high-end bikes
Carbon fibre
Very light and plush (absorb vibrations)
Tough
Expensive, labour intensive manufacturing
Hollow tubes can be punctured by sharp rocks
Unfortunately, exotic materials like
carbon fibre
and
titanium
are expensive. Buyers should choose the strongest frame material that fits their budget.
Buying Mountain Bikes on eBay
Buyers looking for mountain bikes online can find many on eBay. Enter search terms in the search bar on eBay's home page. For example, entering "XC mountain bike" returns all
XC (trail) mountain bikes
available on eBay. You can narrow the search by adding more specific keywords to the search term. This returns fewer results to save you time. Also look for seasonal
deals on bikes and other sporting equipment
. If you buy from a local seller, you can reduce shipping costs and time by arranging for a local pickup as long as the seller is comfortable with the arrangement. Look for sellers with a lot of positive feedback to ensure you have a smooth, straightforward transaction.
Conclusion
Mountain biking is an adventure sport that involves riding bikes over rough terrain or on trails. There are different variations of mountain biking, but they all require special bicycles called "mountain bikes" that are built to take the extra stress of the tougher riding conditions. Buyers looking for mountain bikes should first decide what type of mountain bike they need. They can then choose what type of components the bike should have. Buyers today have a wide range of choices for different components. Buyers must set a budget before they begin their search since the cost of a mountain bike can easily reach several thousand dollars, depending on the components used. Buyers can find a range of mountain bikes online on eBay.