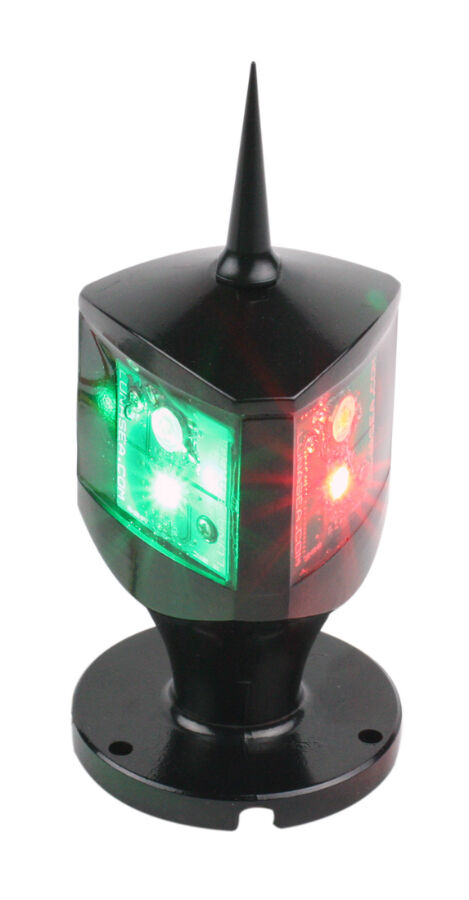 Boating is a fun way to spend one's free time. It allows one to stay out in the fresh air and enjoy the company of friends, especially when the boat is a large one. In addition to having fun, certain requirements and safety standards need to be followed. In case of restricted visibility, navigation lights must be used on boats. This is especially vital when operating the boat at sunset or sunrise, when it is not quite light outside. The navigation lights show other vessels the location of the boat as well as its status and the direction in which it is heading.
Navigation lights on boats are mandated by international regulations, so boats all over the world must conform to the same standards in order to avoid any confusion when they meet in the water. It is vital to know the types of navigation lights, as well as how and where they should be placed, before shopping for them in special equipment stores or on online auction sites, such as eBay.
Types of Navigation Lights for Boats
There are standards for navigation lights, and these are essential to follow in order to ensure safety on waterways. Basic navigation lights rules are set for most boats, and they determine what kind of lights are required and where they should be mounted. For small boats, slightly different lights are used.
Basic Navigation Lights for Boats
The basic navigation lights signal to other vessels the type of the boat as well as its relative angle. This helps other boaters to assess the possible danger of collision. On the starboard side, the right side as seen from the perspective of a person on board and facing forward, there should be a green light. On the port side, the left side as seen from the perspective of a person on board and facing forward, there should be a red light. The white light should be at the rear, astern. If the vessel is power-driven, it also requires white masthead lights, either one or two. Higher mastheads need two, and in this case, the light at the rear should be located higher than the one at the front. In crowded areas, vessels may also be equipped with yellow flashing beacons that add visibility both night and day.
Navigation Lights for Small Boats
Smaller boats do not necessarily require the large navigation lights that bigger vessels do. Motor boats and sport boats are such boats, for instance. They can be equipped with combination lights that have the green, red, and white fitted into one piece. These lights are often built with LEDs, light-emitting diodes, and they require virtually no maintenance. However, traditional, more robust designs that separate the different colours into individual lights are also available. They are still small enough to be easily lifted from one place to another on the boat, depending on what kind of signal needs to be sent.
Navigation Lights Features
When purchasing navigation lights for boats, there are several features that need to be taken into account. These include ship type, ship size, light voltage, approvals, and visibility.
Ship Type
The main ship types can be classified as either sail or power vessels. Sailing ships are powered by wind, and are thus dependent on the weather and the speed of wind. Some sailing ships may also have another optional power source that can be switched on in case of need. Power vessels are equipped with an engine and thus do not rely on the wind. This makes for higher travelling speeds, and as a result, the navigation lights are even more important.
Ship Size
In navigation lights specifications, the ship size is marked either in metres or feet, depending on where the ship and lights have been manufactured. The lights specifications include estimated dimensions and are expressed as being greater or less than a certain number. For instance, the ship dimensions could be written as <50 m, denoting a boat that has one dimension of less than 50 metres.
Voltage
The voltage refers to the potential or electromotive force difference of the navigation lights, and is expressed in volts. Common voltages for boat navigation lights are 12 volts and 24 volts. Quite often, one navigation light is compatible with both voltage types and they can be used interchangeably.
Approvals
As the navigation lights are used for safety, they must comply with certain standards. The standards may vary from country to country, although there are also some international conventions that are applicable everywhere. For example, the IMO COLREG, established in 1972, is a standard that should be met. "IMO" stands for International Maritime Organisation and "COLREG" is short for "Convention on the International Regulations for Preventing Collisions at Sea". Part C of this convention details the shapes and types of navigation lights that should be used.
Visibility
Different vessel types and vessels of different sizes have their own visibility requirements. Visibility is measured in nautical miles, and one nautical mile is about 1.85 kilometres. The bigger the boat, the further away it must be visible. When travelling with a boat in foreign waters, different rules may apply. The following table details the visibility requirements for boats in different sizes.
| | | | | | |
| --- | --- | --- | --- | --- | --- |
| Light Type | Boat Type | <12 m (nm) | <20 m (nm) | <50 m (nm) | >50 m (nm) |
| Port | Sailing and motor boats | 1 | 2 | 2 | 3 |
| Stern | Sailing and motor boats | 2 | 2 | 2 | 3 |
| Starboard | Sailing and motor boats | 1 | 2 | 2 | 3 |
| Masthead | Motor boats | 2 | 3 | 5 | 6 |
| All-round | Sailing and motor boats | 2 | 2 | 2 | 3 |
| Bi-colour | Sailing and motor boats | 1 | 2 | N/A | N/A |
| Tri-colour | Sailing boats | 1-2 | 2 | N/A | N/A |
It is essential to know at what angle the navigation light should be installed on the boat. These standards are listed in the IMO COLREGS 1972 convention.
Light Configurations and Their Meanings
The lights can be assembled on the boat in several ways. In fact, a special code, or language, has been developed in order to convey messages to other vessels by using only the different navigation lights. The following table includes the common light configurations and their meanings.
| | |
| --- | --- |
| Light Configuration | Meaning |
| Red, white, red (from top down) | Restricted visibility ahead; restricted ability to maneuver |
| Red over red | Vessel not under command |
| Three reds in a vertical row | International sign for constrained draft |
| Red over white | Fishing at night |
| Red over green | Sailing machine |
| White over red | Pilot ahead |
| Yellow over yellow | Used only inland; towing another boat |
| Green over white | Trawling at night |
| Yellow over white | Tight towline; when tow exceeds 200 metres, equipped with a dayshape as well |
| Three greens in a cross shape | Safe |
| One or two white lights visible from all directions | Anchored vessel |
These light configurations should be studied and used accordingly. This contributes to boating safety and can allow one to avoid accidents, especially when visibility is restricted. Navigation lights should be bought that can convey the typical messages listed above.
Buying Navigation Lights for Boats on eBay
When looking for navigation lights for boats on eBay, the easiest way to start your search is to type the relevant keywords into the search box that you can find at the top of any eBay page. You can either opt for general search terms, such as "boat navigation lights", or, if you already know what colour or material you require, you may specify your search to find the desired items more quickly. If the initial search results do not satisfy your needs, click on related searches to see similar items. If the list of results is long and you wish to narrow it down, you can do so by sorting the items either by auction time or price. With enough patience, you should be able to find the deal most suitable for you.
Be sure to check the item listing in order to ensure that the navigation light complies with the standards set in your country. Should you have any questions about the item, you can always contact the seller and forward your query. You can ask about delivery, payment methods, packaging, refunds, and exchanges. If you deal with top-rated sellers, you are more likely to get answers quickly, and the products are also likely to be of higher quality. Top-rated eBay sellers have stood the test of time and been approved by other buyers, who have given them good feedback and high ratings.
Conclusion
When it comes to boating, it is very important to follow certain safety requirements in order to avoid collisions. In restricted visibility, for instance, during sunset or sunrise or in fog, boats make use of navigation lights that make them visible to other vessels and can convey other messages. The basic navigation lights include a green one for the starboard side, red for the port side, and white for astern. On smaller boats, these lights can be combined into bi-colour or tri-colour lights instead of being separate. The lights can be used to deliver certain messages, and thus a combination of lights is necessary.
Features that should be considered when buying navigation lights for boats include the ship type as well as the ship size. The voltage of a light can be either 12V or 24V, and it should comply with the electrical system on board. Approvals, such as the international convention IMO COLREGS 1972, and the visibility requirements stated in them, are obligatory. Visibility is measured in nautical miles and refers to the distance from which the light should be visible.
Boat Navigation Light|Navigation Light|Boat Accessory|Navigation Light Bulb|Used Boat Navigation Light