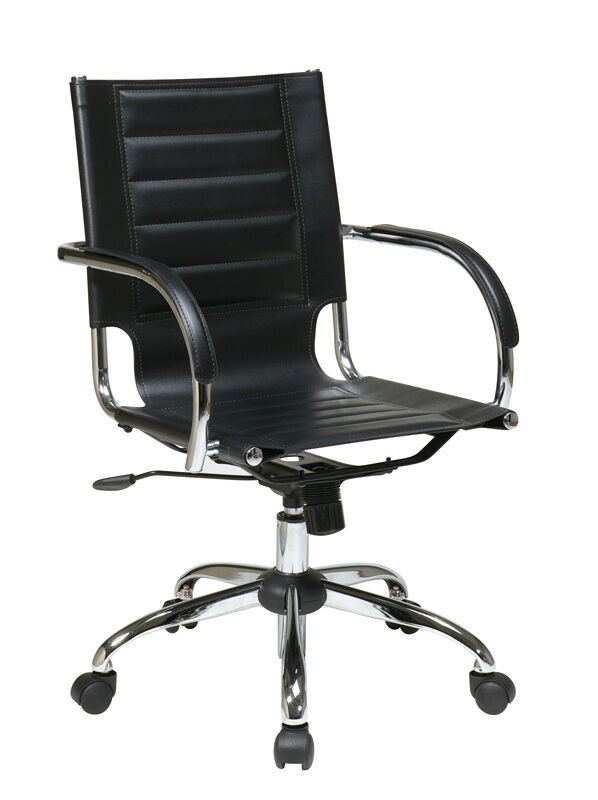 Ensuring that an office is furnished with the most suitable furniture can greatly improve the comfort of using the office, as well as the ease of use. There is a wide range of different types of office furniture available, which can suit a range of different spaces. If available space is an issue, compact or corner desks can be found, while office chairs can offer a range of features suitable for different users. Filing cabinets and other storage options can also be used to keep an office tidy. A wide range of desks, chairs and other office furniture can be found on eBay.
The Typical Office
There are a number of key pieces of furniture which will most commonly be placed into an office, and this can provide a good guide for deciding which pieces of furniture is needed.
· An essential piece of office furniture is the desk. This will serve as a workspace, and will often be used to place a computer or laptop. Desks can offer a range of features, and vary from small, simple pieces of furniture to larger items offering ample storage space and different features.
· To work at a desk, an office chair will also be required. These can include large, leather clad models as well as smaller and simpler seats. In addition, reclining or orthopaedic chairs are also available, should they be required.
· In addition, some may require storage space in their office beyond that provided by any drawers featured in a desk. Filing cabinets are useful if large numbers of documents must be stored, and these cabinets can also be useful for keeping them organised. Other kinds of storage may also be required, and organisers or bookshelves may also be useful.
Office Desks
The desk in an office will often form the centre of the space, and will often be where most of the work will be done. There are a number of different types of desk available.
| | |
| --- | --- |
| Writing Desk | The writing desk is a simple kind of desk, which provides a great deal of flat workspace. These often offer few features, except for a number of drawers, and have a design emphasis placed on writing rather than computer use. However, a writing desk makes a good surface for laptop use as well as writing. |
| Roll Top Desk | A roll top desk is another option. These desks are often larger than other kinds of desk, and feature a rolling top which hides away the desk when not in use. Generally offering a number of drawers, some of these desks may also feature room for a computer, though many are of an older design and intended as writing desks. |
| Secretary Desk | The secretary desk is a useful option if there is limited space in an office. These desks fold away, and can be useful for writing or laptop use. However, they are often smaller than other kinds of desk. |
| Computer Desk | Computer desks are designed specifically to house a full sized desktop computer, and can vary greatly in design. They will generally have space for the monitor, with room for the computer tower beneath the desk. They will also often include a roll out surface for the keyboard, and may also have holes for wires to feed through. |
| Hutch Desk | A hutch desk is a good choice for those with limited space, offering more vertical storage. Hutch desks are also often designed for use with a computer, though overhanging shelves may place a limit on the size of monitor which can be used. Hutch desks can offer a great deal of storage space, in a compact design. |
| Corner Desk | Another way to get the most out of a space is with the use of a corner desk. These desks are designed to fit into a corner, and often offer a good deal of storage. |
Office Chairs
Another important piece of furniture is the office chair. Choosing the right chair can help to ensure the comfort of the user, and a range of different types are available.
| | |
| --- | --- |
| High Back | High back office chairs have backs which extend all the way to the upper back, sometimes even up to the neck and head. These are sometimes called executive chairs. |
| Mid Back | Mid back chairs are a popular type of office chair, extending part way up the back and offering a good level of support. |
| Low Back | Low back chairs support the low to mid back, and are useful for a variety of different situations, though some may find them less comfortable. |
| Mesh | Mesh chairs are a modern kind of office chair. These chairs are made up of mesh and offer a comfortable seat, and are also breathable, which help to keep the user cool. |
| Leather | Leather chairs have long been a popular kind of office chair. These offer comfort and a unique texture and appearance, though can be expensive and difficult to clean. |
| Ergonomic | Also available are ergonomic chairs, which are designed to offer support to the back and help improve posture. |
Office Storage
Some may find that they require additional storage in their office than that which is provided by a desk, and for them a number of solutions are available.
· For documents and paper files, a filing cabinet can be useful for storing and organising these items, particularly if there is a large number of them. For those who need to keep their documents secure, many filing cabinets feature locks.
· Different types of shelving are also available, which can be used to store a range of items, while bookshelves can also offer a sturdy place to store books, files or other items.
· Smaller desk organisers can be placed on a desk, and used to store and organise any paperwork which needs to be worked on, helping to keep the workspace tidy.
· Another useful piece of furniture may be a wastepaper bin, allowing the user to easily get rid of waste.
How to Buy Office Furniture on eBay
A wide variety of chairs, desks and other office furniture can be found on eBay.
· The listings of available office furniture can be viewed in the Desks & Home Office Furniture section of the Furniture category, accessible through the Home & Garden portal.
· The listing of available furniture can be narrowed down with categories such as price, condition and item location.
· Key information about an item is often prominently displayed in the item listing, making it easy to quickly establish if a particular item meets any specific requirements.
· More detailed information can be found on the item page. This includes information about the seller, such as item reviews and feedback ratings, which can help to ensure that a purchase can be made with confidence.
· If a specific piece of office furniture is required, it may be easier to make use of the search function. Searches can be made to return results from across the site, or from within a specific category.
· Don't forget to look out for any deals on office furniture available in the Furniture category.
Conclusion
Properly outfitting an office can go a long way to making the office a pleasant place to work, and there are a number of key pieces of office furniture which many will find useful. A desk can provide an ideal place to work, and a variety are available, such as secretary desks, which can fit into smaller spaces, or computer desks designed specifically to hold a desktop computer. Choosing the right chair, meanwhile, can greatly enhance the comfort of the user. A wide variety of furniture can be found on eBay.