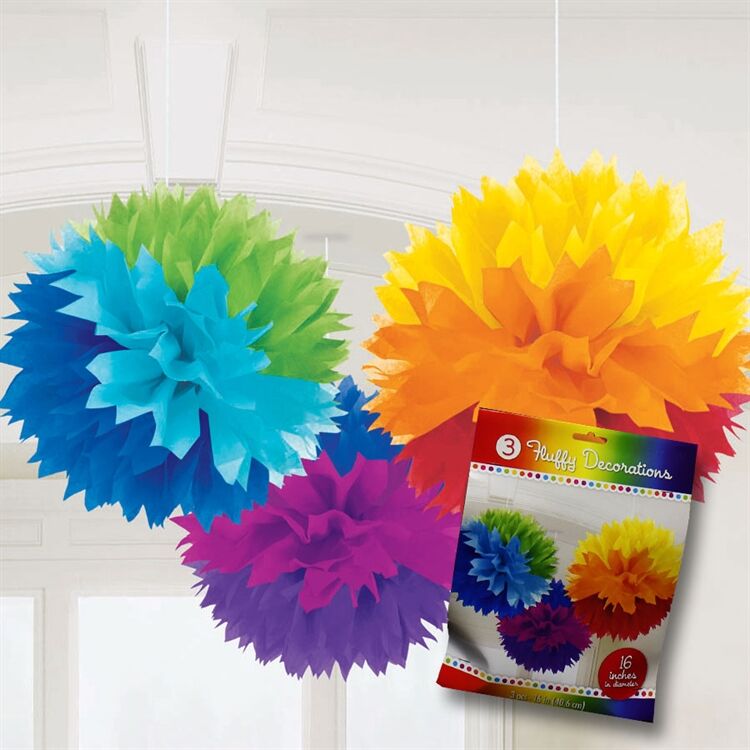 Everyone remembers a particular birthday party or special event. Sure, party decorations are often thought of as a background detail, but for any special day a few balloons and streamers can change the mood dramatically. This guide will look at how to find and purchase party decorations for any occasion, from birthdays to weddings on eBay.
With so many different cultural and national celebrations happening across the country, countless different types of decorations are available. The buyer can find many great bargains on eBay and also find vintage items, which will suit a vintage or old-fashioned themed party.
History of Party Decoration
The earliest type of balloon was said to date back to the time of the Aztecs when balloons were made from animal gut and were left by alters of certain gods during worship. The balloon as we know it today was first made in the early 19th century with rubber and filled with gas for experimental use. The balloon was soon widely used for parties and decorative purposes and rubber balloons were commonly used in the 1880s.
Other earlier examples of party decorations are paper chains made from crepe paper or thin card, Victorian children would make these for Christmas along with decorations like cards. Since then these have developed and became cheaper party decorations, as they can be made from foil or plastic, and come in many sizes and shapes, depending on the occasion.
Parties can be for a range of occasions, such as: birthday, retirement, anniversaries, religious holidays, welcome or leaving parties, coronations, royal weddings and national holidays, etc.
The range of events and themes are vast and the buyer will need to have a rough idea of their personal preferences and other important aspects before looking to purchase party decorations on eBay.
What to Consider When Planning a Party
Planning even a small party will take some time and arrangement on the buyer's part, and if left to the last minute can be stressful if some problems arise. In order to ensure that the planning stage goes smoothly, the buyer will want to consider some key factors:
· Occasion: The deciding factor is the theme of the party; if it's a wedding then appropriate wedding decorations need to be purchased. If the party is a birthday then the age and gender of the person is relevant, so the decorations can be themed accordingly.
· Budget: It is ideal for the buyer to have a rough budget of what they would like to spend. It can be easy to purchase too many of one item and find they have no money left for other items like food or entertainment.
· Buying in Bulk: Can the buyer get some items in bulk, such as bunting or party favours? A useful idea is to bulk buy balloons in one go, as this can save a lot of money and be used for a few parties. If the buyer opts to buy undecorated balloons they can use them for any theme of party.
· Is it reusable? Many party decorations are meant to be used once, and this is often reflected in the quality and price of the item. It could be a good idea for the buyer to look at decorations they can reuse over a period of time, so posters or streamers and wall decorations are a good idea.
Planning a party can be a stressful time for anyone, but the best advice is to plan early, prepare the room a week or so in advance, and ensure all food that can be stored overnight is prepared the day before. There are specific party planners that can help with planning big events like weddings.
Different Types of Party Decorations
There is a type of decoration for almost every occasion possible, and for the buyer, knowing the type of decoration that is suitable is a hard task. Some decorations are meant to be placed on to an ornament, whilst others are for placing on a table, or even scattering on a floor and on guests. The following table details the different types of party decorations that can be found on the Internet:
| | |
| --- | --- |
| Balloons | These can be made from rubber or foil and can be filled with air or helium. Balloons come in many different colours, as well as designs and even popular film characters. Bottles of air of gas are easy to purchase and will save a lot of time blowing the balloons up on the big day. |
| Ribbons | Ribbon, depending the material and width, can come on a spool or be sold by the metre. Ribbon can be made from plastic and used to tie to balloons. Other ideas for ribbon are to use them to decorate tables, or be used as party favours. Ribbon can come with messages, such as 'happy birthday' or 'congratulations', printed on them. |
| Confetti | Confetti is mostly used for weddings, but can be for other outdoor parties. They are purchased by the bag and a lot will go a long way. Confetti can made from thin rice paper and is edible which makes it a safe option if there are children present. |
| Bunting | Bunting is a type of wall decoration made from small triangles of fabric. These can spell out names or messages. Bunting is often handmade and sold by the metre. |
| Streamers | Streamers are made from crepe paper and come in any colour; these can be used as wall or ceiling decorations. |
| Table Decorations | These sorts of decorations can be table clothes with specific themes; other table settings can be name places, as well as napkin rings, plastic plates and glasses, or items like crystals to sprinkle on the table. |
The buyer also has the option to buy party decorations in themed packs, such as birthday or baby showers. These can save time and money for the buyer, which means they can enjoy the big day more. Some sellers on eBay will also customise party decorations, which can make the event more personal and special.
How to Buy Party Decorations on eBay
The buyer should shop online for party decorations, as they can find a far wider range online than in retail shops. Browsing online also saves the buyer a lot of time because they can find everything with ease, and won't have to travel to specialist shops. eBay offers the buyer excellent browsing choice. The following steps will help the buyer get the most out of looking on eBay for party decorations:
· Use keywords: the buyer can start their search on the eBay homepage by typing 'party decoration' into the search bar. From there, a range of listings matching that search term will come up.
· The buyer can also use the categories to further refine their search by going to the Home & Garden portal, then select Parties, Occasions, and finally, Balloons, Decorations.
· Occasion: The buyer can shop by the occasion, which makes searching faster. To do this, one can select weddings, Christmas or Engagement, etc on the left hand side. If the buyer is after a certain colour, they can also select the colour that they would prefer, such as white or blue.
· To ensure the buyer has a satisfying shopping experience on eBay it is vital to keep some aspects in mind, such as reading the listing's description clearly. Furthermore, if unsure about anything, it's a good idea to ask the seller to clarify any questions. Review extra costs such as duty or postage. The buyer should always use a payment system like PayPal when shopping on eBay.
· It is worth browsing the eBay deals page on a regular basis to find party decorations at a discounted price. These offers are updated often, and will often include free postage.
Conclusion
A well-decorated room with make all the difference to the mood of a party - one doesn't have to go to extravagant lengths to find suitable party decorations. The buyer can factor in their budget and personal taste to ensure they find exactly what they are looking for. There are endless amounts of decorations available online, and that is why the buyer should consider using places like eBay to find what they want. Whether they are looking for perfect party favours or some cheerful bunting, everything is catered for on eBay.