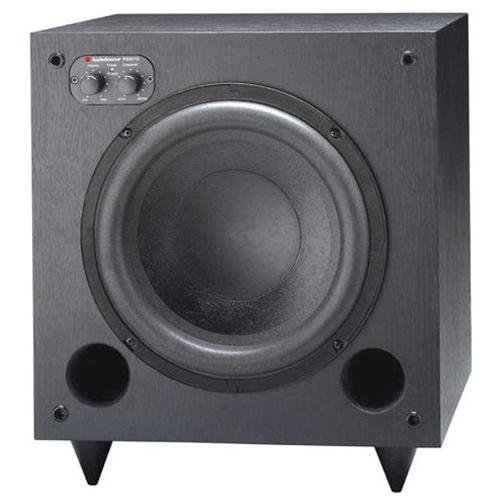 A powered subwoofer is a device that is a subwoofer and an amplifier combined. Many users enjoy this gadget as opposed to passive subwoofers because having an amplifier already included in the device means that the user only needs a line output from an amp. Because it only needs a line output from the amplifier, there is no power overload on the rest of the device, which means that the mid-range and tweeters are able to be powered more easily. These subwoofers are also known as "active" subwoofers. If the shopper is interested in purchasing a powered subwoofer, then he or she needs to be knowledgeable about the types, designs, and performance aspects of this machine before shopping. After learning about powered subwoofers, eBay is a convenient, economically smart place to start shopping.
For the Car
Though it can be difficult to install a powered subwoofer into a car's stereo system, many users opt to fit a subwoofer under a car seat or in the hatchback of the car. The consumer can choose from a variety of compact but efficient subwoofers that are ideal for one's automobile. Below are examples of powered subwoofers for a car that are available, including the size, RMS/continuous power output, and frequency response.
| | | |
| --- | --- | --- |
| Size | RMS power | Frequency Range |
| 20.3 cm | 120 W | 35-250 H |
| 16.5 cm | 100 W | 39-85 Hz |
| 25.4 | 200 W | 20-120 Hz |
| 25.4 | 135 | 27-100 Hz |
| 20.3 | 100 | 39-85 |
These are just some examples of the many powered subwoofers one could have for one's car. For music, drivers are likely to want a subwoofer that reproduces somewhat lower frequencies for good, accurate bass sounds.
Performance Aspects
There are several specifications buyers should pay attention to when shopping for a powered subwoofer; these are aspects that are present in almost every type of subwoofer, and the quality of these aspects can vary by type and brand. Knowing what these parts of the subwoofer do, and thus knowing what makes a high-quality subwoofer, enables the consumer to figure out what his or her ideal device is.
Frequency Response
Almost every user has a different preference for what frequency they prefer to listen to from a subwoofer. A good rule of thumb is this: since the average frequency range of human hearing is between 20 and 20,000 Hz, one should try and find a subwoofer that reproduces the most frequencies in this range (though the maximum most subwoofers reach is 200 Hz). If the consumer does this, then he or she can experiment with a large range of frequencies to find out which is best for their specific ears. In general, below 30 Hz is an ideal level for movies and games; bass players prefer a subwoofer that is in the 40-50 Hz range; for audiophiles, a subwoofer that can reach above 150 Hz is ideal.
Continuous/Peak Power Output
Continuous, or RMS, power output is a consistent and true to life rating of the wattage of a subwoofer. When looking at different subwoofers, the user should pay more attention to the continuous power output, as the peak power output is not quite a realistic number of the true capabilities of the device. Peak power output is a measure of how much power can be generated by the subwoofer for very small amounts of time; the subwoofer cannot handle the amount of power advertised as the peak power output for any significant amount of time.
Maximum Volume
Maximum volume is important to know for a couple reasons: one, it lets one know where the subwoofer can be placed in a room. If the maximum volume is high enough, then the consumer can use the subwoofer from some distance away in a larger room; if not, then the user must be closer to the subwoofer in order to fully enjoy it. Second, some users may need a subwoofer with a high maximum volume, or they at least want one, like musicians or audiophiles.
Sensitivity
Sensitivity refers to how much power a subwoofer needs to deliver a certain amount of sound. In this performance aspect, the bigger the number, the better. If a device has a high sensitivity (between 90 and 100 is fairly high for most devices), that means that it requires less power to deliver more sound.
Other Aspects
The number of voice coils in subwoofers can vary between single and dual; for those who want more wiring options in their car stereo, a dual-voice coil is preferred. With impedance, no number is "better"; it is merely an aspect of the device that the user should know. Usually between 2 and 8 Ohms impedance affects current flow.
Powered Subwoofer Enclosure Designs
Though it may seem trivial to examine the cabinet of the subwoofer when thinking about the sound, there are two main types of enclosures that can drastically change the sound that comes from a powered subwoofer. The first is an acoustic suspension enclosure, which is designed to provide good bass response. In this enclosure, subwoofers reproduce tight, accurate bass, but need more power to do so. The second type of enclosure is the bass reflex; this adds a "tuned" port, which increases and extends the bass response. The port is essentially a hole in the cabinet which is present to release any energy that is created by the inward movement of the woofer cone. Though bass reflex enclosures are more power-efficient than acoustic suspension, some accuracy is lost.
How to Buy on eBay
To start shopping for powered subwoofers on eBay you must first go to the eBay home page. To find the product you are looking for, type in keywords that relate to your search into the search engine; for example, "100 watt powered subwoofer". To narrow down the search results, use the refining categories to search for certain aspects such as price, brand, condition, and more. You can also browse eBay Deals for great offers on audio equipment.
To ensure that you buy from a reliable seller who can ship the product you bought in a timely manner, look for the "Top-Rated Seller" badges that are on the seller's personal pages and on the pages of the items they are selling. These badges are earned by the sellers when they receive consistent positive feedback from previous buyers, and when they fulfill certain selling quotas that are set by eBay. When buying from a Top-Rated Seller, you can be sure that you are purchasing from somebody trustworthy.
Conclusion
Subwoofers are designed to augment low-pitched sounds, and thus are an essential part of any audiophile or musician's stereo kit. A powered subwoofer is an even better addition, as it contains an amplifier and creates less of a hassle for the consumer in terms of setup and the amount of wires needed to hook everything up. Powered subwoofers often have a variety of features available with them, such as a calibrated microphone to measure the response the room has to the subwoofer, which the automatic equalizer then adjusts depending on the situation; user-adjustable equalizers, which allow the consumer to pick and choose which frequencies should be adjusted or reduced; and wireless remote controls, among others. After learning about powered subwoofers, the shopper can find a reasonably priced device that fits his or her specifications on eBay.
Powered Subwoofer|Amplifier|Active Subwoofer|Speaker|Tweeter