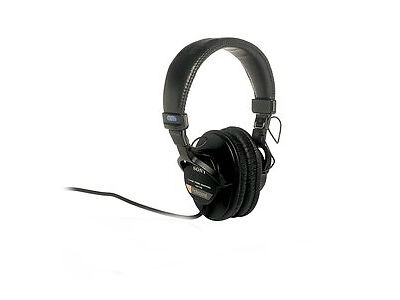 For musicians, singers, composers, disc jockeys, and most in the music and recording industries, high-quality studio headphones are a necessity. Expert audio production requires long-lasting equipment of the highest standards to accurately capture and replicate all of the rich subtleties of sound, and that's why professional headphones produce sound that's suitable for use with professional audio equipment. Many different
headphones
for all occasions are available for sale on eBay, and shoppers can easily compare different brands and styles to make the choice for their own personal requirements.
Why Professional-Grade?
Not all headphones perform equally, so it's important to understand the vast differences between ordinary headphones and professional-grade headphones. Unlike ear buds, professional-grade headphones produce amplified, realistic sound while simultaneously blocking out background noises. They also have a longer lifespan and tolerate heavy knocks from frequent travelling and live concerts. The plug connected to studio-quality headphones is generally twice as big as the standard 3.5 millimetre plug of common headphones because it connects to mixers and professional audio equipment. Professional headphones connect to amplifiers and other high-power audio sources to produce greater volume, and most mobile, battery-powered devices don't produce the amount of power needed to access the full potential of professional headphones. Some professional-grade headphones come with multiple plugs, cables, and adaptors for greater versatility.
Comparing Professional-Grade Headphones
It's easy to find headphones on eBay that are brand new at variable prices, but how do shoppers narrow down their selection? First, consider the main purpose of the headphones; are they for mixing tracks and DJ use, for recording purposes, or for performance use?
Performance Headphones
These headphones can have in-ear pieces or around-the-ear pieces, but the critical point is that absolutely no sound can escape from them that a nearby microphone can pick up. Performers tend to use high-impedance headphones that rank at 100 ohms or more, which is far beyond the range of most portable devices. As a general guideline, if an amplifier has a 10-ohm output impedance, it needs headphones of 80 ohms or more for top sound quality. These higher-impedance headphones minimise many distortions.
DJ Headphones
DJ Headphones are in a category of their own for many reasons. For example, the brand
Bose headphones
are another high-quality brand with enhanced noise-cancelling features and carefully designed interior structures that boost acoustics. Other DJ headphones offer useful mixing features like independently spinning earpieces that allow easier listening through one ear at a time when focused on individual tracks.
Recording Headphones
This type typically comes in a closed-ear design and offers greater sound-isolation capabilities to tune out all background noises that would distract a performer while recording.
Other Factors to Consider
Once someone selects the main type of headphones that they're looking for, they can narrow down their selection further using the following criteria.
Volume Capacity
Live performers and DJs alike require headphones that deliver clear, high-quality sound, loud enough to hear above the noise of crowds cheering, background music, and other common sounds in a live venue. Check the
headphones
for sensitivity ratings that appear in decibels; most would consider a 115-decibel rating to be loud enough, unless the performer plays in extreme conditions.
User Comfort
Since most professionals end up wearing their headphones for hours at a stretch, it's important that they feel as comfortable as possible. For that reason, choose a pair that rests snugly around the outside of the ear without feeling too tight, and make sure it's an easy pair to adjust.
Durability
Accidents can often happen at any live show that are beyond one's control. Spending extra money on a high-quality pair of headphones is important to ensure that they won't break easily after a fall or the usual wear and tear.
Mobility
Those travelling a great deal with their headphones will prefer a set that can fold up and is easy to store in a convenient carrying case.
Visual Appeal
A DJ can use headphones with designer style while in the spotlight, but those remaining inside a recording studio or behind the scenes won't need to consider the appearance of their headphones as much as their functionality.
Cable Length
When in doubt, always go with a longer cable to allow more movement, and prevent accidentally unplugging the cable during a crucial moment.
Buying Headphones on eBay
From the eBay homepage, shoppers can navigate to the "Musical Instruments" category, then select "DJ headphones" from the "Musical Equipment" drop-down menu. Alternatively, type "professional headphones" into the search bar atop any eBay page to find a specific selection of choices quickly.