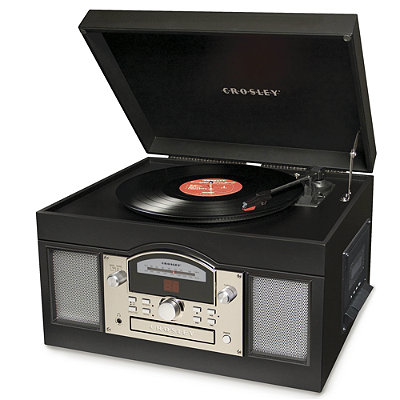 Record players are easy to find and readily available on auction sites like eBay. One of the many advantages of buying from a site like eBay is that whilst online electronics retailers will often sell record players at high prices, due to their niche value, eBay is home to sellers who may be selling the same item at second hand or pre-owned prices.
Whilst the invention of the CD and mp3 initially harmed sales of both records and record players, they are once again popular in the market amongst those who either miss the way they sound or enjoy the whole record buying and playing process.
This guide aims to take potential record player buyers through the process of doing so on eBay.
Components of a Record Player
When buying a record player it is important to know the ins and outs of their design and how they work.
By understanding the various components that make up the record player design as a whole, one can then gain a more specific understanding of how they work, and also an examination of components that are necessary for the enjoyment of the owner and listener.
Here is a comprehensive table outlining and explaining the fundamental components of a record player:
| | |
| --- | --- |
| Record Player Components | About |
| Plinth | The plinth is essentially the base of the record player. They are often square in size and will not be too much bigger than the record player itself. In terms of weight, plinths are available as a heavy duty or a lightweight option, and the choice of which to go for should be based on whether the record player needs to be moved around a lot. Plinths will often have rubber feet attached to keep the record player sturdy, so as not to disturb the movement of the needle or the record. |
| Stylus | The stylus is commonly referred to as the needle. The needle works by riding the groove of the record and is attached to the tone arm of the record player. It is important to look after the stylus as once it is damaged it can also impair the grooves in a record and make it unplayable. Needles are available individually on websites like eBay at reasonable prices, and are easy to fit. |
| Tone Arm | The tone arm plays home to the needle and is lifted on and off the record to stop and start playing. They are often fragile but when treated with care they are durable. Tone arms will usually have a handle to allow for an easily handling and will have a counterweight at one end that means that it is stable when not being used. One can even purchase automatic tone arms that require no lifting at all. |
| Motor | The motor is what drives the record to spin. It is connected to the platter (the part of the record player that sits on the plinth and spins) and there are two main types of motor used for record players. The first is a more tradition 'belt' motor, which is smooth and vibration-less. The second is a spin-drive motor, which is used mainly by DJs who enjoy their spin-up ability and their durability. Record players belts and belt drives can be purchased separately if one starts to wear. |
How to Choose a Record Player
After an understanding of the make-up of a record player has been gained, one can then begin the process of choosing a record player.
There are many different factors to consider when coming buying a record player. These include:
Materials
Most record players will have plinths made from a variety of different materials. The plinth and platter materials make a difference as to the performance of the record player.
Wooden plinths and platters are appreciated for their durability, as well as the fact that wood is a natural shock absorber. This helps with a smooth playing of the record and does not disturb the needle or the record. Wooden plinths and platters also help with acoustics of the record player and add a sense of warmth to the music.
There are also record players made from plastic. Whilst these may be more reasonably priced and lightweight, they do not have the benefit of shock absorption that wooden record players do. The lightweight nature of plastic record players means, however, that they are appreciated for their portability.
Style
There are also many different styles of record players available.
There are those that are keen on a more vintage design will find that auction sites like eBay often have authentic vintage record players amongst their product listings.
Furthermore, there are more contemporary record players that are recognised by their lightweight frame and less durable materials, like plastic.
Another style of record player is one that is built-in to a home stereo system already. These are appreciated for the fact that they require little to no set up, regarding speakers and amplifiers. Record players of this manner are usually less reasonably priced than the other styles.
Condition
eBay plays home to both new and used record players. The choice whether to buy new or used depends on the style of the record player or the price that is willing to be paid for it.
When buying a used record player, always read product descriptions thoroughly and if there are any faulty components, be sure that there are replacement parts available at a price that will not affect the overall cost too much.
Buying a Record Player on eBay
Ever since the resurgence in popularity of record players, online electrical and stereo stores have begun to stock their own range of turntables.
However, none of these sites offer the chance for buyers to name their own price for their chosen record player. eBay, on the other hand, provides its users with the chance to enter into an auction for their chosen record player by placing a Bid. As well as this, many record player sellers on eBay will allow Best Offers to be made. Furthermore, sellers of new record players will also often offer their item at a Buy It Now price, which is usually lower than can be found at electrical stores.
Before viewing the listings of record players in this section, pay a visit to the Deals area of eBay, as bargains can often be found.
To view and buy these record players, head to the Electronics section of the site, and visit the Audio section of the site. Choose the Record Players/Home Turntables refinement table and browse the multitude of listings. Make further use of the keyword search bar and filter tabs to taper the search to specific requirements.
Be sure to be aware of the terms and conditions of using eBay and its recommended payment method, PayPal, to make sure that the transaction is safe and secure.
Conclusion
In conclusion, knowledge is the key to buying a record player on eBay.
By knowing what to look for in terms of specific components, one can widen the choice of record player, as one can know how to replace faulty parts if buying a record player as used is the preferred option.
Furthermore, one should also take into consideration the material of the record player, as well as the brand and style, as this can play a role in determining the price that is to be paid.
With all this in mind, a safe and straightforward transaction can occur.