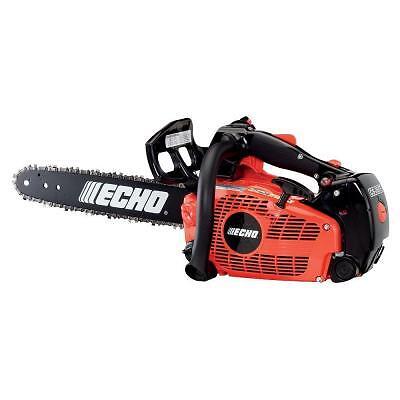 Echo has made a name for itself in the Australian outdoor power equipment market, probably owing to its quality products. However, Echo chainsaw owners, as is the case with owners of chainsaws made by other manufacturers, need to look for replacement parts for their chainsaws from time to time, which is not always easy.
To buy replacement parts for Echo chainsaws, buyers can always visit shops that deal in home and garden supplies, although searching through websites, like eBay, can give them more options from which to choose. In either case, compatibility is a factor that requires buyers' attention, and buyers should know about the most common parts that require replacement, including guides and chains.
Initial Considerations
There are a host of parts within a chainsaw that can malfunction, wear out, or break, thereby requiring replacement, and as a result, knowing which part needs replacing becomes crucial. Among the first elements that buyers need to establish is the type of Echo chainsaw they own, which can be rear handle chainsaws as well as top handle chainsaws.
In addition, the exact model of the chainsaw also requires attention because different Echo chainsaws come with different specifications, and therefore, use parts with different specifications. The CS-270WES, for example, comes with a 26.9 cc motor and can work with 20 cm, 25 cm, and 30 cm guide bars. The CS-8002, on the other hand, comes with an 80.7 cc motor, and can use 45 cm, 50 cm, 60 cm, and 70 cm bars.
Echo Chainsaw Parts That May Require Replacement
Guide bars and cutting chains make up for the two most commonly sought Echo chainsaw replacement parts, although the list is not limited to these. In addition to guide bars and cutting chains, people also tend to look for drive sprockets, switches, fuel caps, air filters, chain adjusters, clutches, clutch springs, bar nuts, carburettors, gaskets, diaphragms, choke levers, handles, condensers, solid state modules, starter covers, starter handles, starter pulleys, starter rewind springs, pistons, piston rings, and more. In addition, some buyers also look for parts that complement their existing Echo chainsaws, which come in the form of bar adjustors, vibration absorbers, and anti-vibration mounts.
Guide Bars for Echo Chainsaws
People looking for guide bars need to do so in accordance to the Echo chainsaws they own because not all available Echo chainsaw guide bars are compatible with all Echo chainsaws. The table below helps to illustrate how certain guide bars work with multiple Echo chainsaws, but not all.
Guide Bar Length (cm)

Compatible Model

Gauge and Pitch of Chain (mm)

CS-260T/TES

CS-270WES

CS-280WES

CS-320T/TES

CS-350T/TES

CS-360T/TES

CS-3000

CS-3400

1.27 and 9.5

38

CS-370ES

CS-3700ES

CS-4200ES

CS-420ES

1.47 and 8.25

50

CS-550

1.47 and 9.5
This table serves only as indication and includes only a limited number of examples. Buyers, on the other hand, have multiple options to search through when it comes to looking for different Echo chainsaw guide bar lengths for any given model.
Replacement Chains for Echo Chainsaws
The cutting chain found within a chainsaw plays an integral role in its functioning and can require replacing from time to time. As with guide bars, compatibility should not be overlooked, and buyers should look for alternatives in accordance to Echo chainsaw models they own. While the number of drive links is a crucial differentiating factor when buying replacement chains, aspects like pitch and gauge also need attention.
Drive Links
The length of a chain depends on the number of drive links it contains, and this, when it comes to Echo chainsaw chains, can vary from 35 to 104, with a number of alternatives in between. Buyers need to look for the length of a chain depending on the type of bar that the chainsaw uses and its length, as well as sprocket size. When it comes to looking for a replacement, simply counting the number of drive links on the existing chain does the trick.
Chain Pitch
Chain pitch refers to the spacing in between the chain's rivets. This is in line with the spacing of the drive sprocket. Chain pitches on Echo chainsaw chains can vary. If a chainsaw comes with a nose sprocket, compatibility with the same is also required.
Chain Gauge
A chain's gauge refers to its thickness, which should match the thickness of the bar's groove. However, measuring the gauge of a worn out chain does not always help since the wear can lead to incorrect readings. Chain gauge on Echo chainsaw chains also varies. Buyers should bear in mind that the bar and chain gauge must match exactly because while it is a small chain, if it fits, it tends to fall sideways and results in poor cutting.
What About Specialised Chains?
Certain manufacturers now sell specialised chains made with steel alloys. These chains work rather well in very cold conditions. People who use chainsaw mills can find milling chains, and people who partake in rescue work or have to deal with lots of dirt can turn to chains that come with tungsten carbide teeth.
How to Buy Replacement Parts of Echo Chainsaws on eBay
Searching through deals for power tool accessories on eBay is bound to present buyers with some alternatives. A number of top-rated sellers on eBay deal in replacement parts for Echo chainsaws, like guide bars, chains, sprockets, and so on. Given that some of these parts are heavy, buyers can look for sellers who offer deals with free delivery.
In addition to finding replacement parts for Echo chainsaws, buyers can also look for Echo chainsaws that no longer work but have been put up for sale for their parts. This can give buyers the ability to save some money, and in doing so, they can also stock up on parts they may require in the future.