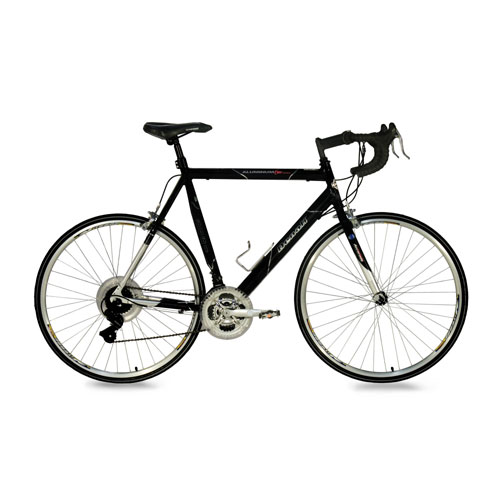 There are many things which need to be considered when buying road bike track wheels. When cycling on a track, the objective is usually speed and riders, therefore, should find the right wheels that are both good for racing and the best fit. Beginners may find it difficult to know which wheels will be the best fit.

This guide is here to help figure out which wheels to buy to best perform for this type of cycling. Whatever type of wheels are decided upon, they can usually be found quickly and easily on eBay.



Parts of the Wheel

There are two ways to get the perfect wheels for whatever type of cycling being practiced. The wheels can either be bought complete, or each part bought separately to build the wheels from scratch. For beginners however, it will be much more difficult to know which parts will be needed and even harder to assemble them correctly. For first time buyers, the best idea might be to buy complete wheels.

Whether buying the wheels complete or in separate parts, it is important to know how each part of the bike wheel works and which aspects will work best for the type of cycling.

Rims – The rims on the wheels can affect many aspects of cycling and so it is important to choose the right rims for the cycling style. There are two generalised types of rims, box and aero, each with their own advantages and disadvantages.
· Box Section – Box section rims are usually lighter meaning they are better for acceleration, climbing and racing in general. Making the wheels light is one of the most important things when it comes to racing as the slightest weight difference could one grant one rider the edge over another. They also provide a lot of comfort as they are not as stiff as aero section rims. This can be an important factor for the cyclist to consider when buying wheels for a bike, particularly if it will be used a lot.
· Aero Section – Aero section rims are slightly different in a few ways. Their shape is more triangular, thus more aerodynamic to lessen the wind drag factor when cycling. They are also stronger and stiffer, making this type of rim more durable for long distances. The stiffness of this type of rim, however, makes it less comfortable for the cyclist when practicing.
Tires – The tires on the wheel are another thing that needs attention when buying road bike track wheels. There are many different types of tires; however, track tires tend to be slim, smooth and light for the purpose of speed and acceleration.

One of the most important factors for this type of cycling is the weight of the overall bike. This can be affected by the width of the tire, which can vary. The width of the tire has a direct link to many factors such as the amount of air in the tire, the handling of the bike and the durability of the tire. With racing bikes the tires should be slim as they are not made for long distance or for running on uneven terrain. Therefore, the weight of the tire is more important than the durability for this type of cycling.

Another aspect, however, that comes in to choosing parts of the wheel is the weight of the rider. The perfect wheel should be both light enough, for maximum speed ability and yet strong enough to support the rider's specific weight without damaging the bike when cycling. With these two pieces of information in mind, figure out what width of tires will be the best fit by asking the question of a well-rated seller on eBay.

For the tires, there are either tubeless or tubular. Tubeless tires tend to be more durable, although tubular tires are normally lighter and, therefore, better for racing.


Things to Remember

When buying road bike track wheels, remember to balance out the factors of how light the wheels should be, and how stiff. Remember that the lighter the bike is the faster it should be able to accelerate and the easier it should be for climbing. However, although the bike needs to be light, it still needs to support the weight of the cyclist and be durable enough to last the length of the race.

When buying wheels online, there may be things that can't be told by the image or that aren't included in the description. Don't be shy. Rather than buy wheels that may not be completely what you want, ask the seller questions about the wheels. If they are selling them, chances are they will know something about road track biking and may be able to help.
How to Buy Road Bike Track Wheels on eBay


Now that you know what you want out of road bike track wheels, you can find them quickly and easily on eBay. While you shop, give thought to goggles and helmets. To start shopping, go to the sporting goods category, followed by cycling then Bicycle Components & Parts then wheels and wheelsets.

Categories
The categories list on the left side of each page will help you narrow down your listings by item type.

Product Finder
Use the road bike track wheel Finder to quickly narrow down item listings by brand and condition (new or used).

Keyword Search
Search eBay listing titles for specific words. For example, if you want to find new road bike track wheels, type the keywords "road bike track wheels new" (without quotation marks) into the search box. Click, "Search title and description" to expand your results. Visit eBay's Search Tips for more tips on searching with keywords.
Remember also to search eBay's Deals page to hunt for bargains.

If you can't find exactly what you want, try browsing eBay Stores or tell the eBay Community what you're looking for by creating a post on Want It Now. Alternatively, use the save a search option on My eBay and eBay will email you when a matching item becomes available.

Buy Road Bike Track Wheels with Confidence
Make sure that you know exactly what you're buying and understand how eBay and PayPal protect you.
Know Your Item
Read the details in the item listing carefully.
Remember to add delivery costs to your final price. If you're buying a high value item, check that the seller will insure it until it is delivered to you.
If you want more information, click the "Ask seller a question" button on the seller's profile or the "Ask a question" link at the bottom of the item listing page.

Know Your Seller

Research your seller so that you feel safe and positive about every transaction.

· What is the seller's feedback rating?

· How many transactions have they completed?

· How many positive responses do they have?

· What do buyers say in their feedback?

· Do they offer a money-back guarantee?

· What are the terms and conditions?

· Are buyers positive about the seller?

· Most top eBay sellers operate like retail shops and have a returns policy.