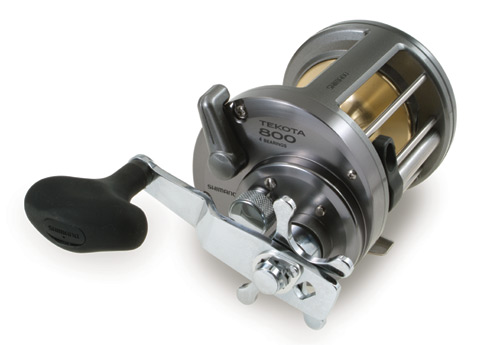 There are many things to consider when looking to buy a saltwater fishing reel on eBay. Some of the things which need to be thought about are: what kind of fishing is of interest, what type of fish the angler is interested in, and the location in which the fishing will take place. Once all of these things have been decided, it can still be difficult to know exactly what type of reel would be the best fit, particularly if the angler has no previous experience of fishing.

This guide is here to help with the different types of reels available and what will need to be considered before buying the reel. Whatever type of reel is of interest, it can be found quickly and easily on eBay.
Types of Reels

There are three main groupings of reels to choose from for saltwater fishing. Each of these types of reels has advantages and disadvantages in particular areas. These types of reels are:
Baitcasting reel – The baitcasting reel is good for casting heavy lures and lines. It is often preferred by more experienced fishermen as it is good for offshore fishing and is also possibly the best type of reel for catching large game.
Spinning reel – Spinning reels are good for long casting and they are better for casting into the wind. This type of reel is good for catching small to medium fish, but not as efficient as the baitcasting reel when it comes to catching large game.
Spincasting reel - The spincasting reel is similar to that of the spinning reel. They are also best for catching small to medium fish, but again not as good as the baitcasting reel when it comes to larger game. This type of reel, however, is thought to be the easiest to use and, therefore, is a favourite among beginners.
Factors to Consider

Each one of the reels above has its own advantages and so it is important to take in to account the location and the type of fish of interest. Another aspect which will need to be thought about is each angler's particular level of experience. For beginners just starting out, the best option might be to go for either the spinning or the spincasting reel until more experience is had, along with a better understanding of what the benefits are of each reel.

Think about the material from which the reel is made. Fishing reels can be made from a wide variety of materials and it is important that you know what material the reel is made of before proceeding to buy, as some materials are better for saltwater fishing than others.
When fishing in saltwater, always avoid using a magnesium reel. The reason for this is that, even though magnesium is light and relatively cheap, these reels will more likely be made for fresh water fishing. Magnesium, if introduced to saltwater will begin to corrode quite quickly and the reel will not take long to stop functioning completely.
The best materials for saltwater fishing would be cast aluminium or graphite. These materials are also light and they will take much longer to be affected by the salt water, particularly if they are taken good care of.

Prices of fishing reels can vary a lot. Really cheap fishing reels can be found, although these might not be the correct type for saltwater fishing and will more than likely be prone to breakage. The angler should try to ensure that they buy a fishing reel that will be suitable for saltwater and made from a material that is resistant to corrosion. These reels will be slightly more expensive; however, if on a budget, opting to look for a second hand fishing reel on eBay is also available which will reduce the cost. Doing this could save money and ensure that the reel is of good quality and will work well with the specific type of fishing of interest.


Specifics

There are many specific factors to think about when it comes to the quality of the reel. Remember to give thought to;
Bearing count – The bearing count is the number of ball bearings inside the reel. Theoretically, the higher the number the better the quality; the ball bearings reduce friction on the line. Some people believe that this is not as important as long as the reel itself has been engineered well.
Line capacity – The line capacity is the amount of line that the reel can store. This could be crucial depending on where the location and the distance of the casting. The reel will be marked with the amount and weight of line it is able to hold.
Body materials – As said before, the material the reel is made from is very important to preservation and ease of use. If buying a reel made from a material such as magnesium, it will be a lot harder to maintain the reel and will eventually result in it needing to be replaced.
Tip – If there is someone in the local area who goes saltwater fishing, ask them their opinion on what type of reel would best be suited to specific needs, or alternatively have a cast with their reel to see how it feels using it before proceeding to buy.
How to Buy Saltwater Reels on eBay


Now that you know what you want out of a saltwater reel, you can find it quickly and easily on eBay. While you shop, give thought to rods and clothes.
To start shopping, go to the sporting goods category, followed by fishing, then reels.

Categories
The categories list on the left side of each page will help you narrow down your listings by item type.

Product Finder
Use the saltwater reel Finder to quickly narrow down item listings by brand and condition (new or used).

Keyword Search
Search eBay listing titles for specific words. For example, if you want to find new saltwater reels, type the keywords "saltwater reel new" (without quotation marks) into the search box. Click, "Search title and description" to expand your results. Visit eBay's Search Tips for more tips on searching with keywords.

If you can't find exactly what you want, try browsing eBay Stores or tell the eBay Community what you're looking for by creating a post on Want It Now. Alternatively, use the save a search option on My eBay and eBay will email you when a matching item becomes available.
Remember also to check out the eBay Deals page to hunt for bargains.

Buy Saltwater Reels with Confidence
Make sure that you know exactly what you're buying and understand how eBay and PayPal protect you.
Know Your Item
Read the details in the item listing carefully.
Remember to add delivery costs to your final price. If you're buying a high value item, check that the seller will insure it until it is delivered to you.
If you want more information, click the "Ask seller a question" button on the seller's profile or the "Ask a question" link at the bottom of the item listing page.

Know Your Seller

Research your seller so that you feel safe and positive about every transaction.

· What is the seller's feedback rating?

· How many transactions have they completed?

· How many positive responses do they have?

· What do buyers say in their feedback?

· Do they offer a money-back guarantee?

· What are the terms and conditions?

· Are buyers positive about the seller?

· Most top eBay sellers operate like retail shops and have a returns policy.

Conclusion

Now that the angler has gone through the different types of reels available, a better idea should be had as to which type would be best suited for its specific purpose.

Don't be shy to ask a seller a question. If unsure as to specific details of an item, the best thing to do would be to ask before buying, to ensure that the reel is best suited to particular requirements. Many of the sellers on eBay are saltwater fishing experts who would be happy to share their knowledge and experience.

No matter what saltwater fishing reel has been decided upon, it can usually be found quickly and easily on eBay.