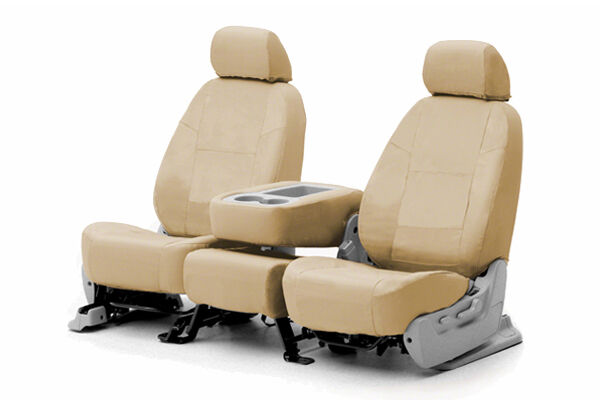 There are a lot of ways to show pride in one's vehicle through aftermarket updates. And, whether one's goal in adding car accessories is to update an old vehicle or protect a new one, seat covers are a great way to get that job done. However, with several different purposes and coming in different sizes and materials, buying seat covers on eBay can be challenging.
That is why buyers need to take time to evaluate their own needs and compare them to what is available on the market. This involves looking at all the aforementioned traits of seat covers as well as considering how to go about searching for and eventually purchasing these seat covers on eBay, and using proven techniques that save time, and ultimately money.
Considerations About the Types of Seat Covers
There are many different types of seat covers on the market from custom leather seat covers to universal sheepskin seat covers. Therefore, choosing the right seat covers involves first looking at both the circumstances that call for the covers and then the car or truck using them. eBay literally offers thousands of options to buyers looking for seat covers, so taking time to evaluate the different types of seat covers available in terms of their purpose and fit is important to do before beginning the search process, as well as a great way to save time.
Seat Cover Purpose
A person's reason for buying seat covers in the first place is probably the most important aspect to consider when making this kind of purchase. There are three main reasons why a person chooses to buy seat covers for a vehicle. These three reasons that seat covers are bought include:
To protect the seats from wear
To hide existing blemishes, especially on older or restored vehicles
To increase comfort for the riders

Before moving along any further in the buying process, buyers need to carefully evaluate each of these reasons along with their car's condition and individual personality and lifestyle choices. This is the only way to discover what type of seat covers are appropriate to buy on eBay.

Once all of these options have been considered, they can be used to dictate the brand and material of seat covers that is most appropriate for a car and its drivers. Those looking to protect their car from future damage, for example, may be better off with ballistic nylon seat covers over sheepskin seat covers, whereas one looking for comfort would want the opposite.

Seat Cover Fit

The next major consideration that buyers need to take into account is the way in which the proposed seat covers are to fit onto the existing seats. This is an important component since it dictates price as well as quality. Generally, buyers have two options in this respect: pre-fitted and custom fit seat covers. Each of these choices has a specific set of positives and negatives.

Pre-fitted Seat Covers

Pre-fitted seat covers may be made for a specific make or style of vehicle, 4x4 bench seats, for example, and snugly fit around the seats in question. Also known as universal seat covers, these are great options for drivers looking to improve the comfort of the seats or protect them from external damage such as UV rays and staining.

However, since there is always some degree of differentiation from seat to seat and car to car, the fit may not be perfectly snug. This makes pre-fitted seat covers look less clean and seamless when added to a car and add little value to the car itself. Also, this less-than-perfect fit may cause the seat covers to move around from time to time.

Custom Fit Seat Covers

On the other hand, buyers can opt for custom fit seat covers. There are two ways to go here, truly custom covers, made for a particular car, or semi-custom covers made for a particular make, model, and possibly year of vehicle. Both types of custom seat covers are much more expensive, but they last longer and look cleaner and more natural than pre-fitted seat covers. Buyers interested in custom fit seat covers are often looking to preserve or restore expensive vehicles and understand the value added by making such an investment.

Know the Common Materials Used to Make Seat Covers

Similar to the different purposes of seat covers outlined above, the different materials used to make seat covers can provide specific benefits and drawbacks to the driver and the car. eBay is full of deals and sells all types of seat covers, so knowing which material or materials most closely matches one's needs is a good way to approach a search without wasting time. Below are the eight most common seat cover materials along with a general overview of their pros and cons.

Material

Major Benefits

Potential Drawbacks

Ballistic nylon

One of the most durable materials on the market

Designed to protect seats from muddy shoes and UV rays with equal ability

Not very comfortable

Leather

Provides a stain-resistant protection with a more 'classic' look

Gets hot and sticky in sunny, hot weather

Expensive

Extremely waterproof

Generally used with off-road vehicles such as jeeps which are likely to get wet and muddy

Expensive

Saddle blanket

Tightly woven fabric provides protection from stains and tears with a classic 'western' pattern

Patterns are off-putting and gaudy to some

Sheepskin

A popular option which offers unmatched comfort and luxury

Expensive

Not weather resistant

Prone to staining

Suede

Cost-effective alternative to leather

Provides the same look and stain resistance with more durability

Must be treated to provide water resistance and UV protection

Comfortable, textured pattern is resistant to wear and harder to stain than other fabric-based seat covers

Not weather resistant

Knitted cotton or polyester fabric is soft and comfortable

Not weather resistant

Prone to staining

Clearly, not all of the materials outlined above meet the needs of every driver. Tweed, for example, is a poor choice for someone looking to protect car seats from stains. However, there are several other materials that meet that need and not all of them are created or priced equally. Knowing what types of materials may be applicable to individual needs and budget is therefore an important step to take before even getting to the eBay buying process.

Shopping for Seat Covers on eBay

Once buyers are confident in their knowledge of seat covers and which type, fit, and materials are best for their circumstance, the eBay shopping process can commence. Users should begin by registering for an account or signing in to an existing one. This helps save time in the buying process and allows buyers to easily track previous searches and products through their account history, which is great for future reference as well.

Once the account is all set, the searching process can start on any eBay page through using keywords related to the exact seat covers wanted by the consumers. Remember to be specific, opting for "Audi sheepskin seat cover" over a more general direction like "car seat cover" on its own.

Conclusion

Using seat covers is a great way to enhance the look and the feel of a car. As popular accessories for every vehicle type, seat covers represent an easy addition that meets one of three basic needs: protect existing seats, cover up old ones, or increase driver and passenger comfort. There are also several different fits for seat covers as well as many different materials that can help to meet those needs.

Conducting these evaluations before going online to shop with eBay is the best way to save time in the search and purchasing process. Once they are complete, eBay users can employ simple, but effective search techniques to save even more time and get them the covers they need.

Seat Covers|Sheepskin Seat Covers|Nylon Seat Covers|Fitted Seat Covers|Leather Seat Covers