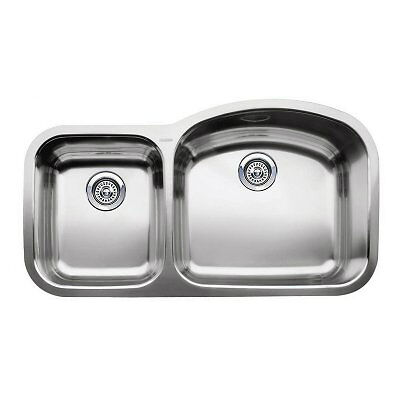 Sinks and basins are a ubiquitous feature found in almost every home. Sinks can often be found in bathrooms and kitchens, and are used for a range of reasons. They can be used to wash hands, clean dishes and in the preparation of food. There are many different types of sink and basin available, which can be suited to different spaces, and also offer different styles and designs. A variety of different materials of sink are also available, including metals, acrylics, clays and different types of stone. A wide variety of sinks and basins offering a range of designs and materials can be found on eBay.
Types of Sink and Basin
There are many different types of sink and basin available suitable for use in kitchens, bathrooms and other parts of the home. Different types offer different benefits, and may be suited to different spaces.
| | |
| --- | --- |
| Under Counter | Under counter or 'bottom mount' sinks are installed below the countertop. As the edge of the countertop is exposed, and flushes with the edge of the sink, extra care needs to be taken when cutting this hole. A water proof sealant is often used to ensure that water from the sink cannot seep through any gaps and drip through. These sinks are found in both bathrooms and kitchens, and often used in more contemporary styles. |
| Top Mount | Top mount sinks and basins, also referred to as 'self rimming', rest in a hole which has been cut into the countertop surface, typically with a tool such as a jigsaw. These sinks are suspended in place by their rim, which forms a seal with the countertop, helping to prevent water leaking through the work surface. |
| Pedestal | The pedestal sink is a kind of sink which is commonly used in the bathroom, and are often decorative in style. These sinks are freestanding from the wall or counter, and the plumbing which runs out behind them will be exposed. A compatible, separate pedestal may also sometimes have to be purchased for use with this kind of sink. |
| Vanity Top | Vanity tops are highly decorative sinks which can offer a wide range of distinctive styles and designs. These sinks are generally one piece items mounted atop a counter and can sit flush with the surface or, in the case of vanity bowls, rest on top of the surface of the counter. |
| Console | Console sinks are similar in design to pedestal sinks, in that they stand free from the wall, with exposed plumbing, and are often decorative in style. However, console sinks have legs to support them rather than the single pedestal, and often offer more counter top space. |
| Wall Mounted | A good choice for those with a small bathroom looking to make the most efficient use of space, a wall mounted sink is mounted directly upon the wall. This kind of sink also leaves room underneath, which can be useful for storage. |
| Vessel | Vessel sinks and basins are highly decorative, distinctive sinks which rest above and on top of a counter. The tap will often be mounted above the sink itself, making the size and positioning of the tap a key consideration. Vessel sinks also generally don't include an overflow drain. |
| Apron | The apron sink is a popular choice of sink for the kitchen, and rests on the very front of the counter, with the front of the sink exposed. Users do not have to reach over as far to access this sink as they may have to for other types. |
Sink and Basin Materials
A range of different materials of sink is available, and can vary greatly in appearance and price.
| | |
| --- | --- |
| Acrylic | Acrylic sinks are made out of moulded, reinforced plastic, and offer an inexpensive choice of material. Acrylic sinks are resistant to stains and easy to clean. |
| Ceramic | Ceramic sinks and basins are another popular choice. Ceramic sinks are made out of clays and are highly resistant to stains, scratches, fading and many other forms of wear and tear. |
| Glass | Glass sinks are often chosen for their unique appearance. Glass sinks and basins are often highly decorative, and are a popular material for vessel sinks. Sinks made of glass can be found in a wide range of vivid colours. |
| Marble | Marble sinks are also often decorative in style, and are available in a range of colours. Marble is highly durable, though more expensive than other materials. It can also be more susceptible to scratching. |
| Metal | A range of different metals are often used in the construction of sinks. Stainless steel sinks are affordable, durable and easily cleaned, while iron sinks are highly durable but also very heavy, and may require two people to install safely. Another choice of metal is copper, a durable metal which is often chosen for its unique appearance. |
| Plastic | One of the most affordable sink materials is plastic. They are easy to install and clean, though may not be as durable and long lasting as other sink materials. |
| Stone | Stone sinks offer both durability and an appearance and texture which is often considered to be pleasing. They are, however, heavy and may be difficult to install. A popular type of stone for use in sinks is granite. |
Number of Bowls
Many sinks, particularly those designed for use in the kitchen, may have multiple bowls.
· A widely available type of sink is the single bowl sink. These sinks feature one large bowl, useful for bathrooms as well as the kitchen for washing larger pots and pans, and often take up less space than multi bowl sinks.
· Double bowl sinks feature a second, sometimes smaller bowl. These are often used in kitchens, and provide additional space for tasks such as rinsing dishes.
· Triple bowl sinks feature a third bowl, often used in kitchens during preparation. These sinks take up a great deal of space.
How to Buy a Sink or Basin on eBay
A wide range of sinks and basins can be found on eBay, offering a wide range of styles and designs.
· The listings of available sinks can be found in the Sinks, Basins section of the Plumbing & Fixtures category. These can be found under Building Materials, DIY in the Home & Garden portal.
· Sinks and basins can be arranged by categories such as material, product type and item condition.
· Key information about a sink, such as its type or the number of bowls, is often prominently displayed in the item listing, making it easy to quickly see if an item meets any needs.
· More detailed information about a sink can be found on the item page. This also includes information about the seller such as item reviews and feedback ratings, helping to ensure that a purchase can be made with confidence.
· If a specific sink is required, it may be faster to use the search function, available at the top of every page. Searches can return results from across the site, or from within a specified category.
· Don't forget to look out for any deals that may be available in the Home & Lifestyle category.
Conclusion
There are many different kinds of sink available suitable for a variety of purposes. Pedestal sinks, for example, can make an attractive and useful choice for bathrooms, while a triple bowl under counter sink can be a good choice for a larger kitchen. A number of different materials are also available, with metal, stone and ceramics all being a popular choice. A wide range of sinks and basins, as well as taps and other fixtures, can be found on eBay.