TYPES OF STARFISH: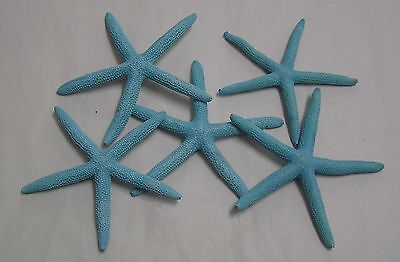 Finger Starfish
Finger Starfish are the larger variety of starfish and are quite strong and resilient. These can range in size from 5cm to 20cm, with 10cm to 12cm being a fairly average size. Finger starfish are either bleached white or dyed various colours. They are suitable for decorating your wedding tables and can be added to candle or flower arrangements or even chair sashes.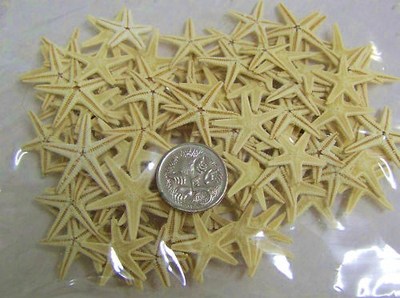 Sugar Starfish
Sugar Starfish are commonly used for Wedding Invitations as they are small and very flat. Sugar starfish range in size from a very tiny 1cm up to 5cm. Sugar starfish are usually only sun dried and therefore are a cream colour. Do not buy sugar starfish that have been bleached bright white as they can be too brittle to work with.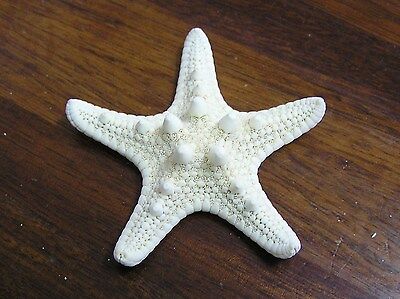 Horned Starfish
These starfish are also called Phillipine Starfish. They are usually bleached white although sometimes they are also dyed different colours. These starfish are very strong and quite thick and make great table decorations. They range in size from 5cm up to 20cm.
MEASURING STARFISH:
When deciding on the size of starfish that you will need, please bear in mind that the measurements given will be from the end of one leg across to the end of the opposite leg. So they can often seem smaller than the measurement given. But as a guide, for invitations, approx. 2cm-3cm is a good size. Starfish less than 2cm in size can be too fragile and too hard to work with.
WHY DO THEY SMELL?
Starfish are a natural living animal. Once dried out they can still have a slightly fishy odour. When you receive your purchase of starfish, don't worry if they have an odour. Leave them out of the plastic bag to air out and the smell will soon fade. Leaving them in the sun will also help to dry them out further and reduce the smell.
PAINTING YOUR OWN STARFISH:
When you buy finger starfish you will usually pay more for coloured ones. However it is very easy to paint your own. All you need is a small art paint brush and a tube of craft paint. You can buy basic water-based craft paint from Newsagents, Bunnings, Spotlight etc. If you need a particular colour to match your wedding colours, then this is a good option as you can most likely find a match. Finger starfish should only need one coat of paint to cover them. Paint one side first and let it dry before turning them over and painting the other side.
WHERE DO STARFISH COME FROM:
Most starfish for sale on Ebay are farmed overseas. They are not taken from the ocean so you do not have to worry that your purchase is harming the environment.
After reading this guide, please take a moment to vote on it so I know whether it was helpful to you or not. Thankyou!
SOME IDEAS FOR USING STARFISH AT YOUR WEDDING: