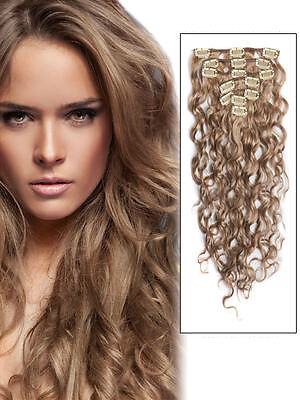 Long, flowing healthy hair is the stuff that dreams are made of – every woman wants to have a head of luscious locks. Not everyone is lucky enough to have thick, long hair, and many people invest in synthetic hair extensions and wigs to achieve the look they desire. Wigs are also used by those suffering from scalp conditions such as Alopecia, which can lead to hair loss, or those who have lost their hair through treatment for cancer.
A wide selection of colours and lengths of hair extensions and styles of wigs can be found online on websites such as eBay. Whether 18-inch bright red locks or wavy chestnut shoulder length layers are desired, it is easy to find an exact match by shopping on eBay. It is also possible to find some great deals on synthetic hair extensions and wigs if you are shopping on a budget.
What are Synthetic Hair Extensions?
Synthetic hair extensions are fake hairpieces that can be used to add colour, volume or length to an individual's existing hair. Because these extensions are made with synthetic fibers, they are far more affordable than buying human hair extensions, although they often have a shorter lifespan.
It is possible to find 'clip-on' synthetic hair extensions that have an easy to use clip mechanism that allows the extensions to be attached to existing hair at home. These are easy to put in and remove, and are the cheapest type of extensions available. Bonded hair extensions are also available, as well as 'micro-ring' extensions. These two types of extensions are applied professionally at a hair salon using the micro rings or keratin glue, which attaches the synthetic hairpieces to the individual's natural hair.
What are Wigs?
Wigs differ from hair extensions in that they are a cap covered in synthetic wig hair. This in turn sits over the top of the wearer's natural hair or scalp. There is no need to apply single strands of hair when wearing a wig, and most people will have a wig made to fit them although it is also possible to buy wigs for occasional or party wear by shopping online. eBay has a wide range available to choose from.
There are many different types of wigs – the most popular ones are:
Machine-tied wigs
Hand-tied wigs
Full-lace wigs
Whilst most full-lace and hand-tied wigs are made to order from real human hair, it is possible to buy synthetic hair versions online. Acrylic wigs are the cheapest option and are not recommended for everyday wear, as they are not as durable as human hair wigs.
Why Buy Synthetic Hair Extensions and Wigs?
There are a number of reasons why women might decide to purchase synthetic hair extensions or wigs. A few of the most common reasons are:
Hair loss due to illness or scalp condition, such as Alopecia
Fine, thin natural hair that lacks volume or breaks easily so will not grow to the desired length
The desire to add coloured streaks to hair without dying and damaging existing hair
Trying out a new hairstyle
Special occasion such as a night out or wedding
Clip-in synthetic extensions have become very popular in recent years, with many celebrities suddenly sporting longer locks after having been seen previously sporting a super-short cropped hairstyle. Whilst most celebrities can afford human hair extensions, synthetic extensions are ideal for women who would like to wear their hair longer occasionally, or who want to add colour or volume for a special occasion, and affordable synthetic extensions can be found on eBay.
What to Look for When Buying Synthetic Hair Extensions
When shopping online on websites such as eBay, the wide range of synthetic hair extensions available to choose from can seem overwhelming. Here are a few things to consider and look for when buying synthetic hair extensions:
| | |
| --- | --- |
| Factors to Consider | Why? |
| When will the hair extensions be worn? | Clip-in extensions are best for occasional use, whereas bonded or micro-ring extensions that need to be professionally fitted are best for daily wear. |
| What length of hair is required? | It is possible to find hair extensions ranging from 14" to 28" online, but bear in mind that 28" extensions will not only look unnatural on most women, they will also be very heavy and could damage existing hair. |
| Branded or non-branded? | Buying hair extensions online from a supplier in Hong Kong may make them more affordable, but the quality will be noticeably lower, and returns may be difficult. Choosing a brand such as Lush or Jessica Simpson ensures that the synthetic extensions will be of a high quality – many brands can be found on eBay. |
| What material are the extensions made from? | Whilst most people opt for human hair or synthetic hair extensions, it is also possible to find extensions made from wool, silk, leather, PVC and a wide variety of other materials designed to create a more unique and unusual look. |
| Colour Range | What colour of hair extension is required and what range is available to choose from? Some brands available on eBay offer a wide selection of shades, whereas others only stock a few. |
What to Look for When Buying Wigs
Buying wigs is a very different experience to shopping for synthetic hair extensions. Most people buying wigs are either purchasing them to cover up an existing hair problem, or for occasional party wear. Here are some factors to consider when buying wigs:
| | |
| --- | --- |
| Factors to Consider | Why? |
| What type of part is required? | Some wigs offer a more natural looking scalp – it is possible to find both Thin Skin and Monofilament wigs on eBay. Thin Skin wigs use silicone to create a natural looking part, and Monofilament wigs feature hand-tied hairs on a mesh base for a natural looking, flexible part. |
| What is the wig made from? | Bear in mind that acrylic wigs cannot be heat styled. It is possible to find protein-based strand wigs that withstand heat from styling, so these can be straightened or curled as desired. |
| Consider the size of wig | What size is required? Many standard wigs come in one specific cap size, but it is possible to find a variety of sizes for sale on eBay. Some manufacturers will custom make sizes to order. |
| Length of hair | What length will look the most natural but also be easy to maintain? Longer wigs can become tangled in windy weather and it may be difficult to separate synthetic fibers. |
The Benefits of Synthetic Hair
Synthetic hair extensions and wigs have grown in popularity over recent years, as more women than ever desire long, beautiful hair. Because real human hair extensions are so expensive, many women shop online on websites such as eBay more affordable synthetic extensions, which they can clip in at home.
Although acrylic hair extensions and wigs cannot be heat styled, new protein based synthetic fibers have been developed which can be straightened and curled to suit the individual. Although these protein fibre wigs and extensions are slightly more expensive, they are worth the money for those looking to wear their wig or extensions on a frequent basis, as they can also be washed and dried like real human hair.
How to Choose the Right Synthetic Hair Extensions or Wig for You
Choosing the right synthetic hair extensions or wig does not have to be a challenge. By shopping online, it is easy to find the perfect item – it is important to think about colour, length, style and the material the wig or extensions are made from. The purchaser will also have to decide whether they wish to style the extensions or wig, as acrylic wigs and extensions cannot be heat styled.
It is possible to find both used and new hair extensions and wigs online, and eBay has a wide range to choose from. The wig or hair extensions chosen will depend largely upon the purchaser's budget, desired style and the length of hair they are looking for. Buying 28" hair extensions will cost more than 14" ones and could be more damaging to the natural hair and scalp.
How Buy Synthetic Hair Extensions and Wigs on eBay
When shopping online for synthetic hair extensions and wigs, eBay should be the first port of call – there is a wide range to choose from to suit all tastes and budgets. Visit eBay and head for the drop-down menu marked 'Shop by Category' which is located at the left-hand side of the page. Click to open up a list of categories and scroll down to click on 'Fashion'. In the left-hand menu, hover over Women's Accessories' and click on Wigs, Extensions & Supplies.
Because there are so many different types of wigs and hair extensions to choose from, it can be helpful to narrow a search using a certain term if looking for something specific. By typing the words related to the search, such as '18 Inch Hair Extensions' into the main search box, a list of all the available items will be shown.
Conclusion
Hair extensions and wigs will always be popular with women looking for luscious locks, whether they wish to add length and volume to their existing hair or have suffered from hair loss due to illness or a skin condition. Synthetic hair is far more affordable than real human hair, making it a popular choice for many women.
eBay has a wide range of colours, styles and lengths available to choose from, so no matter what specific style or colour is desired, it is easy to find the perfect hair extensions or wig.