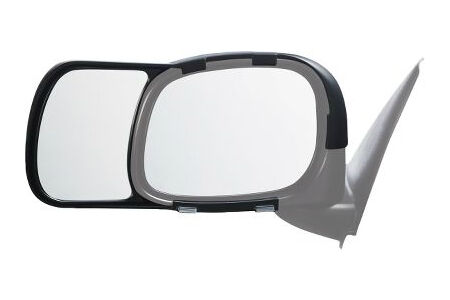 People across Australia rent or purchase caravans for holidays. Driving a caravan to the coast or around the country can present an opportunity for a relaxing and affordable holiday that may otherwise not be an option. Because caravans can be large and more difficult to navigate than a normal car, many people also choose to tow a vehicle behind the caravan, or end up towing a trailer loaded with other equipment, like a boat or even additional storage space. Often, this addition can necessitate towing mirrors. These specific caravan accessories are available for sale from caravan dealers as well as other retailers, and online from eBay. By researching the types of caravan mirrors that are available, it is much easier to choose the ones that are right for your caravan.
Determine the Importance of Towing Mirrors
In order to buy towing mirrors for any caravan, it is a good idea to understand what towing mirrors are and why they are useful. Towing mirrors are additional mirrors that are affixed, in one way or another, to the side mirrors of a car, truck, or caravan. The design of these mirrors makes it possible for drivers to see a greater distance behind them. It is recommended that the driver of a caravan or any vehicle be able to see their own vehicle in its entirety as well as the traffic behind the vehicle. Because a towed vehicle or trailer makes the caravan longer than it normally would be, towing mirrors become a very useful accessory.
Evaluate the Legal Implications of Towing Mirrors
When making the decision whether or not to purchase towing mirrors for your specific caravan, it is a good idea to evaluate the legal implications of your choice. In Australia, the legal intricacies in regard to towing mirrors vary from state to state. However, each state does have regulations concerning the ability of a vehicle's driver to see behind them. If towing mirrors are necessary to make this a reality, then they should certainly be used. It is always a good idea to familiarise oneself and comply with local laws.
Choose a Type of Towing Mirror
Once you have determined that towing mirrors are necessary for your caravan, the shopping process can begin. The first decision to make is whether portable towing mirrors or permanent towing mirrors are a better option. There also exists variety within these two categories, which is important to note.
Portable Towing Mirrors
Portable towing mirrors are so named because they can easily be attached and removed from the caravan at a moment's notice. These can be great choices for those who do not tow very often, but still need the mirrors available for some occasions. The following table outlines the four most common types of portable towing mirrors.
Type of Portable Towing Mirror

Description

Advantages

Convex

Can be suctioned or otherwise affixed to a side mirror

Easy to install

Affordable

Custom clip-on

Specific to a model of caravan that clips onto side mirror

Snug fit

No slippage

Universal clip-on

Generic clip-on that can be adjusted to different makes and models

Less costly than custom mirrors

Mirror with ratchet mechanism that attaches to door of caravan

More secure than universal clip on
The choice that is right for your caravan depends largely on personal preference as well as budget. Look at options in different categories before deciding upon the best one.
Permanent Towing Mirrors
Permanent towing mirrors can also be an option for those caravan owners who find themselves towing often. These mirrors function in the same way as the portable towing mirrors, but cannot be removed from the caravan, even when not towing. While permanent towing mirrors can be on the higher-end price-wise, they can also have additional features not possible in portable mirrors. For instance, because they are more firmly attached, they can be larger and, therefore, offer even greater visibility. They can also be hooked up to electrical systems and have lights or even heat running to them, which can be useful in some cases. Those caravan owners who are willing to invest in permanent towing mirrors may have a better towing experience overall. This may be easier to do for someone who got a good deal on a caravan and, therefore, can afford to spend more on accessories.
Ensure Towing Mirror Compatibility
When shopping for towing mirrors, it is essential that the mirrors are compatible with your caravan. This is true of both permanent and portable towing mirrors. Even though a towing mirror may be advertised as "universal", there is always a chance that it does not work with every style of caravan. Be sure to take proper measurements and ask any questions, either of the retailer or of the eBay sellers, before purchasing the towing mirrors. Mirrors that do not properly fit do not offer as much safety as the correct mirrors.
Install Towing Mirrors Properly
Properly installing towing mirrors is the only way to ensure safe operation and full functioning of those mirrors. In some instances, this may require professional installation, particularly for permanent towing mirrors. Portable towing mirrors should offer thorough instructions as to how to install the mirrors, and then remove them when they are no longer in use.
Browse Other Caravan Accessories
Towing mirrors are not the only caravan accessory that can offer additional safety when towing. In the course of purchasing towing mirrors for your caravan, it may be a good idea to consider some other available caravan accessories as well. For example, it is important that any towed item be securely fastened to the caravan for proper towing. Tow hitches can become damaged or worn and may need to be replaced. Be sure to check your tow hitch before travelling and replace it if necessary. Of course, there are also caravan accessories that are more recreational than functional, such as caravan covers, portable refrigerators, or even decorative decals. Accessorising your caravan to meet your exact needs is certainly part of the fun of owning such a vehicle.
How to Buy Towing Mirrors for Your Caravan on eBay
Shopping on eBay can be a very effective choice for purchasing towing mirrors for your caravan. eBay lists items from many different sellers in one place, making it easy to browse and compare until you find the perfect towing mirrors for your particular caravan. In order to see what is available on eBay, take advantage of the search box, which you can find on any page of the site. Enter broad search terms, like "towing mirrors", if you prefer to receive many results that you can narrow down using eBay filters. For more specific results, use more specific terms. While most product descriptions are quite useful, be sure to read and examine them thoroughly before completing your transaction to ensure that you are properly informed prior to making the purchase.
Conclusion
There are certainly many advantages to taking caravan holidays around the country. Not only can driving a caravan be much more affordable than flying and staying in hotels, it also offers valuable time with friends and family. Driving a caravan also requires learning how to safely navigate roads behind the wheel of such a large vehicle. The level of difficulty that this task presents is only increased when the caravan is towing another vehicle or trailer. Utilising towing mirrors is an effective way to improve the safety of any caravan that is also towing a trailer.
There are many universally compatible towing mirrors that can be used with nearly any type of caravan and can be purchased at a low cost. There are also more permanent options available for those travellers who find themselves towing frequently. Any caravan driver who uses his or her caravan to tow anything should seriously consider doing a bit of research and investing in the right towing mirrors for the vehicle.
Towing Mirrors|Caravan Accessories|Permanent Towing Mirror|Used Towing Mirror|Caravan Covers