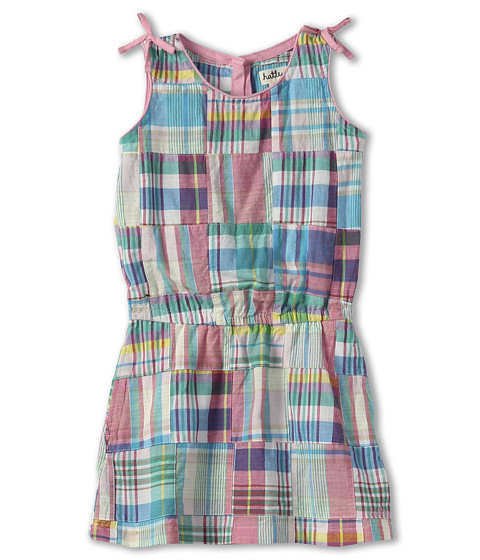 With so many different types of girl's dresses available to choose from, it can be hard to know where to start. Dresses featuring characters such as Dora the Explorer or Disney Princesses sit side by side with fairy costumes, casual denim dresses and everyday long sleeved dresses that are perfect for winter.
Shopping online on websites such as eBay is the ideal and easy way to find used girl's dresses at affordable prices. There is a wide range to choose from in different sizes, materials, and styles and all at very low prices when compared to buying new. Saving money by buying used girl's dresses that are in excellent condition is a great way to pick up a girl's dress for a special occasion such as a birthday or wedding, or perhaps just a new dress for the summer months.
What Styles of Dresses are Available?
When shopping for used girl's dresses, there are lots of different styles to choose from. Here are some of the most popular types of girl's dresses, all of which can be found on websites including eBay:
Sundress
Occasion dress
Denim/dungaree dress
Jersey dress
As well as different styles, girl's dresses come in a variety of colours and sizes, and some feature popular children's characters as a motif.
How to Select the Best Fabric for Girl's Dresses
Girl's dresses are available in a wide range of different fabrics, depending on the occasion and the style of dress. Whilst some fabrics are more practical for everyday wear, others are designed for special occasions and may be dry-clean only. It is important to choose the right type of fabric not only for the occasion, but also for the child involved. Some children may have sensitive skin and it is best for them to wear natural fabrics such as cotton and linen. The below table shows some of the most popular fabrics for girl's dresses, the benefits of each type of fabric and which occasion it is best worn for.
| | | |
| --- | --- | --- |
| Fabric | Benefits | Best Worn For |
| Cotton | Made from natural fibers which let the skin breathe. Keeps the child cool and is easy to wash and dry. | Everyday wear or clothing in a hot climate as it is a breathable fabric. |
| Jersey | Can be made from cotton or cotton synthetic blend. Absorbent and lets the skin breathe. Easy to wash and dry. | Ideal for dresses to wear every day due to its comfortable stretch. |
| Chiffon | Lightweight, floaty and very pretty. Easy to wash and dry at home. | Ideal for a special occasion such as a birthday party or wedding. |
| | A synthetic fabric that resists stains and dries quickly, it is also lightweight. | Ideal for special occasion dresses or floaty summer frocks. |
| Denim | Durable, tough and lets the skin breathe. | Ideal for everyday wear thanks to its durability. |
| | This natural fabric helps to keep children warm and cozy but may be itchy on sensitive skin. | A great fabric for winter dresses to ensure children stay warm. |
When selecting the perfect fabric, it is important to consider the occasion the dress will be worn for, as well as the child themselves. If the child is usually warm, choosing a woolen dress could make them too hot, for example. Websites such as eBay allow the buyer to browse by material when searching for the perfect girl's dress.
Popular Characters for Girl's Dresses
When it comes to buying girl's dresses, opting for a dress with a popular children's character on the front is a great option which will be well received. It is easy to find dresses featuring all kinds of children's characters online – eBay has a wide range to choose from for all ages. Some of the most popular characters that can be found on girl's dresses are listed below:
Disney (particularly princesses)
Dora the Explorer
Sesame Street
Wiggles
Choosing the right character will depend on the girl in question's age and taste. Some characters, such as Dora the Explorer, are more suited to younger children, whereas some such as Hello Kitty have more universal appeal and can be found on dresses for older children and young teenagers. eBay has a huge variety of girl's dresses to choose from, so finding the right character is easy.
Why Buying Used Girl's Dresses is Best
Children's clothes can be expensive, and because they grow up so fast, they often only get one season of wear out of their clothes before they are too small. This is particularly true for toddlers and younger children, so it makes sense to purchase used clothes, which can then be re-sold online when the child grows out of them. By purchasing used clothes, it is often possible to get more value for money. Bulk buy options for used girl's dresses are often available to purchase on eBay, so three or four dresses could be found for the price of one new dress in a children's clothing store.
Most sellers wash their children's clothes thoroughly before selling them online, but they can be re-washed upon purchase to ensure that they are clean. It is important for parents to read the product listing carefully, as any faults with the clothing will be listed in the description. It is easy to find used girl's dresses in excellent condition online. eBay has a wide range available at very affordable prices to suit all budgets, so it is the perfect place to shop if looking for a bargain.
What will the Dress be Worn For?
Thinking about the occasion when the dress will be worn is important when selecting a girl's dress. Here are some of the occasions when a dress may be worn:
At home
School or nursery
Outdoor activities
Special occasions such as birthday or Christmas
Wedding or funeral
Church
Summer holidays
A dress for an occasion such as a wedding will need to be more formal than a dress for summer holidays, and the material chosen will often also be different. For outdoor activities and school or nursery, a dress in a durable material such as denim or a stain resistant material such as polyester is ideal. In general, it is best to choose girl's dresses that are easily machine washable and dry quickly, to avoid expensive dry cleaning or time consuming hand washing of delicate fabrics.
Is Brand Important When it Comes to Children's Clothes?
Whilst some people believe that brand is important when it comes to children's clothes, it depends on the individual's views. Younger children will not be aware of brands, so whether their parents purchase an Armani dress or a Marks and Spencer outfit, they will not care either way. Older children may have some awareness of brands, and in some cases branded clothing is of a higher quality than non-branded clothing.
It is a personal choice whether to spend money on branded clothes or not. By shopping for used girl's dresses online on websites such as eBay, it is possible to find branded items at greatly reduced prices, which is a great idea if shopping for something special such as a birthday present.
How Buy Used Girl's Dresses on eBay
The easiest way to shop for used girl's dresses online is to head for eBay. Visit eBay and head for the drop-down menu marked 'Shop by Category' which is located at the left-hand side of the page. Click to open up a list of categories and scroll down to Clothing, Shoes & Accessories. Click on 'more' and then select Girl's Clothing. In the categories listed on the left-hand side of the page, it is possible to choose the type of clothing, such as Dresses. By scrolling down to the sub-category 'condition' in the left hand menu, Pre-Owned can be selected to bring up a list of currently available used girl's dresses.
Because there are so many different styles of girl's dresses to choose from, it can be helpful to narrow a search using a certain term if looking for something specific. By typing the words related to the search, such as 'Dora the Explorer Dress' into the main search box, a list of all the available items will be shown.
Conclusion
Girl's dresses come in many different styles and colours to suit all tastes and budgets. Because little girls grow up so quickly, it can be expensive buying dresses for them, as they don't usually last more than a few months. By shopping online for used girl's dresses, it is possible for every little girl to have a beautiful wardrobe filled with dresses at an affordable price.
eBay always has a wide range of used girl's dresses to choose from, and searching for the perfect dress is easy thanks to the range of sub-categories to choose from, such as material, character and style. By shopping on eBay finding great deals on the perfect used girl's dress has never been easier.