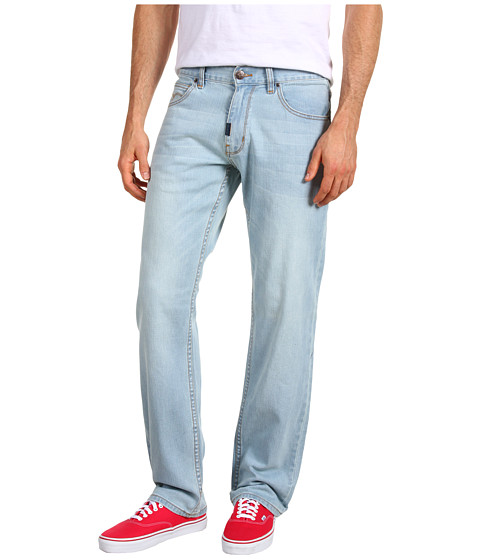 Jeans are trousers made from denim, although some may be made from dungaree cloth. Jeans come in many different fits, styles, designs, colours and shades of denim.
Beginning in the 1950s, jeans originally designed for cowboys began to gain popularity amongst teenagers. Nowadays, jeans are worn by all kinds of people and the trouser type is a very popular item of casual clothing, although many high quality jeans can be considered as smart or semi-formal dress.
The purpose of this guide is to inform the reader all about used jeans and to outline how to purchase them from renowned auction-based website eBay.
A Brief Introduction to Jeans
The history of jeans began in the Italian city of Genoa, which was famous for its cotton corduroy called 'jean' or 'jeane'. During the Republic of Genoa, the jeans were exported by local sailors throughout Europe.
Generally, there are two individuals that are known for making jeans what they are today. The first person is James Dean who popularised jeans in the film Rebel Without a Cause. By Dean donning jeans in the film, he became a rebellious symbol amongst young people during the 1950s, which is often considered one of the leading contributing factors of jeans mass appeal.
The second individual responsible for the mass appeal of the denim trouser type was a young German man called Levi Strauss.
Levi Strauss
In 1851, a young man called Levi Strauss emigrated from Germany to New York to be with his older brother who ran a dry goods store at the time. Two years later in 1853, Levi moved to San Francisco and created his own dry goods business.
In 1872, Jacob Davis, a tailor who often purchased bolts of cloth from the Levi Strauss & Company wholesale house, wrote to Levi asking him to partner with him and use a patent to sell clothing reinforced with rivets. It was Davis' idea to implement copper rivets to reinforce the points of stress in clothing i.e. at the bottom of the fly and on the pocket corners. Levi accepted Davis' offer and the pair submitted and received a U.S. patent in May 1873 for an 'improvement in fastening pocket openings'.
The jean-making partnership began using a material called brown cotton duck - a type of bottom weight fabric. That would not last long though because the pair would soon start using denim to make jeans, as it was a more suitable material for work trousers. Strauss and Davis would then use denim made by an American textile manufacturer to craft their riveted jeans that are still so incredibly popular even in modern times.
Types of Men's Jeans
There are many different types of jeans available in many different styles and colours. Many modern jeans feature additional design elements, such as patterned pockets, rips or tears, studs and handles to name only a few.
The most common types of jeans are:
· Loose fit
· Skinny
· Straight
· Slim
· Tapered
· Boot cut
· Narrow bottom (or skinny carrot)
· Low waist
· Flared
Considerations When Buying Used Men's Jeans
Used jeans should not be confused with 'used look jeans' which have been especially made to resemble a used look rather than having a brand new-looking appearance. Used look jeans may also be referred to as 'acid wash' jeans because they have been treated with chemicals or acids to create their worn appearance.
Buying used men's jeans can be challenging, so use the following advice when shopping for these trouser types:
Know The Size: The most important thing to do when shopping for jeans is to know the exact size, so grab a tape measure and get measuring.
Buyers often have a preference when it comes to jean brands or manufacturers so another good piece of advice is to research the sizing guidelines of the favourite jean manufacturer. Jean measurements vary greatly between brands - some letters, some numbers, some both - so for the most successful purchase, visit the website of a favourite jean manufacturer and check their sizing policy to confirm the exact size (from that brand), and can therefore find the right size pair when shopping for jeans.
Ask for More Photographs: Photographs are the best way of determining the condition of a pair of jeans. Buyers should never be afraid to ask for more photographs from the seller if they haven't included a sufficient amount to make up their mind about buying them.
Find Out the Specifics: As jeans come in many different styles, shapes and fits, buyers need to know the specific details about them prior to purchase in order for them to fit as perfectly and be as comfortable as possible. So don't be afraid to ask the seller the specific details about the style, shape and fit of the jeans if they haven't included it in the description.
Enquire About Imperfections: Sellers might not always be completely truthful about the condition of the jeans they are selling, so it is always a good idea to enquire about any rips, tears or imperfections prior to purchase - even if they appear to be part of the jeans design.
How to Buy Used Men's Jeans on eBay
eBay is a fantastic place to purchase jeans; both used and new in condition. Shopping for used men's jeans can be quite difficult, so bear the following in mind when buying them:
Search: To make a search on eBay, enter 'men's jeans' into the search toolbar. Then, using the menu on the left-hand side of the screen, select 'men's clothing'.
Condition: Many items on sale on eBay are available in new or used (second-hand) condition. When searching for a product, use the menu on the left-hand side of the screen to select 'new' or 'used' under the subcategory 'condition'.
Brand: As such, an authoritative figure in the ecommerce industry, eBay stocks an extensive range of branded men's jeans from manufacturers, such as Levi Strauss, G Star Raw, Armani, John Varvados and Moschino to name only a few.
Shop Safely: In order to ensure a completely successful purchase read the product description carefully and review all of the postage and payment options before purchasing. Remember to always contact the seller if unsure about any part of the transaction. This function can also be used to ask for more information about the product or to ask the seller a question about it.
eBay Deals: Don't forget to check out the latest deals on men's jeans by checking in the 'fashion & beauty' section. Many discounts and savings can be found here along with free postage costs.
Conclusion
There are many issues and factors to take into consideration when buying used men's jeans. However, with the important information and careful considerations outlined within this guide, coupled with eBay's incredibly easy to use and customer service-focused website, buying a pair of used men's jeans is quick and simple.
Buying on eBay should be considered not only due to the potential of finding a great deal, but due to the extensive choice of used men's jeans that the website presents. Remember to always keep all personal and banking details safe and secure by using renowned payment authority PayPal to complete transactions with eBay sellers.