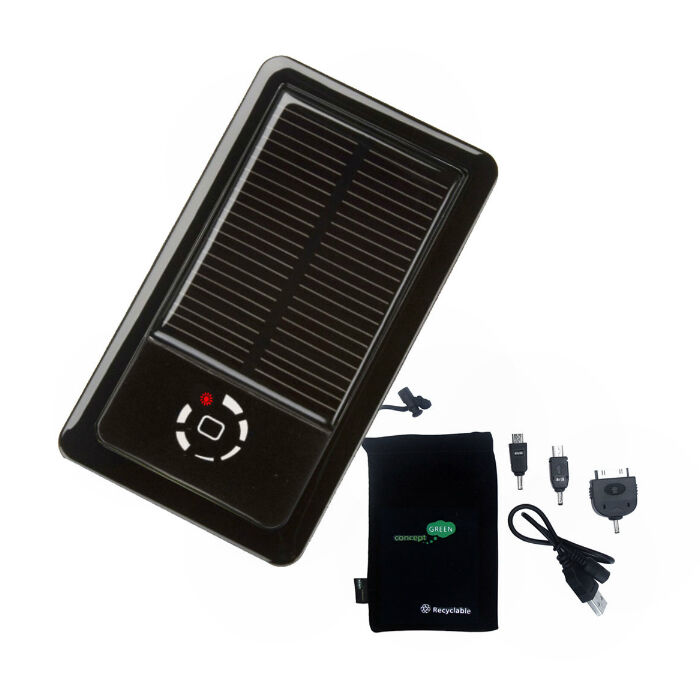 The amount of electric devices that can be used on the go is vast, which makes batteries a must have. It is hard to think about not using a portable DVD player when camping, or an MP3 player when out jogging. There isn't a single part of human life that isn't influenced by technology anymore, which makes battery life an important issue. Investing in batteries can be expensive, but as the world changes and people go green, so does the way we go about generating power.
Solar chargers are the way forward when it comes to charging electrical products. eBay is a market leader in consumable technology, and has a variety of solar charger related deals readily available.
What Is a Solar Charger?
A solar charger uses panels that are made of photovoltaic (PV) cells to turn a light source into electricity. The cells are constructed of crystalline or amorphous silicon, which breaks down sunrays, and turns them into base form electrons.
They are used to charge small pieces of electrical equipment, whether that is a cellphone, MP3 player or in some cases a laptop. Typically a single solar charge (of six hours) will result in 40 minutes of user time, so it isn't a long-term option, but is perfect for those travelling. The reusable nature has made it one of the world's top travel accessories and one that is regularly purchased in a pre-owned condition.
Batteries
The majority of solar chargers work by charging the internal battery of a device, which is then used as a source of power. There are various types of rechargeable battery available that can work efficiently alongside a solar charger. However, the effect had on the amount of power generated does vary.
| | |
| --- | --- |
| Type of Battery | Description |
| Nickel-cadium (NiCd) | The earliest form of rechargeable battery and is inconsistent at the best of times. They must be fully drained of power before a charge can take place, which means that a solar charger could only work as a source of emergency power. It would not be able to build upon existing or remaining charge. |
| Nickel-metal Hydride (NiMH) | Even though they are step forward in terms of technology they still face similar limitations, and don't have a particularly long shelf life. |
| Lithium-ion and Lithium Polymer | The new and light way to power small devices, and the perfect companion for a solar charger. It can hold a charge for a long time, and allows a solar charge to build upon existing power. The only issue is that such batteries are susceptible to overheating. |
Portability
A solar charger's core value is in its charging time and mobility, both of which help determine how much electricity one can generate. To get the best out of one, try taking a used solar panel charger and doing the following:
· Maximise the surface area of the product by angling it towards the sky, and ensuring that sunlight encapsulates the entire panel.
· Bright sunlight that reaches the device at a 90-degree angle allows the PV cells to grab hold of as much solar energy possible.
· This ensures that the device converts as much light as possible, and gives the internal battery the best possible charge.
· The larger the surface area the better the charge that can be achieved; however, using a larger device will mean portability is decreased.
· If possible try and keep a charger stationary while charging. Constant movement can disrupt the process, and decrease the effectiveness of the product.
Connection
The concept of a solar charger is great and they are an undoubtedly effective power source. But in order for them to work, users will need to be able to hook them up to at least one device. Most people will want to link them up to various items. For small handheld devices, look for one that can accommodate the following cables:
· USB 1.0
· USB 2.0
· USB 3.0
· Mini-USB
· Brand Specific USB (including Nokia, LG, Samsung, Sony-Ericsson, Samsung and Blackberry)
· AC
· Mini-AC
For laptops and netbooks a larger used solar charger will be needed, if this is the case be sure to find one that suits a specific brand. It is probable that shoppers will require a set type of connection, which will more than likely be one of the following:
· Cylindrical Connector
· Snap and Lock Connector
· Molex Connector
The world of connectors can be daunting and it is an area where perseverance is key. As such, it's wise to learn about the product being charged, and make sure that the solar charger bought comes complete with the appropriate connections.
Buying Used
The reusable nature of solar chargers means that they don't decrease in charging ability over time like batteries do. This means that there is a burgeoning used market for solar powered electrical accessories, so there are definitely savings to be found. It is a great way to save money on the RRP; however, it isn't as simple as approaching the marketplace to buy new.
Shoppers will need to err on the side of caution and always be cautious in a transaction. A great way to get more information about a used solar charger is to open a line of communication with the seller, and ask them a few questions, such as:
· How old is the solar charger?
· How often has the solar charger been used?
· What cables and connectors come with the solar charger?
· Has the solar charger suffered any damage?
· Has the solar charger been subjected to any repairs?
· What type of cells does the solar charger use?
How to Buy Used Solar Chargers on eBay
Modern portable electronic devises are expensive, factor in battery purchases into that cost and it becomes extortionate. One-way around such expense is to invest in a high quality used solar charger.
In order to get an appropriate charger at a competitive price, log-on to eBay and start browsing what is on offer. Load up the homepage and select the phones category, before heading into the mobile accessories and batteries sub-categories. It's there that people will find solar chargers from around the world for sale, meaning that there is no shortage of options available. Narrow down the listings by brand, size, colour, and price by using the in-depth search modifiers.
Before giving full commitment to a purchase, take the time to look at a seller's feedback rating. It will give in an indication of how trusted the seller is, along with the ratings they have received for product quality, communication, delivery, and customer service. Always remember that such ratings are an indication of how well respected a seller is in the eBay community.
Conclusion
Customers who are looking for a new way to charge their small electrical products can't go far wrong with a solar charger. They are a new way of getting power when on the go, and a greener way of powering products. They are eco-friendly by nature, and do a great job of getting an economical charge whilst saving money on electricity. Simply put, solar chargers are the way forward in powering electrical products, and the perfect option for those who spend a fair amount of time on the move.
Getting these once niche products used to be difficult, but thanks to eBay this new way of charging is now available to everyone.