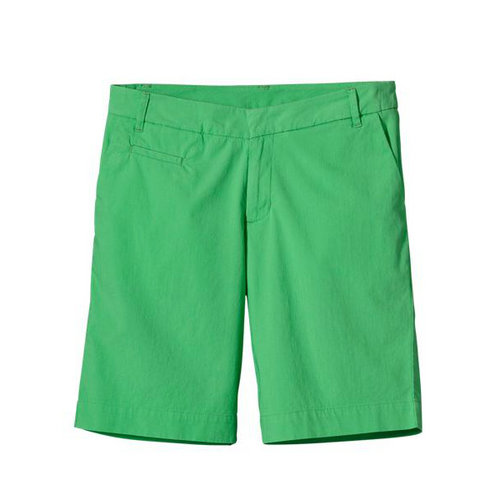 Women's shorts are popular with women of all ages. A wide range of styles are available to choose from, from shorts designed for sports to culottes (which look more like a skirt), wide leg shorts, hot pants and even playsuits that combine shorts and a top in one piece of clothing. Women of all ages can wear shorts, but the type chosen will depend on personal taste, budget and the occasion. eBay is a great place to shop for used women's shorts, which can often be found at far more affordable prices than in local clothing stores. It is even possible to find bulk lots of used women's shorts for a very reasonable price online, making eBay the perfect location to find great deals on used women's shorts.
What Types of Women's Shorts Are Available?
There are many different types of women's shorts available; here are some of the most popular types, their features and when they might be worn:
| | | |
| --- | --- | --- |
| Type of Shorts | Features | When worn |
| | Usually available in a range of materials such as denim, leather or cotton, these are tight fitting and very short – only for the brave. | Ideal for beach holidays or a relaxed look – great worn with an oversized top. A wide range of hotpants can be found on eBay. |
| | These have the appearance of a mini skirt but with the benefit of shorts for protection. Loose fitting and usually made from flowing material. | Perfect for those who want looser fitting shorts – ideal for everyday wear in the summer or on the beach, these look great on more curvaceous women. |
| High-waisted shorts | A more tailored short, these have a high waist, which is ideal to tuck blouses and T-shirts into. Usually made from cotton, denim or a similar material. | Can be dressed up for a night out or a day at work as well as worn more casually. High-waisted shorts are a very modern style. |
| | Jersey hotpants or shorts offer a relaxed fit and are made from jersey or terry toweling. | Ideal for beach holidays, gym workouts or other sports. Many colours are available to choose from on eBay. |
| ¾ length shorts | These can be mid-thigh or knee-length and offer more coverage than traditional shorts. | Ideal for those who don't want to expose too much flesh. Popular with older women or ideal for wearing on a city break. |
| | A playsuit consists of a joined shorts and top combination. The shorts are usually made from loose, flowing material so they appear more like a skirt. | A pretty option for summer and ideal for those looking to show off their legs in a short skirt whilst benefiting from the protection of shorts. |
| | Tailored shorts often have features such as a bow fastening or belt. Made from smart, tailored materials and are usually a longer style. | Ideal for office wear or professional occasions. A wide range of tailored shorts from form-fitting to looser styles can be found on eBay. |
The Popularity of Playsuits
Women's playsuits have become popular over the last few years as they are an easy way to put together an outfit. A playsuit consists of shorts and top joined together and many are made from chiffon or polyester. The look is similar to wearing a minidress but with the protection of shorts. This means many women can get away with the appearance of wearing a very short skirt without the worry of embarrassment on a windy day.
Playsuits come in a variety of styles, and a playsuit with a belt is a popular option for women looking to create a tailored look. Worn with flat sandals, a playsuit is a relaxed choice for summer, but it can also be dressed up with pumps for the office or worn in the winter with tights and boots. Playsuits are also popular eveningwear for young women and a variety of dressier playsuits can be found online, and eBay in particular has a great selection.
Denim Hotpants
Denim hotpants are an iconic type of shorts, and are worn across the globe by women of all shapes and sizes. These shorts are usually very tight fitting and short, providing a figure hugging fit that is only for the brave. Denim shorts today come in a wide variety of colours and styles; here are some of the most popular denim hotpants available on websites such as eBay:
Pink denim hotpants
Black denim hotpants
Torn/distressed denim hotpants
White denim hotpants
Skull patterned denim hotpants
Red denim hotpants
Denim hotpants look best worn with flat gladiator sandals, pumps or sneakers. Wearing them with heels is not recommended. By teaming denim hotpants with an oversized T-shirt or tank, a more relaxed look can be achieved.
Curvaceous in Culottes
Whilst some shorts, such as denim hotpants, seem to be aimed at petite and slim women, other shorts, such as culottes, are the perfect choice for those who do not feel so confident about their figure, or plus-size ladies.
Culottes are wide leg shorts that resemble a split skirt. Wearing culottes looks similar to wearing a short skirt but provides the protection of shorts. Because they are usually made of a flowing material, culottes are very flattering for the figure, and should ideally be worn with a close-fitting top. Culottes are very light and cool to wear so they are the perfect choice for a beach holiday. Culottes by brands such as La Redoute and Topshop can be found online, and websites such as eBay have a wide choice available.
Choosing the Perfect Used Women's Shorts
When it comes to selecting the perfect used women's shorts, it is a case of personal taste and budget, as well as a number of other factors. It is important to think about the occasion the shorts will be worn for – for example, is it to be a casual occasion such as a beach holiday, or a more formal occasion such as a summer wedding.
Tailored shorts are ideal for formal events such as weddings or work wear during the summer months, whereas hot pants are more appropriate for wearing on the beach or for relaxed weekends with friends. In some parts of the world, it may not be appropriate for women to wear very short shorts, so it is important to carry a cover-up if travelling in areas where this may be the case.
Take the following factors into consideration when choosing the perfect shorts:
Budget
Style
What suits the wearer best
Occasion
Brand
Material
Why Buying Used Women's Shorts is a Wise Decision
When shopping online, it is easy to find pre-owned women's shorts for an affordable price on eBay. Shorts can be expensive to buy, particularly if purchasing tailored shorts, which are usually longer and contain more material than hotpant styles. By shopping online, used shorts can be found for a fraction of the price of new shorts, allowing the buyer to select several pairs of shorts for the cost of one new pair.
Websites such as eBay even have bulk lots of used shorts available to buy, so purchasers can order several pairs of shorts at once for a fantastic price. Shopping online is also a great way to find a style from a previous season, or a pair of shorts which have sold out at local stores, as someone may be selling them for a greatly discounted price online.
How to Buy Used Women's Shorts on eBay
For one of the easiest ways to buy used women's shorts online, just explore eBay. Visit eBay and go to the drop-down menu marked 'Shop by Category' which can easily be found at the top left-hand side of the page. Click to open up a list of categories and select Women's Clothing. In the categories listed, it is possible to choose the type of clothing; in this case, Shorts. From here it is easy to select 'Pre-Owned' under condition in the left-hand menu.
There are different brands and types of shorts to choose from, such as Sports Shorts, and searches can be narrowed using a certain term if looking for something specific. By typing the words related to the search, such as 'Culottes', into the main search box, a list of women's culottes will be shown.
Conclusion
Women's shorts are a popular choice for the summer months and an essential item for any summer holiday wardrobe. With so many different lengths and types of shorts to choose from, from figure hugging hotpants to floaty culottes ideal for curvaceous women, it is easy to find the perfect pair of used women's shorts online.
eBay has a wide range of used women's shorts to choose from, many of which are in mint condition and available at a very affordable price. From playsuits to high waisted tailored shorts, there is something to suit all tastes and budgets online.