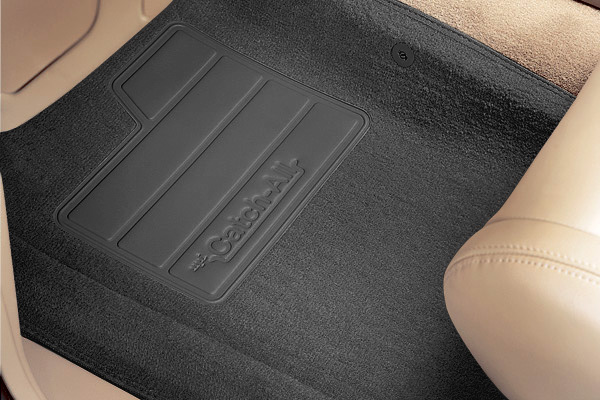 Often considered an afterthought, weatherproof car mats protect floorboards from heat, moisture, and the pounding of feet. Most car manufacturers include proprietary car mats with every make and model they sell. However, as with every other type of car part and accessory, weatherproof car mats succumb to the rigours of use and the passing of time. The best place for car and truck owners to shop for replacement mats operates in cyberspace. eBay, which is one of the leading ecommerce sites, offers weatherproof car mat buyers with the widest selection of replacement mats. Before going on eBay, car owners should first receive an overview of weatherproof car mats, learn about the factors involved in making a purchase, and review the tips that ensure they make a smart buying decision.
Overview of Weatherproof Car Floor Mats
Most automakers construct weather-resistant seats, however, the automakers line the floorboards with moisture susceptible carpet. The interior carpet is susceptible to several spilled beverages, rain deluges that leak inside of the vehicle, and intense heat. Moreover, add muddy shoe impressions and waterlogged clothes, and car owners can expect to change out their interior carpeting within a few years of purchase. Car owners should line the interior carpet with weatherproof floor mats that can be moulded from highly durable pure latex or treated rubber. Weatherproof car mats do not crack from repeated pressure or curl due to intense heat. Many manufacturers produce weatherproof mats that can retain over 2 quarts of water, which provides solace for vehicle owners who forget to roll up their car windows before a rainstorm. Weatherproof mats also allow car owners to clean off mud and wipe away debris with the use of a damp towel or rag.
Weatherproof Mat Buying Factors
Car owners have many buying factors to juggle before they make a weatherproof mat purchase on eBay. While weatherproof mats fall on the lower end of the car accessory price range, manufacturers produce the mats with several different types of materials that heavily influence the price. Create an affordable budget, then move onto the other buying factors.
What Is the Purpose?
After setting the budget, determine the purpose of the weatherproof car mat. Weatherproof mats found on eBay can protect the vehicle interior from heavy damage caused by vast amounts of dirt and mud brought inside the car from a work site. On the other hand, car owners may only require weatherproof mats to absorb moisture from clothing and shoes. Weatherproof mats increase in price as their protective capabilities improve.
Size
Find the correct size of weatherproof mat for the car or truck. Every car make and model possesses slight variances in the design and size of the exposed sections of the interior. Car owners can buy generic sized mats on eBay that fit in many types of vehicle interiors, but automobile experts do not recommend cutting off excess materials to force a weatherproof mat to fit inside of a car. Mats forced into restricted spaces can bubble or roll back, and hence, expose the interior carpet to soil and moisture.
Choose the Design
Weatherproof car mats do not have to appear blase. Manufacturers have recently introduced weatherproof mats that offer both functionality and aesthetic appeal. Car owners should consider customising colour and design, especially for weatherproof mats produced to protect new car interiors. Ask the car dealership for their recommendations on the weatherproof mat's decorative features. Search for eBay weatherproof mat sellers by typing colour keywords into the search engine.
New vs. Used
What happens when car owners change their minds about the materials used to make the weatherproof car mats or they realise the design chosen does not mesh with their car interiors? Many of these sellers go on eBay and offer discounted prices for what car experts consider never used weatherproof mats. Car owners can expect new mats to possess a higher quality than used mats, but never disregard an eBay seller who offers a virtually mint condition mat at a fraction of its market value.
How Many?
How many weatherproof mats should a vehicle owner buy? The answer depends on the primary purpose of the vehicle. Does a professional who travels to make sales calls or meet clients use the vehicle? In this case, the vehicle owners only require two weatherproof mats for the front two floorboards. Family sedans should include four weatherproof mats, since both the front and back seats incur regular usage. Larger SUVs may need to include more than four mats.
Tips for Buying Weatherproof Mats on eBay
Since weatherproof car mats come in a variety of materials and designs, car owners should select mats based primarily on the make and model of their cars. Top name brand car and truck manufacturers, such as Ford and Toyota, sell weatherproof mats for specific models. Consult with vehicle sales professionals who can offer insight into which types of weatherproof mats work best inside of certain vehicle makes and models. Included below are additional tips to remember.
Materials
Manufacturers construct weatherproof mats with several types of materials, and recent discoveries have led to hybrid materials that provide even more durability, without compromising comfort. Consider the weather conditions and if the vehicle experiences all four seasons. Vinyl floor mats found on eBay work best in cars that traverse snowy or wet pavements. Car owners who want a more luxurious look should consider tufted nylon or high-end Berber mats. Vulcanised rubber represents the most flexible material, as it does the best job of handling both intense summer heat and copious amounts of rainfall that enters through unwound truck windows.
Synchronicity
Car owners who decide on colours of their weatherproof mats must remember one rule: match the mat colour with the interior of the vehicle. Weatherproof mats constructed with nylon and Berber come in many more styles than mats produced with rubber or vinyl. Ask the eBay seller if the car mat has been customised to express the personal preferences of the original owner.
Homework
Expert sales professionals can help car owners find the right weatherproof mat for their car or truck. Then, well-informed shoppers can take the information gleaned from the experts online at eBay during the buying process. Performing research before an eBay search is vital, since some eBay sellers come from auto or truck sales professional backgrounds.
Buy in Pairs
Car owners who search for weatherproof mats on eBay can find sellers offering a wide variety of bundled discounted packages. For instance, one seller may throw in a set of weatherproof car mats with the purchase of a used car. Search for eBay sellers who offer two sets of car floor mats, which allow for the switching out of mats to accommodate the demands of each season. Shoppers may find eBay sellers who offer two-for-one pricing on the dual mat sets.
Buying Weatherproof Floor Mats on eBay
Instead of scrolling through every car part and accessory seller, you can reduce the seller list to a manageable size by properly utilising eBay's potent search engine. Make sure to type specific keywords into the search engine to pare the list of seller candidates. You can search by colour, such as typing "brown weatherproof car mat" or "blue car mats". After eBay returns the list of sellers, the next step involves reviewing the information that sellers present on their product pages. Pay special attention to the seller accepted payment methods and delivery terms. A seller may offer the most durable and decorative weatherproof mat set, but that does you no good if the seller does not accept your preferred form of payment or states a delivery date well beyond the date when you want the mats.
Conclusion
Car owners should never settle for just any type of car mat. They need to protect the interior of the vehicles from heat, moisture, and foot damage. Weatherproof car mats can be found on eBay, where sellers offer high quality, name brand mats at affordable prices. Before shopping for weatherproof mats, car owners should decide on the purpose, design, and size of the mats. They must choose between new and used mats, as well as decide on the number of mats to purchase. Weatherproof mats considered for purchase must fall within a predetermined budget that car owners create after performing extensive research. The most important part of the research involves reviewing the materials used to produce weatherproof mats. Look for materials that can retain water and reflect intense heat to protect the decorative vehicle interior.
Floor Mats|Car Mats|Car Accessories|Weatherproof Car Mats|Car Interior