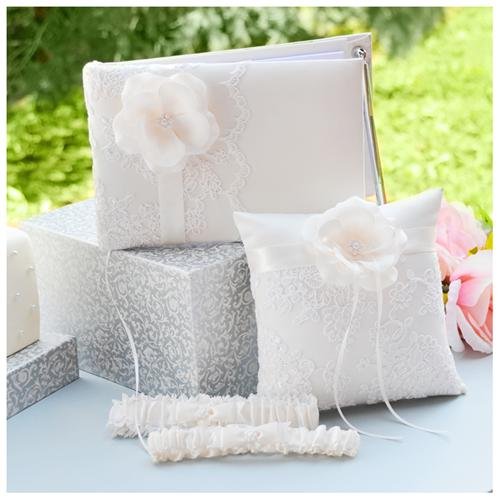 Wedding days are considered one of the best days of any bride or groom's life, and will provide moments they and their guests will cherish forever. Because of this, it is so important to make sure the location of the wedding looks perfect and as special as the day demands. There is so much to consider when it comes to getting the right decorations for a wedding day, ranging from the ceremony or reception to the flowers, place cards, and invitations.
This guide will outline all of the wedding decorations available on eBay, and give a buyer a few tips and considerations for their special day. All of the items mentioned in this guide can be found in the Home and Garden: Wedding Supplies category on eBay.
What to Consider When Choosing Wedding Decorations
Weddings can be huge events that can cost a lot of money, so it is important to make sure everything is exactly as the bride and groom want. The top considerations to make when choosing the decorations for a wedding are:
Cost
The cost of a wedding can be very pricey when one takes into account the fact the venue, food, the dresses, and clothes will all have to be paid for. So it is important to be cunning when choosing decorations, as it may be possible to get the look wanted, without breaking the bank.
Theme
Many weddings will have traditional theme with lots of white around the venue with hints of colour. However, for a more bespoke theme, one will need to consider what is needed to get the desired look.
Colour
Very similar to the theme of the wedding decorations is the colour. It is important to tie all of the decorations together with a main colour, so they correspond and look great.
Size of venue
If the venue is very large it may affect the amount of money that can be spent on decorations, or the kinds of decorations that are used.
Number of guests
The number of guest may affect what kinds of decorations and small details one has. For instance, for a smaller wedding it might be possible to have bespoke place cards with a little gift, but this may not be possible for a larger wedding.
What Decorations are needed for One's Wedding
The most popular decorations for a beautiful wedding ceremony and reception are:
Boxes/Pouches
Boxes and pouches can be used to store important things for the wedding day, such as the bride and groom's wedding rings, or even a knife with which to cut the wedding cake. Nicely decorated boxes or pouches can help to add a touch of class to carrying important items around, and also helps not to lose them.
Cake Decorations
There are a large number of variations of cake decorations available in a number of colours and styles. Many wedding cakes will have bows, or plastic bride and grooms mounted on the top. It might be worthwhile buying candles that match the colour of the cake as well.
Cake Stands/Plates
Many wedding cakes will be multi-tiered, and will thus need a good cake stand to hold it. Traditionally, wedding cakes have three tiers, but bigger ones can be found if the wedding has a large number of guests attending.
Confetti
No wedding is complete without confettibeing thrown over the bride and groom when they leave the wedding ceremony. These small pieces of shiny paper are great for getting everyone involved at the wedding, and are made in many colours to match the wedding's theme.
Flowers/Petals
Flowers at a wedding can be crucial to getting the effect desired. Flowers may be needed for the bride, bridesmaids, as well as for decorations on tables. Be sure to choose flowers that go with the wedding theme, or one could even revolve the theme around one's favourite flowers.
Invitations/Place cards
The invitations are generally the first memento the guests will receive from the special day, so it is crucial to get them right. Choose whether one wishes to handwrite the invitations, or have them printed in a unique style.
Napkins/Plates
Napkins and plates are essential for the reception meal. As with all of the other decorations, it will be a good idea to make sure they tie in well with the theme and colour.
Ribbons and Bows
Simple ribbons and bows can add a touch of class to a wedding. Use silk sheets to create huge bows to decorate the venue with.
Ring Pillows
Small ring pillows are great to present wedding rings. It is possible to also customise the pillows with the name of the bride and groom and the date of the wedding for that personal touch.
Flower Baskets
Contain all of the lovely flowers in flower baskets or vases. Flower baskets are great for hanging flowers all around the venue and the vases can make for a great centrepiece for every table at a reception. Be sure to find ones that match the flowers and tie in with the theme of the wedding.
Balloons
Balloons can add a lot of colour to a wedding and are fairly cheap, so can be spread around the whole venue without costing much. Plus, no celebratory event is complete without balloons.
All of the decorations mentioned above are readily available in the 'Wedding Supplies' section on eBay.
How to Buy Wedding Decorations on eBay
There is a large range of wedding decoration items available on eBay, which can be found within its listings. By typing in a search query like 'pink wedding cake decorations' into the search bar at the top of any eBay page, lots of pink wedding cake decorations will appear which can be purchased in the following ways:
Bidding: As one would at an auction, customers can bid for products with their best offer. Customers can increase offers at any point until the auction time finishes. The customer with the highest bid has then bought the item listed.
'Buy It Now': If bidding is too much hassle, and a shopper has found the wedding decorations they want at a great price, they can use the 'Buy It Now' facility to instantly buy the item.
These listings can be narrowed down by using the advanced search page in which results can be sorted by 'All of these words', 'Any of these words', or 'Exact phrase'. Also search in 'All Categories' to open up the search further.
When buying wedding decorations from eBay always make sure to thoroughly check the item listing, research the seller or store that one is buying the item from, and be sure to only pay through the official eBay channels.
Look out for the latest deals on wedding decorations by checking in the 'Home and Lifestyle' section. Some additional fantastic discounts are to be found, along with free postage costs.
Conclusion
Decorating one's wedding venue is quite difficult because everyone has different tastes and ideas when it comes to what their dream wedding should look like. The tips in this guide will allow a shopper to decorate the venue well and help one to have a perfect day. All of the items discussed in this guide can easily be bought immediately or can be bid on in the Home and Garden: Wedding Supplies category on eBay.