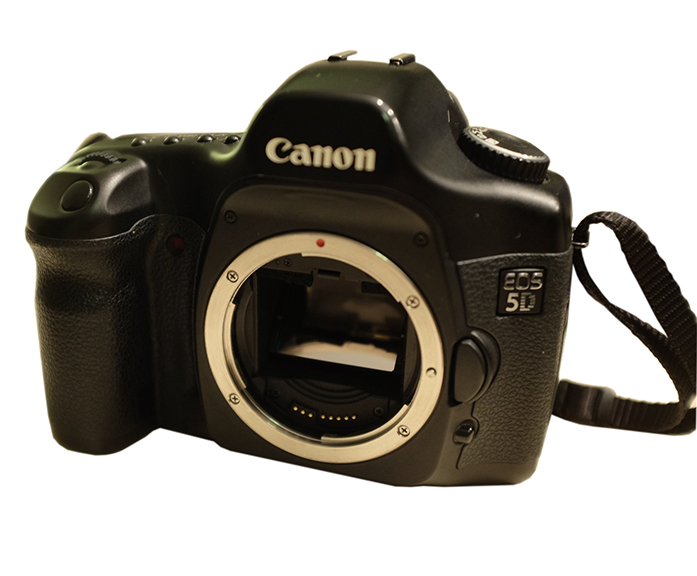 The Canon EOS D30 was used to build the solid foundation that Canon continued to build upon with revolutionary digital SLR models, including the highly-anticipated release of the Canon EOS 5D 13.3 MP DSLR in August of 2005. Even though several years have passed since this model was first made available, it is still a competitive model with a wide range of features and capabilities that many new models from competing brands do not offer.
Premium Features of the Camera
When it was first released, the Canon 5D 13.3 MP DSLR was the lightest and smallest full-frame model in the world. It comes fully equipped with a 2.5" LCD screen that could easily be adjusted into a wide variety of positions and angles up to 170 degrees. This particular Canon camera is packed with many different premium features that are found within many brand new models that have just been released in recent years, such as a consecutive shooting capability that would allow a person to capture a maximum of sixty frames within a single burst.
The Canon 5D 13.3 MP DSLR is also being currently marketed as the Canon 5D 12.8 MP DSLR. It can easily be physically identified by the Canon brand logos on the face of the camera as well as a small name plate located on the face of the camera beneath the mode dial that reads "EOS 5D."
Exploring the Available Accessories
Along with the actual body of the camera, there are many different DSLR accessories that either come included or can be purchased separately. It is imperative for consumers to know the difference between the accessories that are included and the ones that are optional purchases in order to find the best deals available. It is important to know which accessories should already come included with the Canon EOS 5D 13.3 MP DSLR and which optional accessories can be purchased separately.
| | |
| --- | --- |
| STANDARD | OPTIONAL |
| Battery (rechargeable lithium BP-511A) | Camera lens (most options except for EF-S) |
| Battery charger (CG-580 or CB-5L) | Flash units (most Canon Speedlites) |
| USB interface cable (standard cable) | Dual battery grip (contains 2 batteries at once) |
| Video output cable (standard cable) | Deluxe hand strap (requires dual battery grip) |
| Camera strap (wide with Canon logo) | AC Adapter Kit (hollow shell fits in compartment) |
| Instruction manuals | Wireless file transmitter |
| Basic software package | Wide range of Viewfinder accessories |
Keep in mind that there are some standard Canon camera accessories (such as theUSB interface cable and video output cable) that can be easily replaced without having to go through Canon. Quite a few optional accessories, such as the camera flash units and camera lenses, can also be purchased from aftermarket suppliers as long as they have products that are compatible with this specific model.
Camera and Megapixels
One of the complaints that many consumers have had about this Canon EOS 5D is the megapixel (MP) count. It is advertised to offer 13.3 megapixels, but this figure corresponds only with the image sensor. When it comes to the megapixel output that is reflected in the final photo, there are only 12.8 megapixels with the remaining 0.5 megapixels being masked out in order to properly configure the levels. Keep in mind, though, that the 12.8 megapixel count is still much higher than many other comparable models that have been developed by Canon's competitors.
Buying the Canon EOS 5D on eBay
There are quite a few Canon EOS 5D models that are available on eBay, which presents a great opportunity to have a great deal for amateur and professional photographers alike. To start the search, just type keywords and phrases within the Search field on the main homepage, such as "Canon EOS 5D camera." If you want to narrow down the list to a specific model with certain specifications, such as the " Canon EOS 5D 12.8," you can complete this search on the homepage as well. In order to access the full catalog of DSLRs that are available on eBay, you can use the category system but the filter system will narrow down that list to focus more on your exact preferences instead of the general population.
It is a great idea to search for deals that offer free shipping and to only focus on products that are being offered by top-rated sellers. Stay as far away from sellers with a history of negative feedback as possible, because they have not proven themselves capable of providing quality products and services consistently.
Conclusion
Canon has consistently raised the bar of expectation within the world of digital SLR cameras for quite some time. The Canon EOS 5D 13.3 MP model has been able to prove that Canon still has devices that can maintain an impressively high level of performance and efficiency years after their initial release. eBay is a great place to search for these models so that consumers can find a good DSLR for a great price.